We at OnPay are passionate about people and their wellbeing. That's why it's our mission to simplify hiring and paying workers and make it easy to offer benefits and stay compliant using intuitive cloud-based software. We calculate all payroll taxes and deductions for you instantly, and take care of your tax payments and filings, so you can focus on what you do best: running your business.
Where do you want to start?
Sign up
If you haven't signed up yet, fill out this form to get started. We'll send you an email next to make sure you're really you.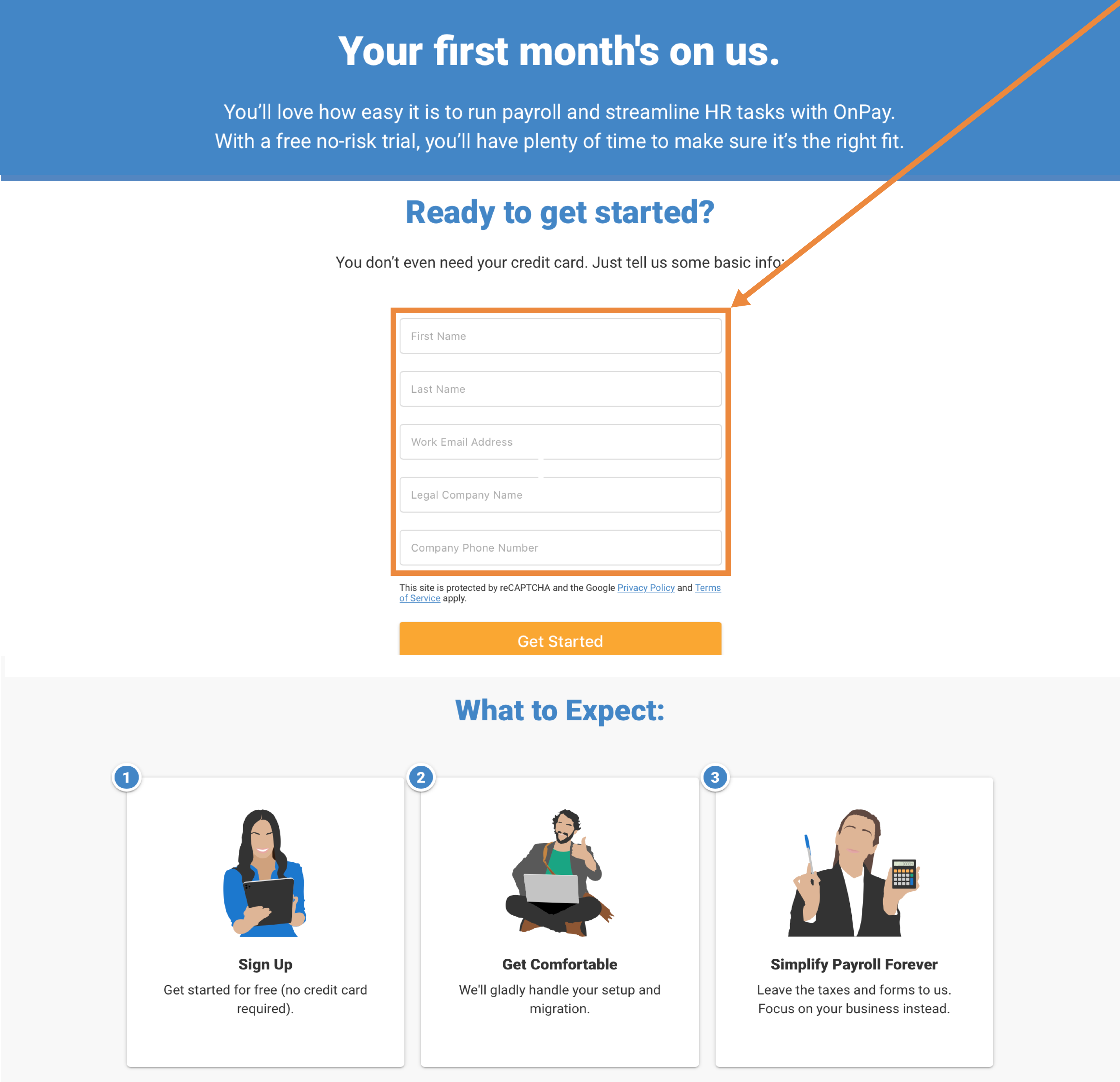 Check your email
We'll send you an email with the subject line, "Please verify your email address". You should get this email within two minutes, so check your spam folder if you don't see it. If you've signed up, but can't this email, call us at 877-328-6505 or email us at hello@onpay.com so we can help.
Follow the link
Click the linked URL to validate your email address within 48 hours of receiving your welcome email. If your link has expired, sign up again with your email, and we'll send you a new link.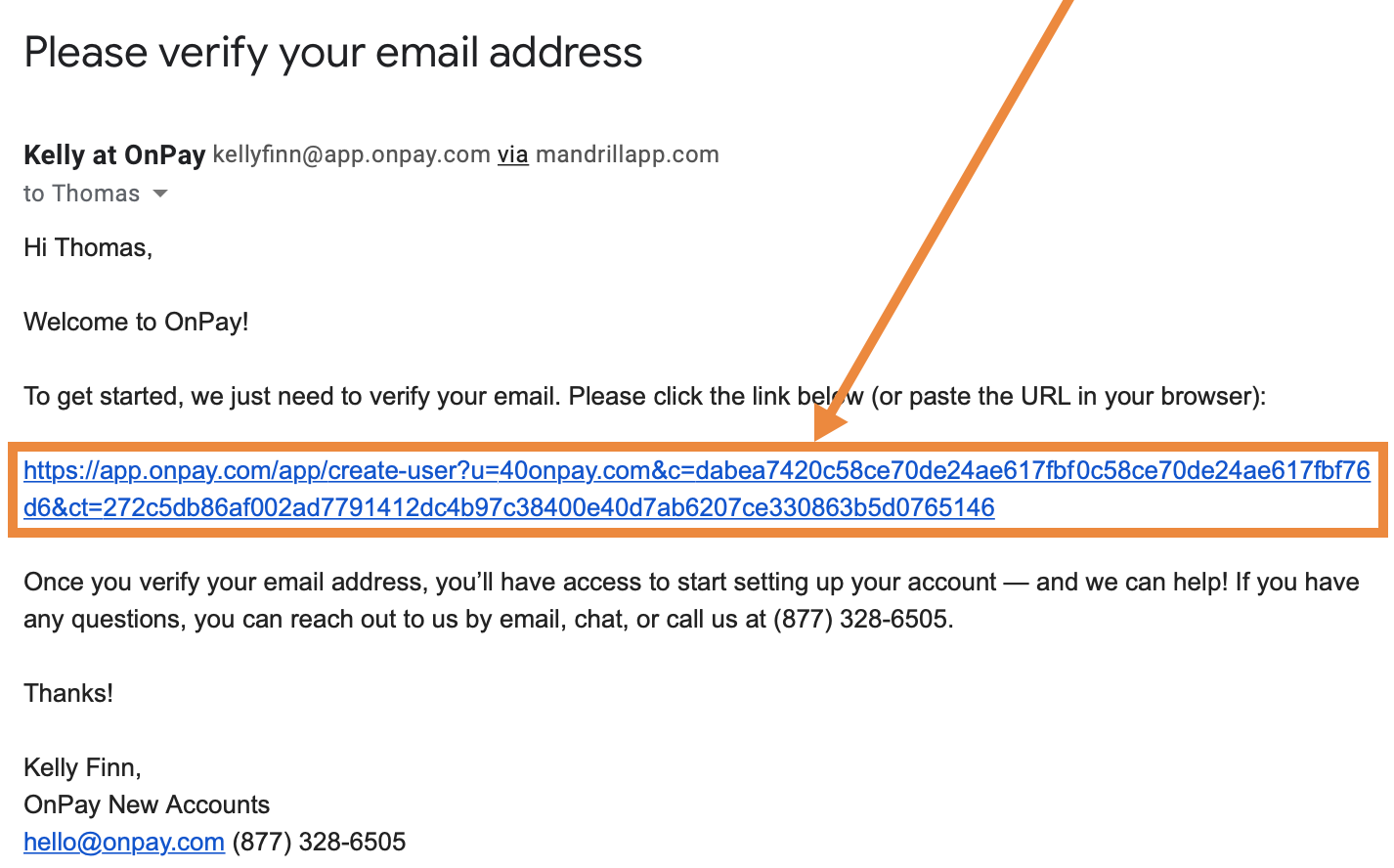 Why do I have to do this?
Because thousands of accountants and small business owners trust us with their personal and company information, as well as the personal information of their employees, contractors, and clients, we always ensure that users with access to OnPay are authentic, and lawfully associated with your company. When you verify your email address, you're proving that you're aware of this account setup, and that this email is current, valid, and is used by you.
What's a URL?
URLs generally underlined in blue, and start with "https://". They act as a Uniform Resource Locator for the internet. It's like a cross between the Dewey Decimal System and a fingerprint, and is used to point your web browser to a place online. Clicking a URL is like turning a key to open a door that takes you straight to a certain webpage. This door can even be locked so that only your key (URL) can open it, like a page where you can create a password that only you will know (we can't even see it).
Create a strong password
The security of your OnPay account is only as strong as its password. Avoid using a password that you use for any other accounts. Password generators are recommended.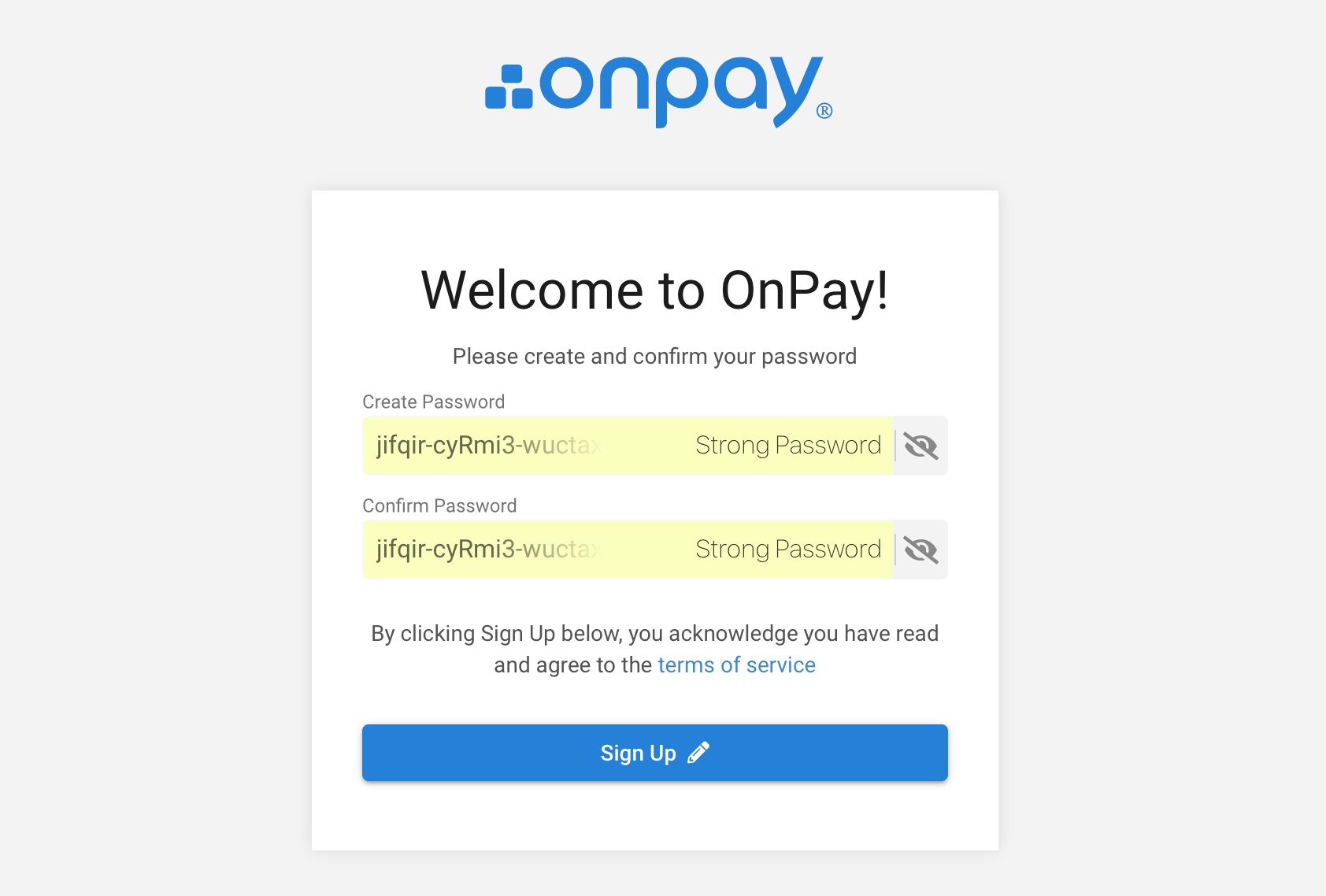 Click Sign Up to be redirected back to the "My Profile" page in your browser.
Company setup
Once your password has been set, click Launch next to your company name and provide some information to get your company registered. See this article on the self-enrollment process for more details.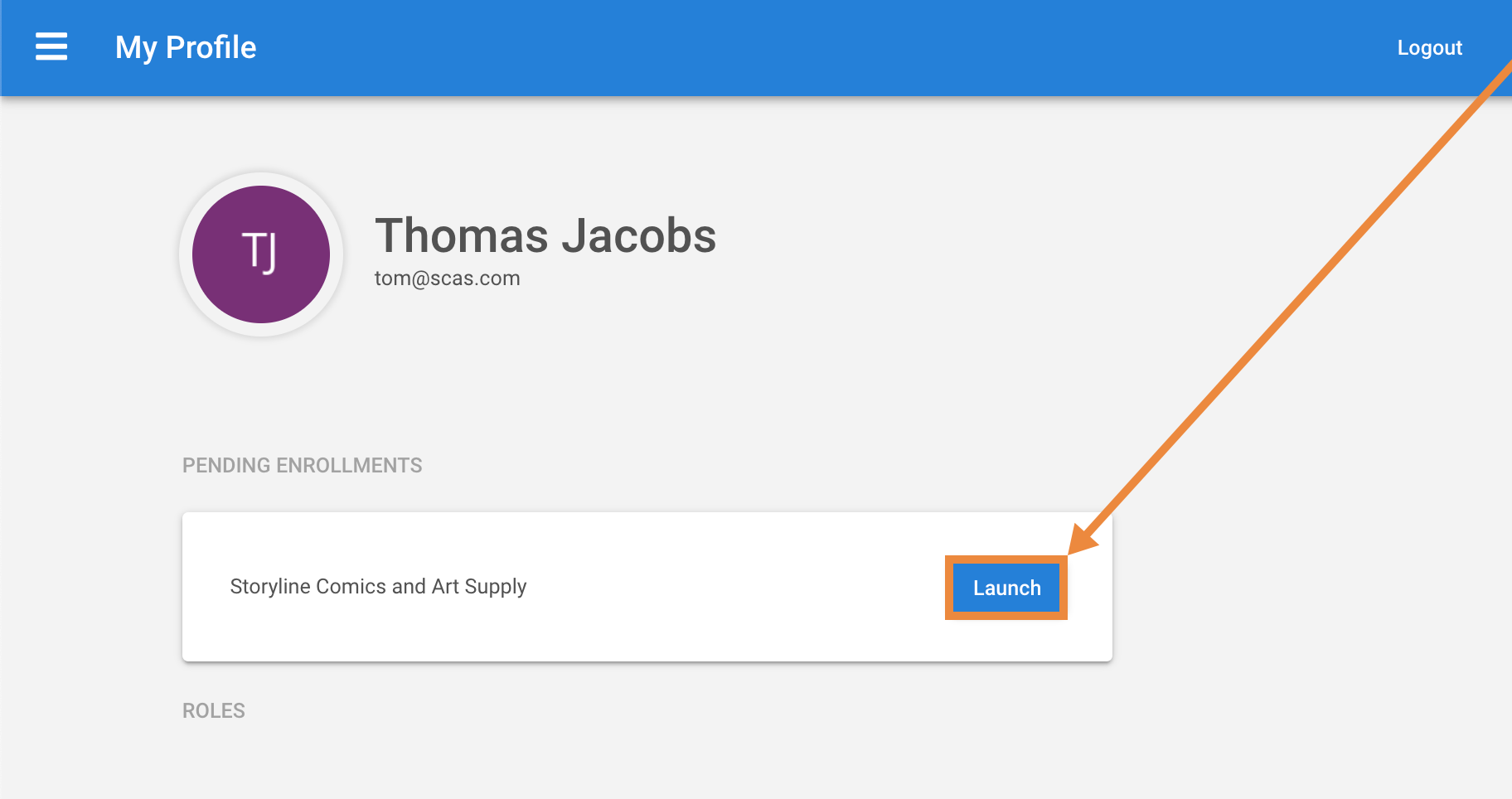 Once you've completed the 7-step self-enrollment process, we'll email you to request just a few additional details so we can file all of your taxes and returns on your behalf.
The first email will be from our Banking Team, requesting information to enable direct deposit for your employees. Your employees can be set up and approved to receive direct deposit in a few easy steps.
If you said "Yes" to having previously paid employees this calendar year, our Implementation team will email you, requesting your payroll history. They'll tell you exactly what they need, but you can learn more about what prior payroll information we need. Once you've sent us your payroll reports, wey'll take care of all the entry and setup of prior wages in your OnPay account. Once we've entered your prior pay info, you're ready to process your first payroll!
Of course, if you have any questions please do not hesitate to contact us at 877-328-6505 or email hello@onpay.com.
To make sure you have everything setup, please refer to our Onboarding Checklist.
v6.1 ps