Everyone in our Client Experience team has years of first-hand payroll industry experience in their respective fields, plus extensive knowledge on how to use OnPay. This means you can Chat with us about almost anything:
Adding an employee in another state for the first time? Let's Chat to make sure you get them (and their worksite) set up in OnPay.
Need to correct a mistake on your last pay run? Open a quick Chat to get back on track.
Just a quick question about our services, or even a local tax code? Let's Chat!
OnPay's Client Experience team is available Monday - Friday, 9AM-8PM ET
Start a new Chat in OnPay
From the company dashboard, click the ? to the left of your profile photo to open the help menu.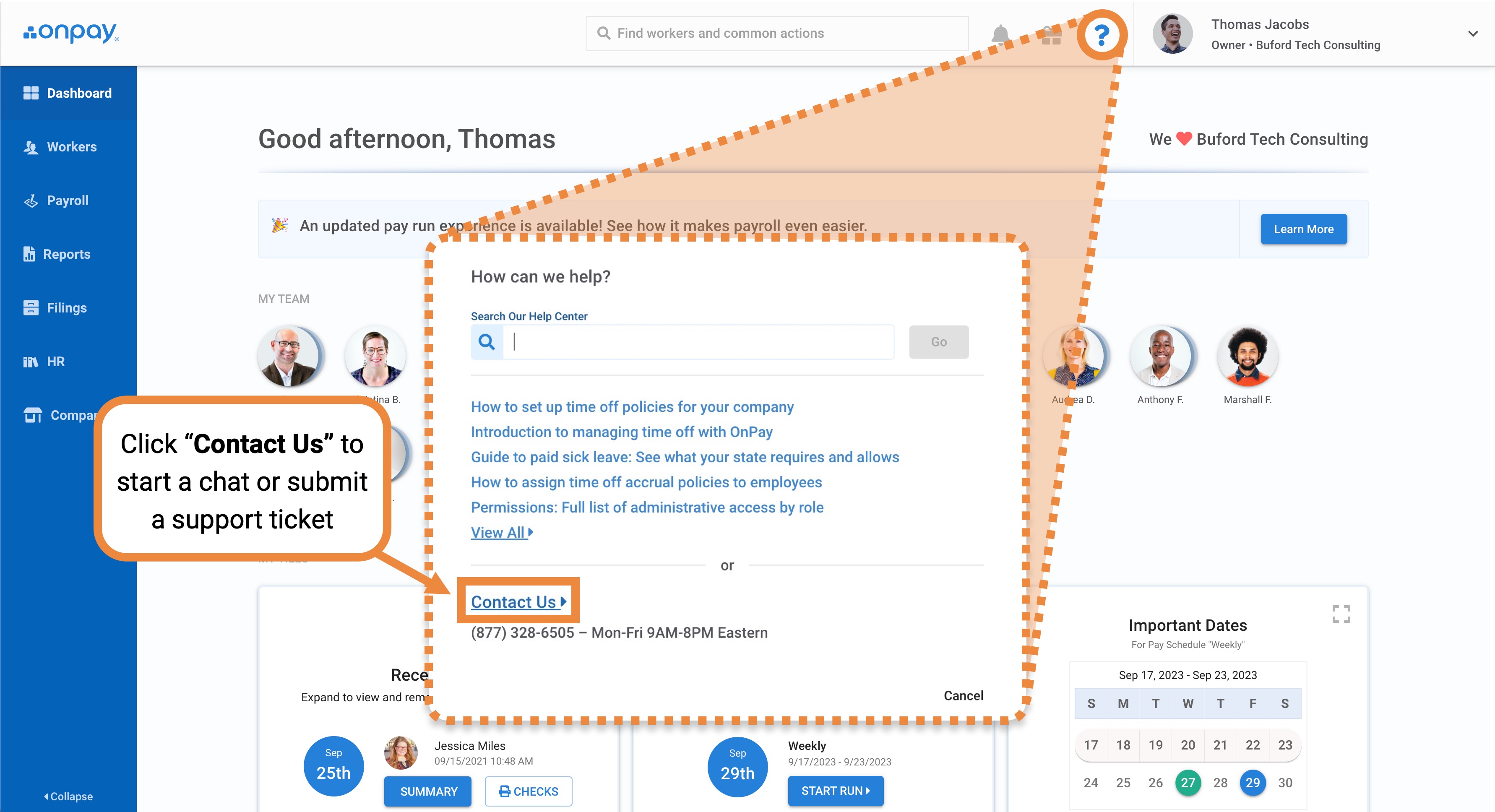 Click Contact Us to open the chat window.
Can I chat with an expert without logging into OnPay?
Chat connects you with support agents and tax professionals capable of representing you, and/or your company, both in OnPay as well as with tax agencies. Your support agent will always verify your identity by your OnPay login credentials before engaging with you, so your information stays private and secure. This means that you must be logged into OnPay in order to get support for your account.
In the chat window, you can click "I'd like to start a chat" to ask our team of experts a question. You can also click "I'd like to submit a ticket" to request resolution of a technical issue or concern.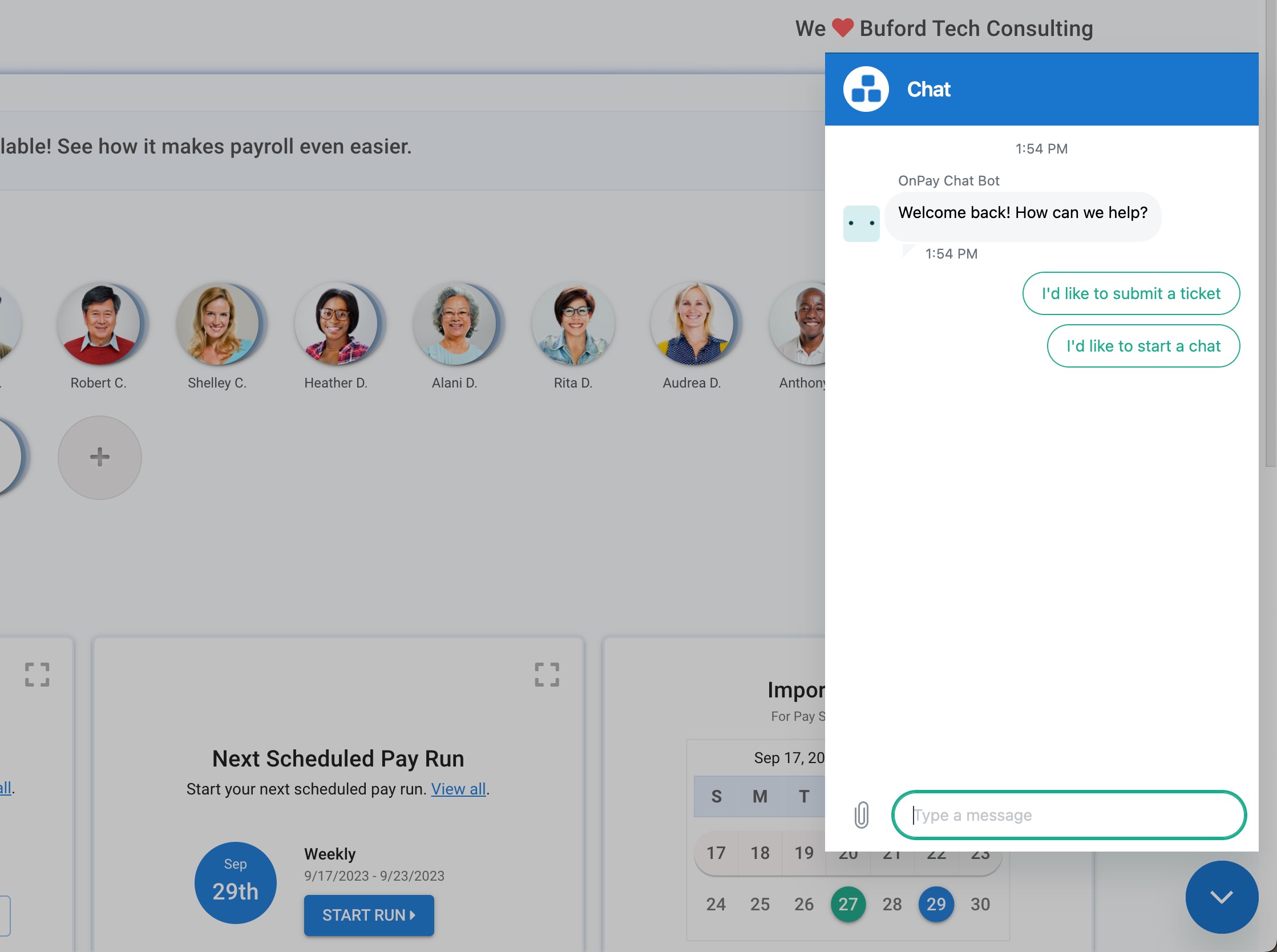 Starting with Chat helps you to:
Get express service
Get to the best agent first
Avoid explaining your situation to multiple people
To make sure you don't have to explain your situation more than once, our trusty Chat Bot will ask a few questions about why you're reaching out.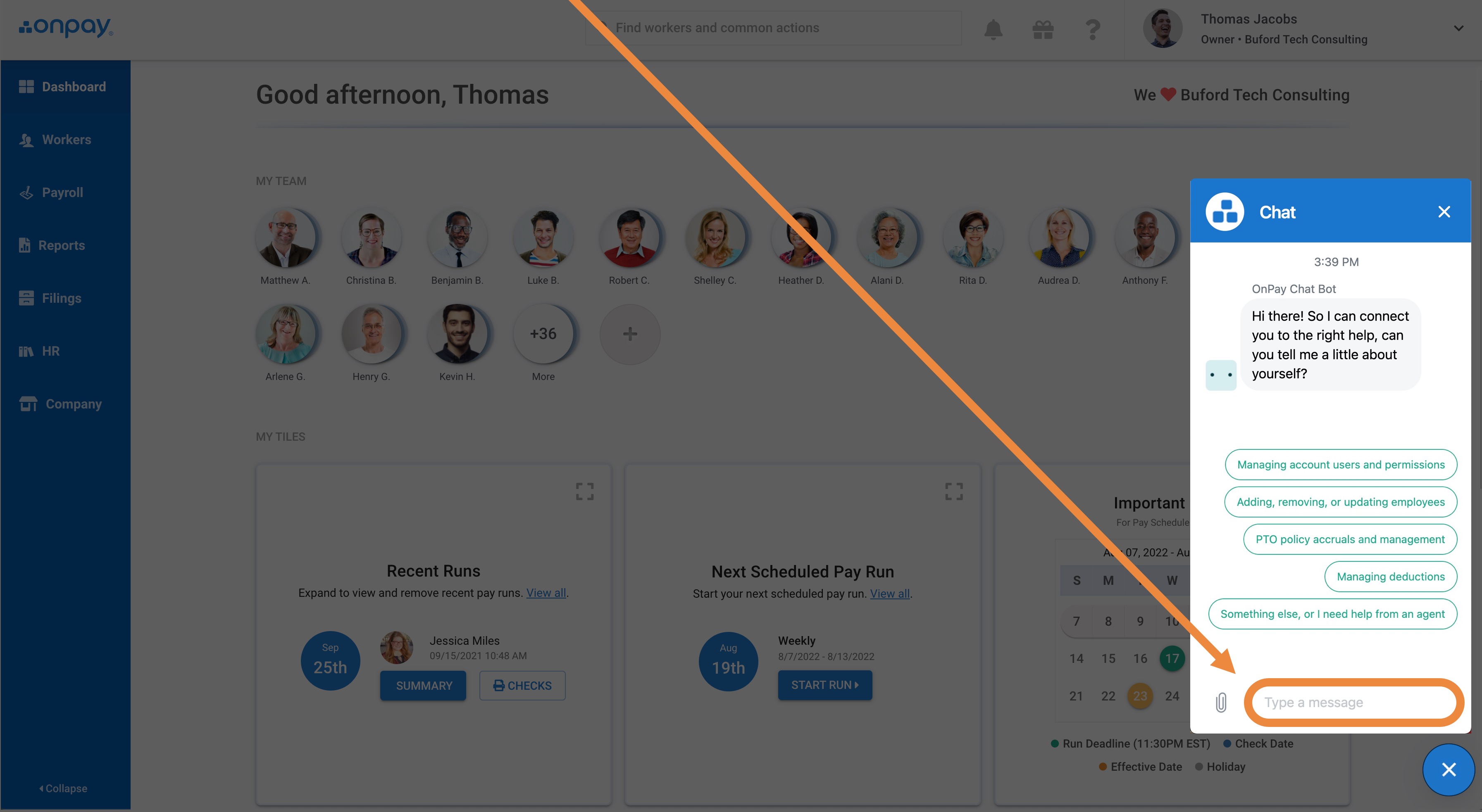 Help and support for employees
Our Employee Help Center has everything your workers need to know to download their app, self-onboard, and get up-to-speed with how to use OnPay ⁠— from setting up direct deposit and multi-factor authentication, to viewing pay stubs, and more!  If your employees with questions about getting access to the employee portal, their hours, pay, or time off accrued, should consult with their manager, or with the company's payroll or HR personnel.
Help and support for accountants, bookkeepers, and our
Partners
Outside collaborators can access Chat by logging into a company dashboard. This confirms that the outside collaborator has the credentials to control the account, while ensuring your support agent is accessing the appropriate company account.
v6.23