You already know how to process a pay run but since things come up, and there's no extra cost to running as many pay runs as you need, it's good to know how to process a special pay run.
What's a special pay run?
Most businesses who pay employees do so on a regular pay cycle. Special pay runs are any payroll run that occurs outside of the regularly scheduled pay run. It can have the same checkdate as the regular paycheck, or it can be off-cycle, with its own checkdate. It can also be limited to select employees, and exclude the employee deductions typically included in the regular pay cycle.
For example, you may pay your employees every two weeks, but at the end of the year you'd like to give them a bonus. Since the end of the year generally falls between paychecks, you may want them to receive the bonus between paychecks. And since this isn't part of their regular pay, you don't want 401(k) and health insurance deductions to apply. This is a job for a special pay run!
Learn more about how to make your year end bonus run smoothly.
Ways to customize your special pay run
Changing pay run settings
At the top of the payroll page, you find your current payroll settings. You can click on any of them to edit. This is helpful for off-cycle pay runs, which we'll discuss next.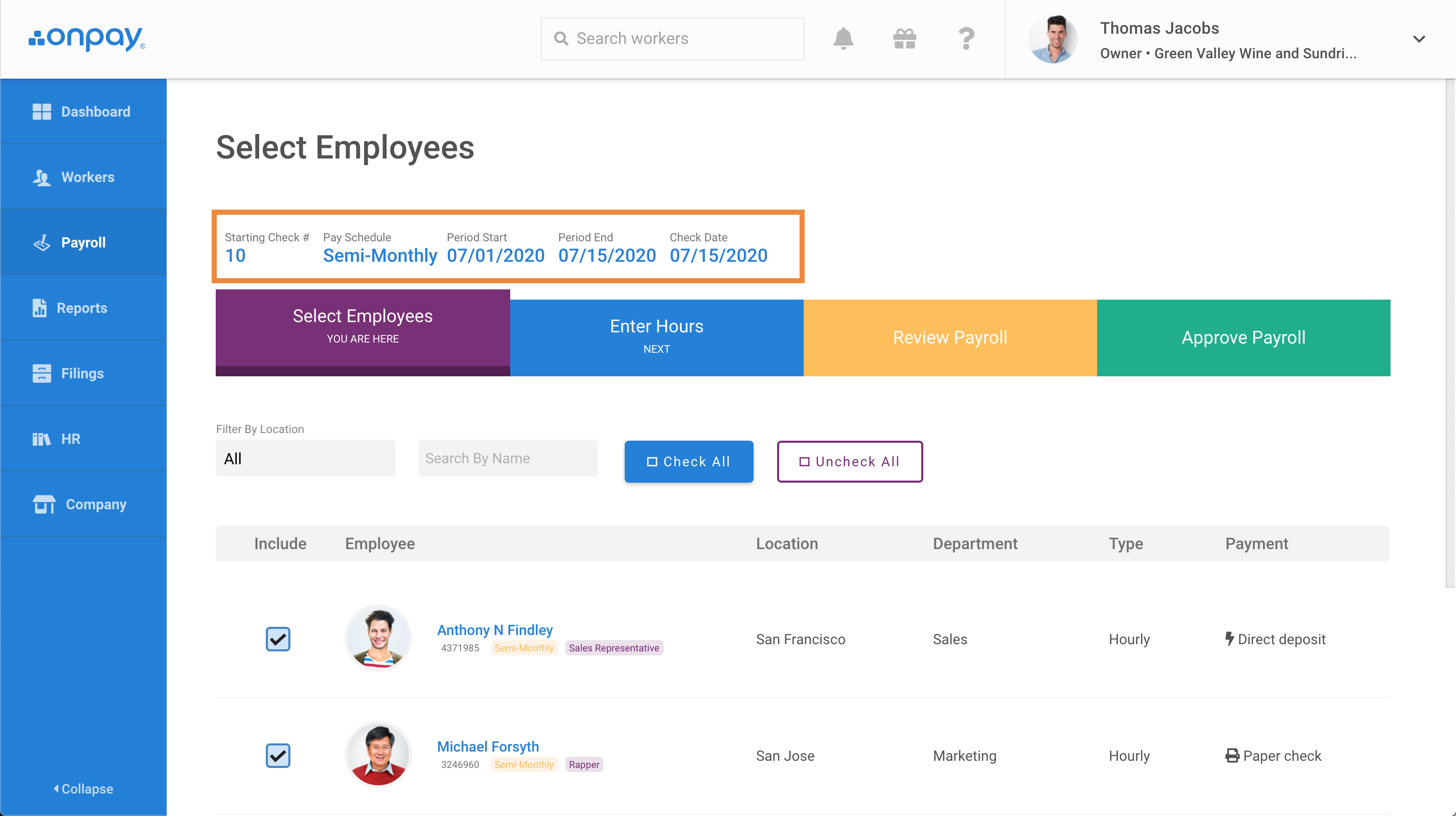 Here, you can make adjustments to this pay period and the check date. If you'd like to hand these checks out personally, you can hold direct deposits and issue all paper checks. You can even exclude employee deductions.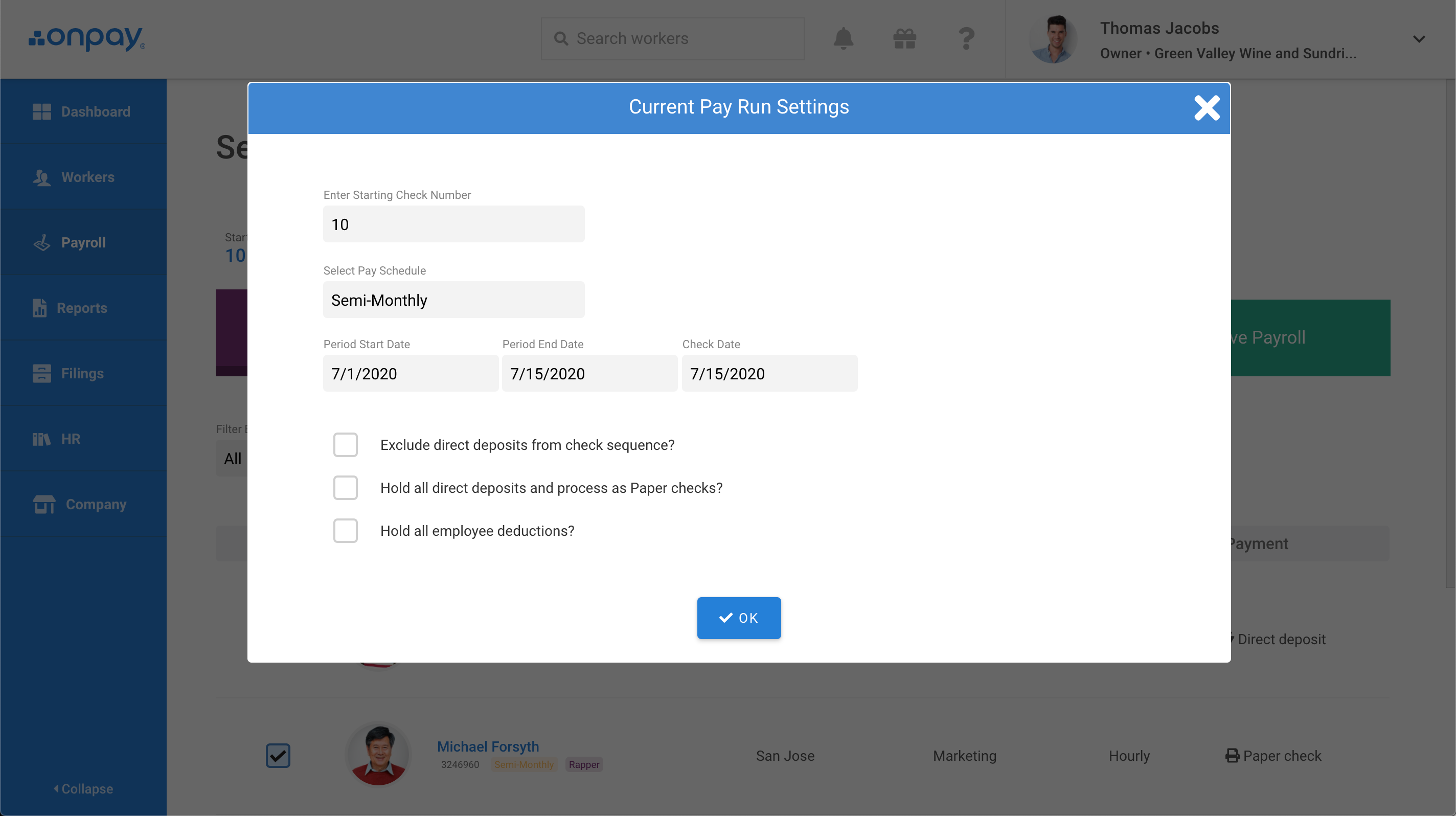 Selecting certain employees
Special pay runs can also be for select employees, such as commissions, tips, or bonuses. Click Uncheck All to choose who will be paid in this run.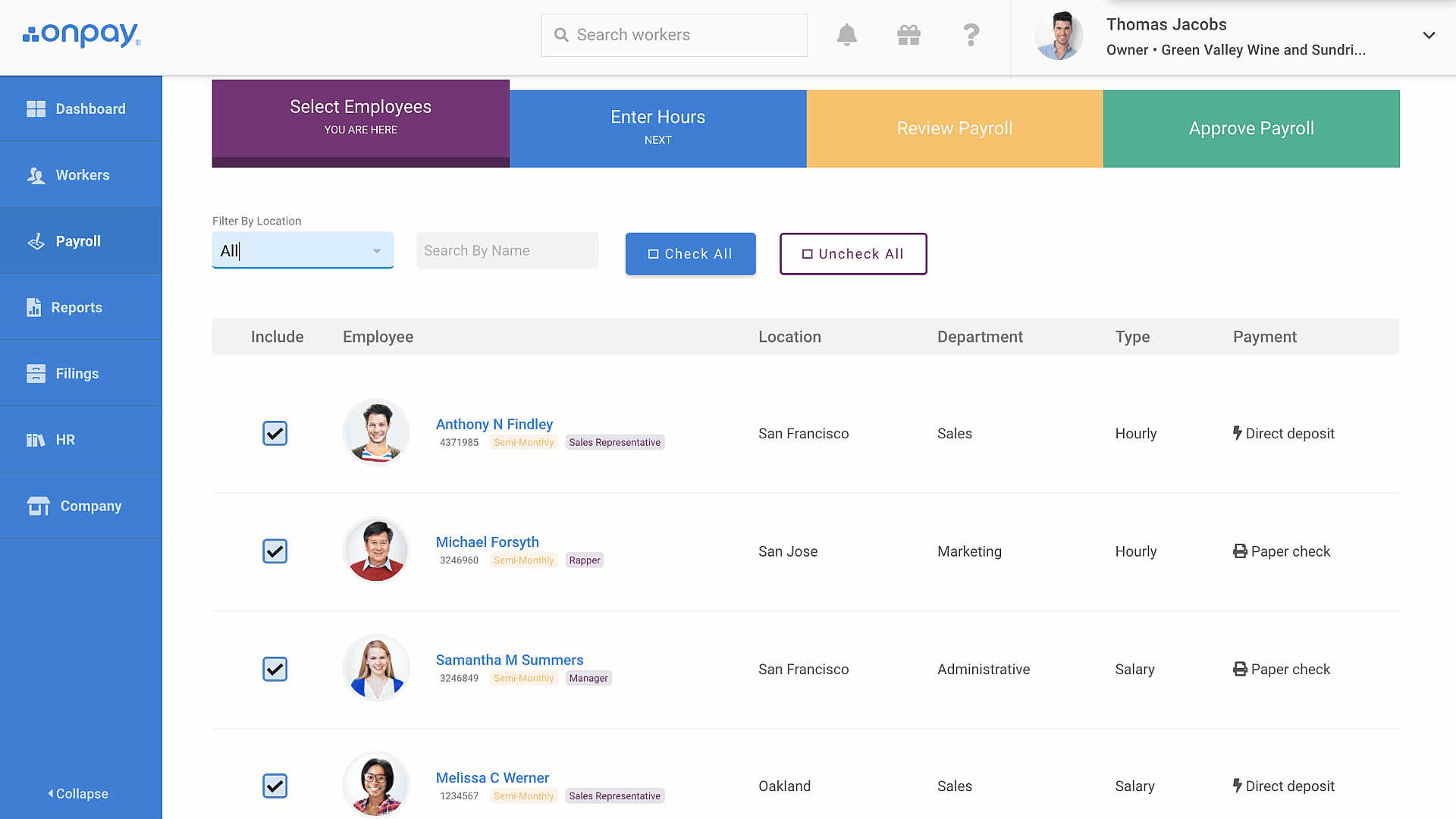 Off-cycle pay runs
Whether you pay your employees weekly, bi-weekly or monthly, you likely have a regular pay cycle. Off-cycle pay runs occur in between these regular pay runs. When processing an off-cycle run, it's important to only include appropriate pay types. If "Salary" is selected, or hours entered, they will be included in this run.
Remove regular compensation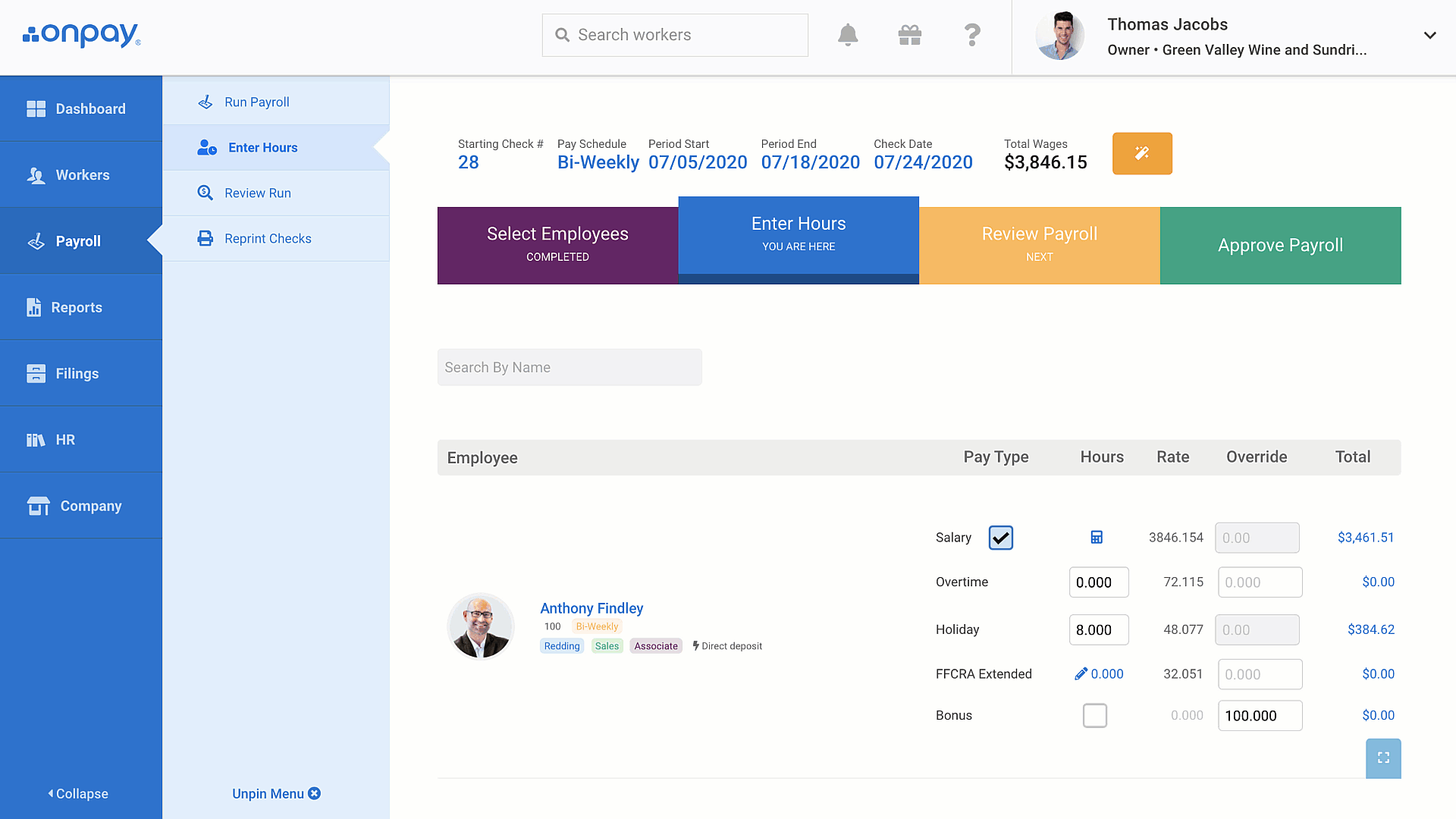 Select relevant pay type(s)
Select any pay types that apply to this pay run. You can apply as many pay types as you need to a pay run, including your regular pay runs. If there is not a rate associated with this pay type, enter the amount to be paid into the "Override" column.

If these are not the pay items you're looking for, you can add new pay types, and set rates in the edit box. You can also add new pay items, if needed.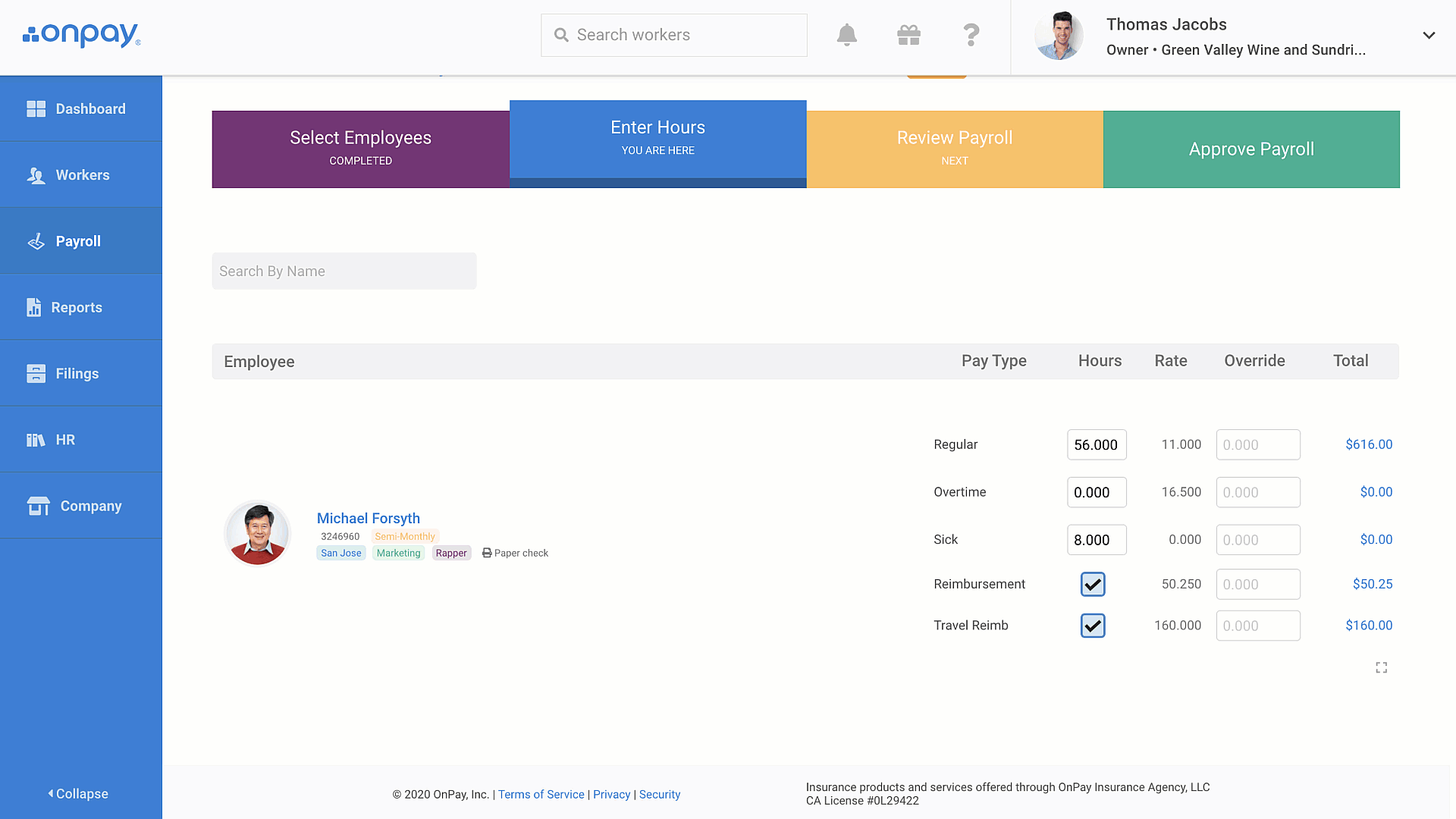 Once you have finished customizing this pay run, you can review and approve payroll as you normally would with your regular pay runs.

v6.0 ps