OnPay helps with every step of your employee payroll, from onboarding to termination. In the event that a worker leaves your company and will no longer be on your payroll, you will need to either make them inactive, or terminated in OnPay.
Handling terminations the right way
Whether a worker is fired for cause or is laid off due to a change in your business, it can be an uncomfortable conversation for both you and them. The Four steps to handling terminations the right way offers actions you can take to make the process as smooth as possible, limit potential liabilities, and safeguard worker morale and your company culture.
What we'll cover
Getting started
Click on Workers, and choose the worker's name from the list. You can also click their profile picture under "MY TEAM".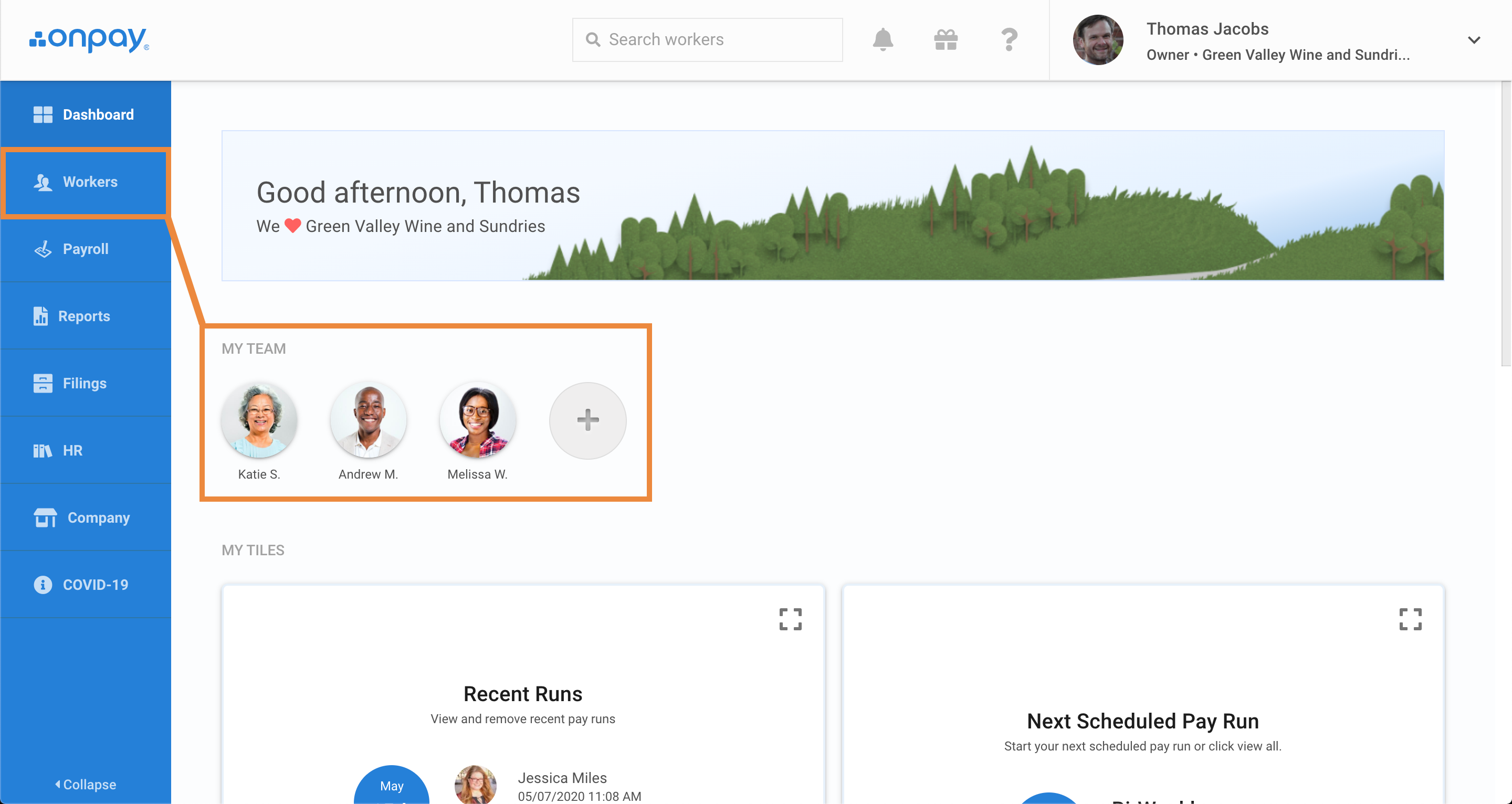 Click the Job tab.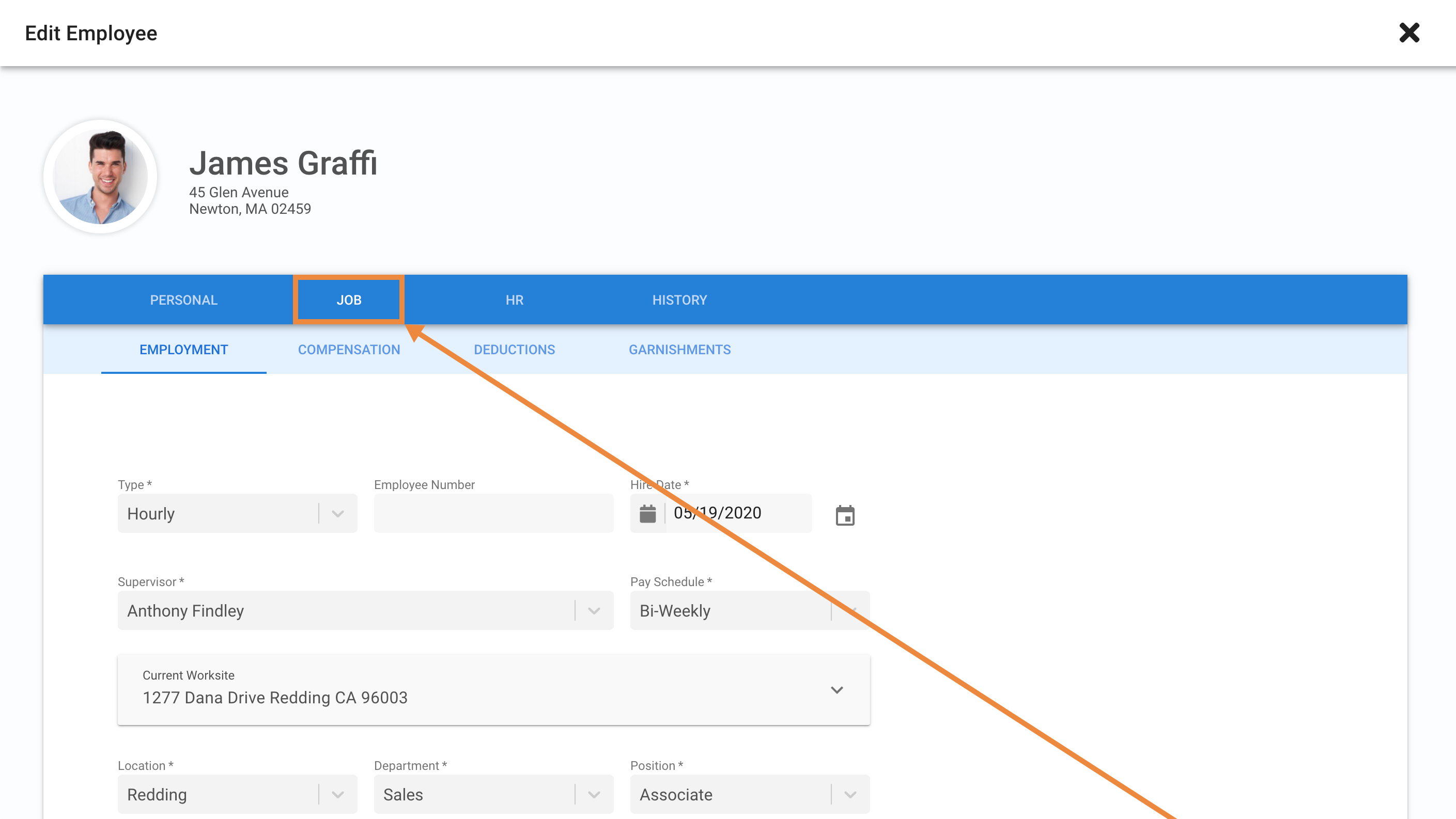 Scroll down until you see "Employment Status". Here, you have the option to either make the worker "Inactive", or to "Terminate".

What's the difference between "Inactive" and "Terminated"?
Inactive
If a worker is leaving the company temporarily, seasonally, or even if they're just rehirable, you can make them "Inactive" in OnPay. That way if and when they return to the organization, they're already in OnPay, saving you the administrative time it takes for to re-onboard. Inactive workers are not counted toward your monthly rate.
Terminated
If a worker is leaving the company permanently, and it is not realistic that they will return, you can click Terminate to remove them from your payroll. This is helpful when documentation of the termination reason and date is necessary. Of course, terminated workers' information and pay history are still available in OnPay, and are included in your reports and regular tax filings.
Making a worker inactive
Under "Employment Status", click Inactive. This will remove this worker from your payroll.

Terminating employment
Under "Employment Status", click Terminate.

Enter the last day this employee will be on payroll for this job under "Termination Date", and select the "Reason" for termination.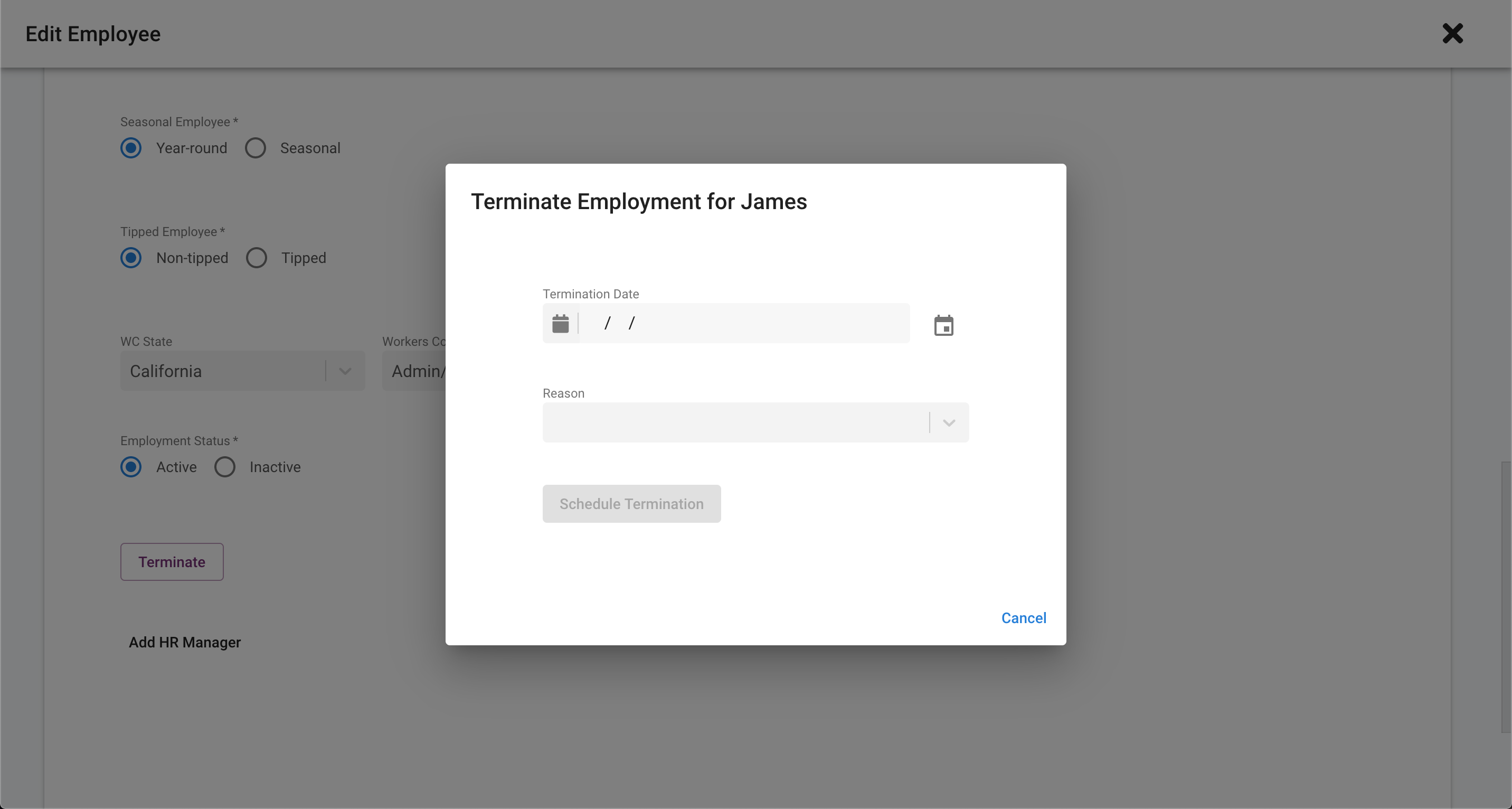 When you've finished, click Schedule Termination.

Need to stop the termination process?
If for any reason, you need to cancel a scheduled termination, you can do so by returning to their profile, and clicking the ellipses to the right of "Termination Reason".

Click Delete Termination to remove the termination date and reason in OnPay. The worker profile will remain unchanged.

Viewing terminated and inactive workers
Terminated employees will remain visible in your Dashboard and in the Employees page until their final paycheck has been processed. After that time, terminated employees can still be viewed in the Employees page by selecting their employment status.
Under "Employment Status," choose Inactive Employees.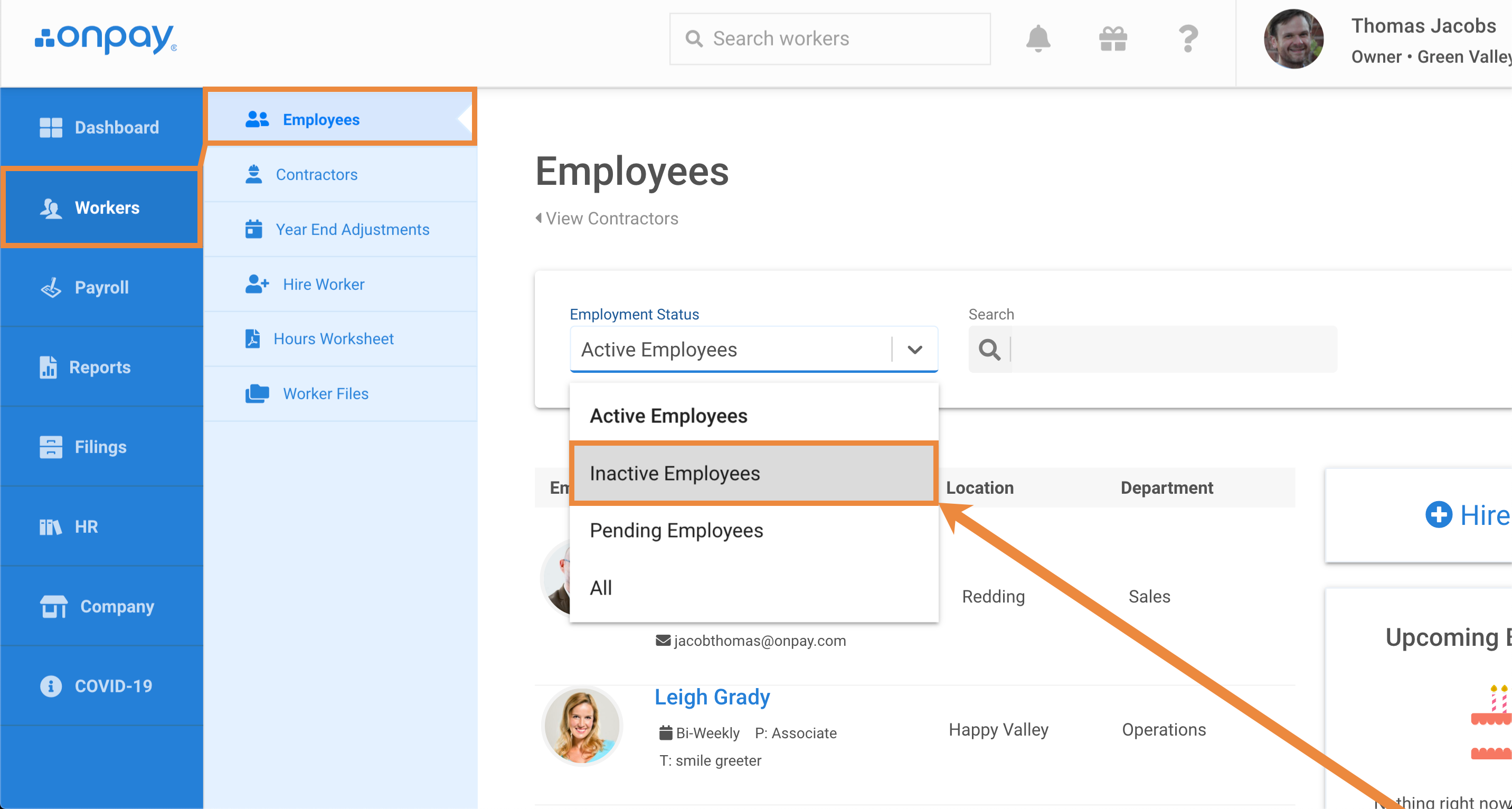 Rehiring a previously terminated worker
From the "Inactive employees" list, click on the employee profile, and go to the Job tab.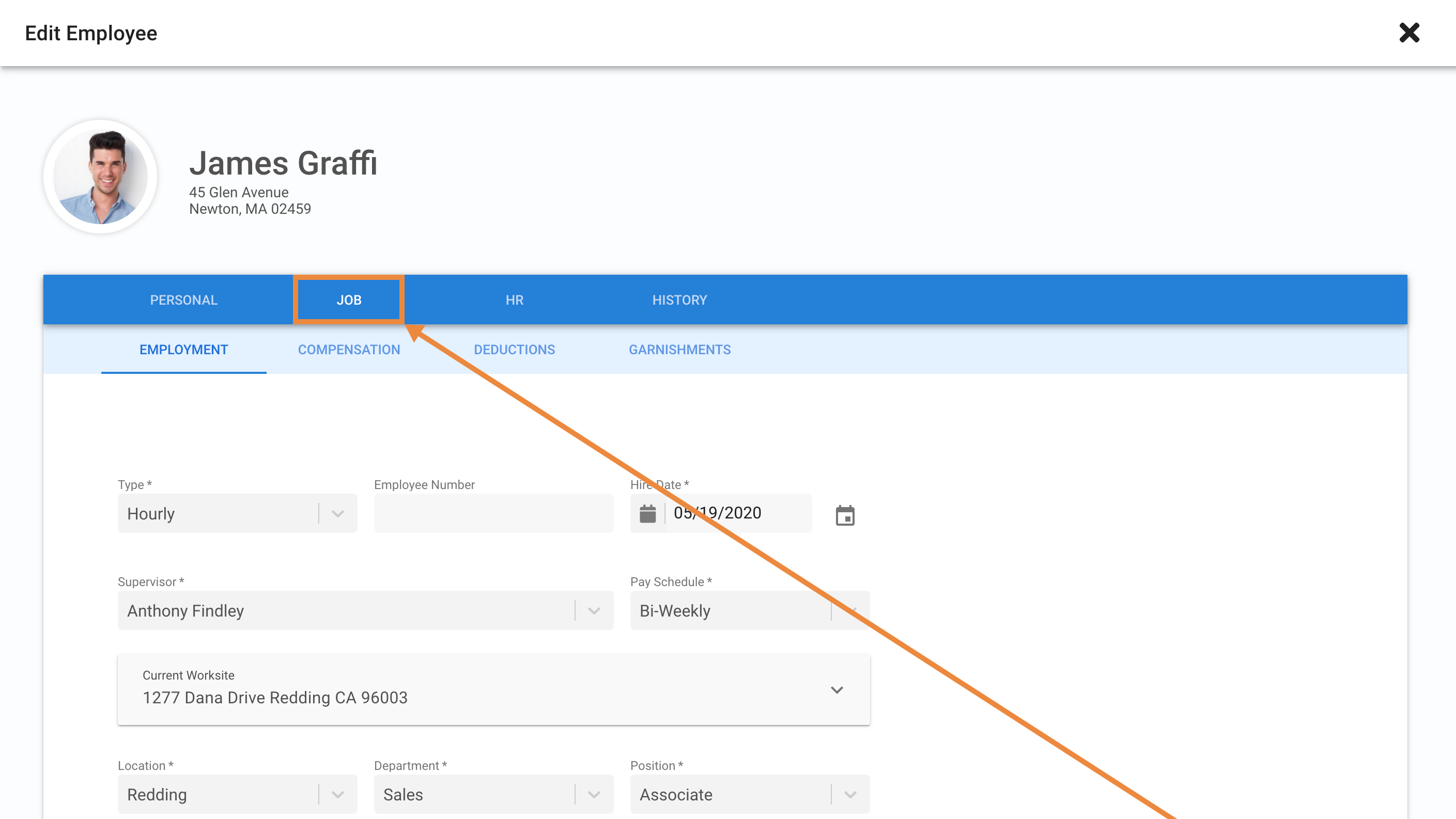 Under "Employment Status", click the ellipses to the right of "Termination Reason".

Click Rehire. This will return the worker profile to the "Active Employees" list, and add them to your payroll.

v6.0 ps