Document Templates can be customized using smart fields to help you get employee signatures on important forms like work-from-home or other workplace agreements, NDAs and consent forms, harassment and non-discrimination policies — You can even send a prospect an offer letter to esign and return to you, all in OnPay. Document templates can be added to OnPay's employee onboarding workflows, and we'll even help you audit who's signed and who hasn't!
What we'll cover
Getting Started
Click Templates in the HR menu. Here, you can see any templates that have already been made. We'll cover how to edit them later in this article.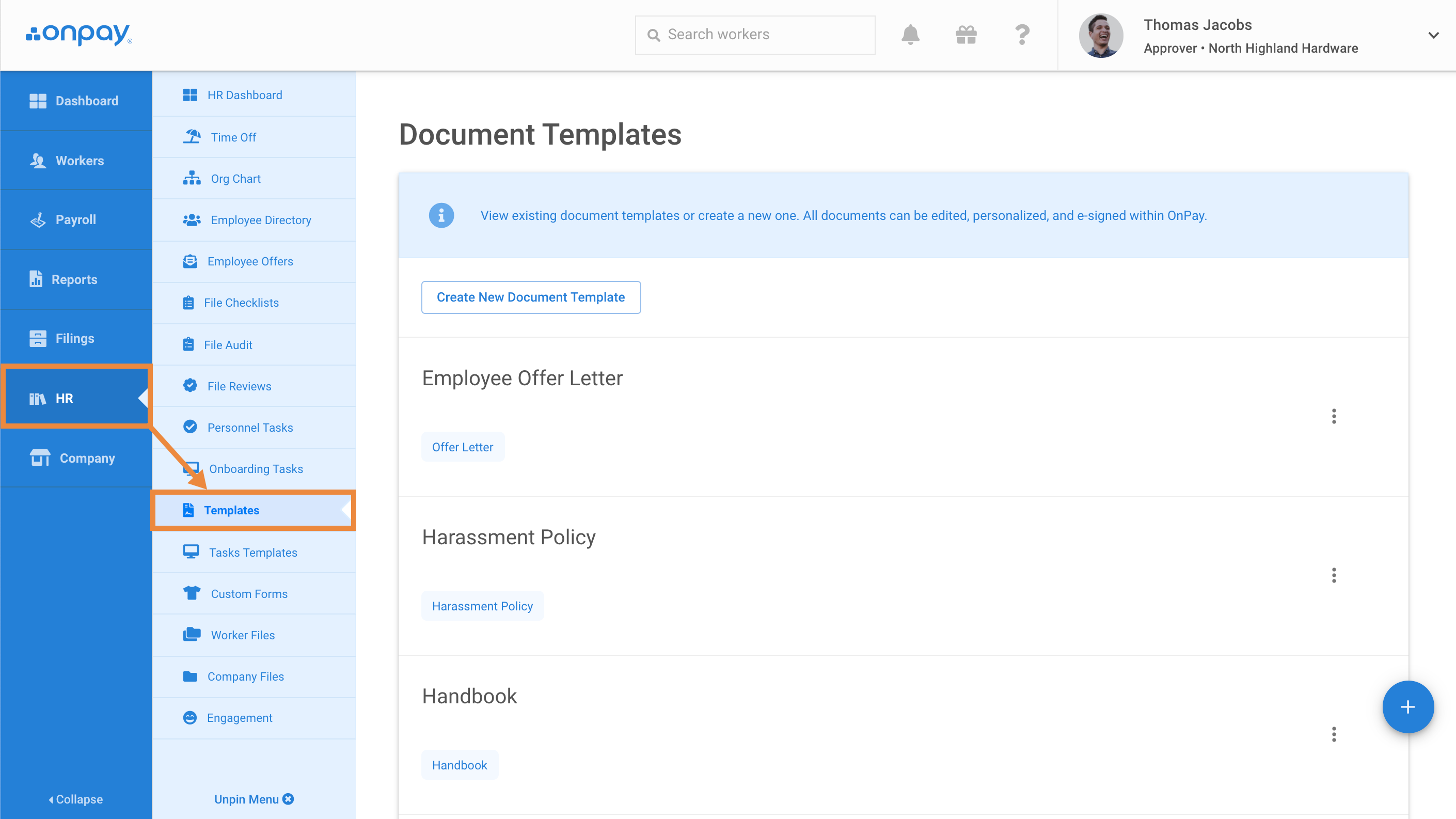 Click Create New Document Template. You can also click the (+) to add a new template.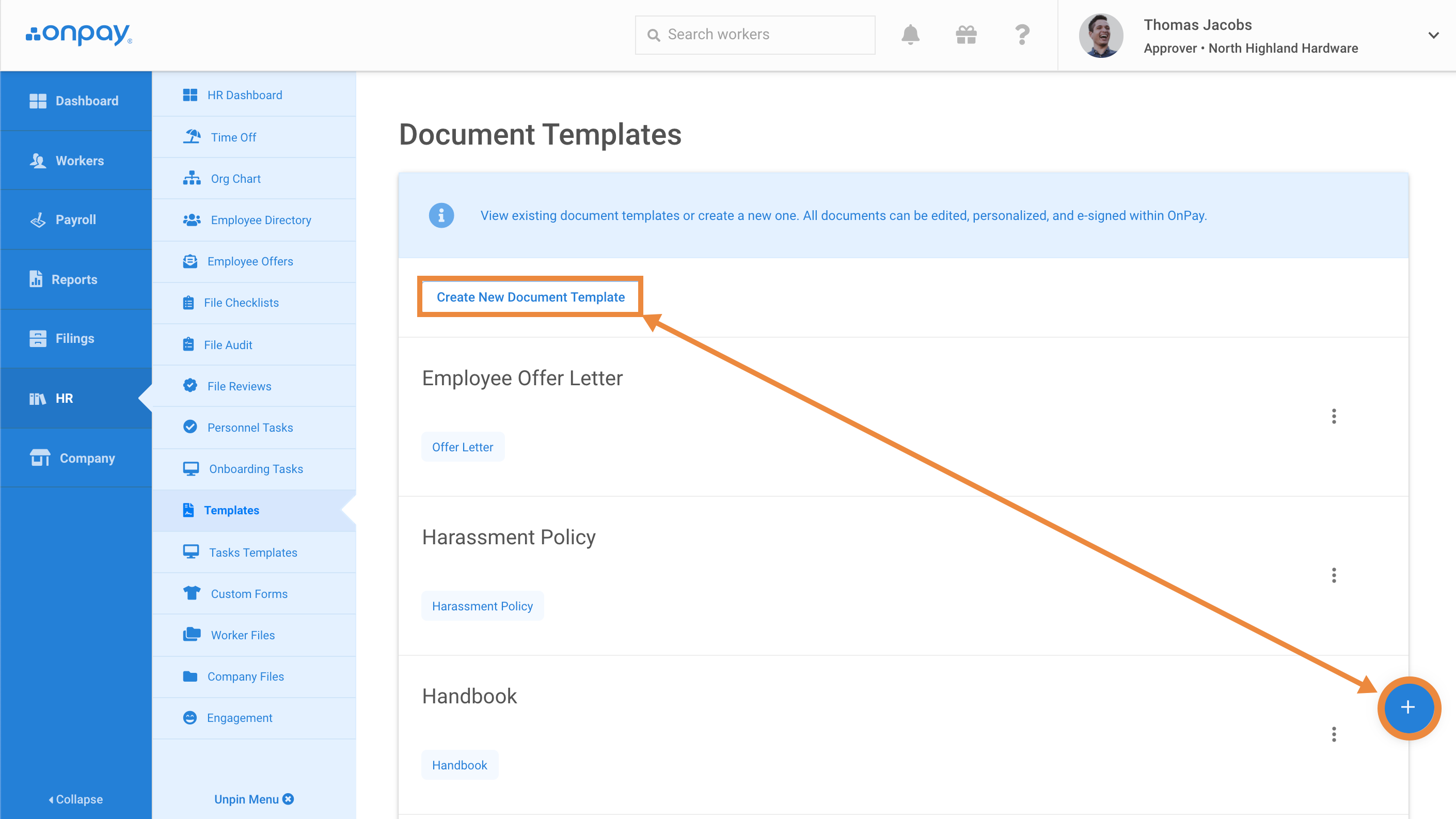 Editing existing templates
You can always preview or even edit an existing template by clicking its three dots, as shown below.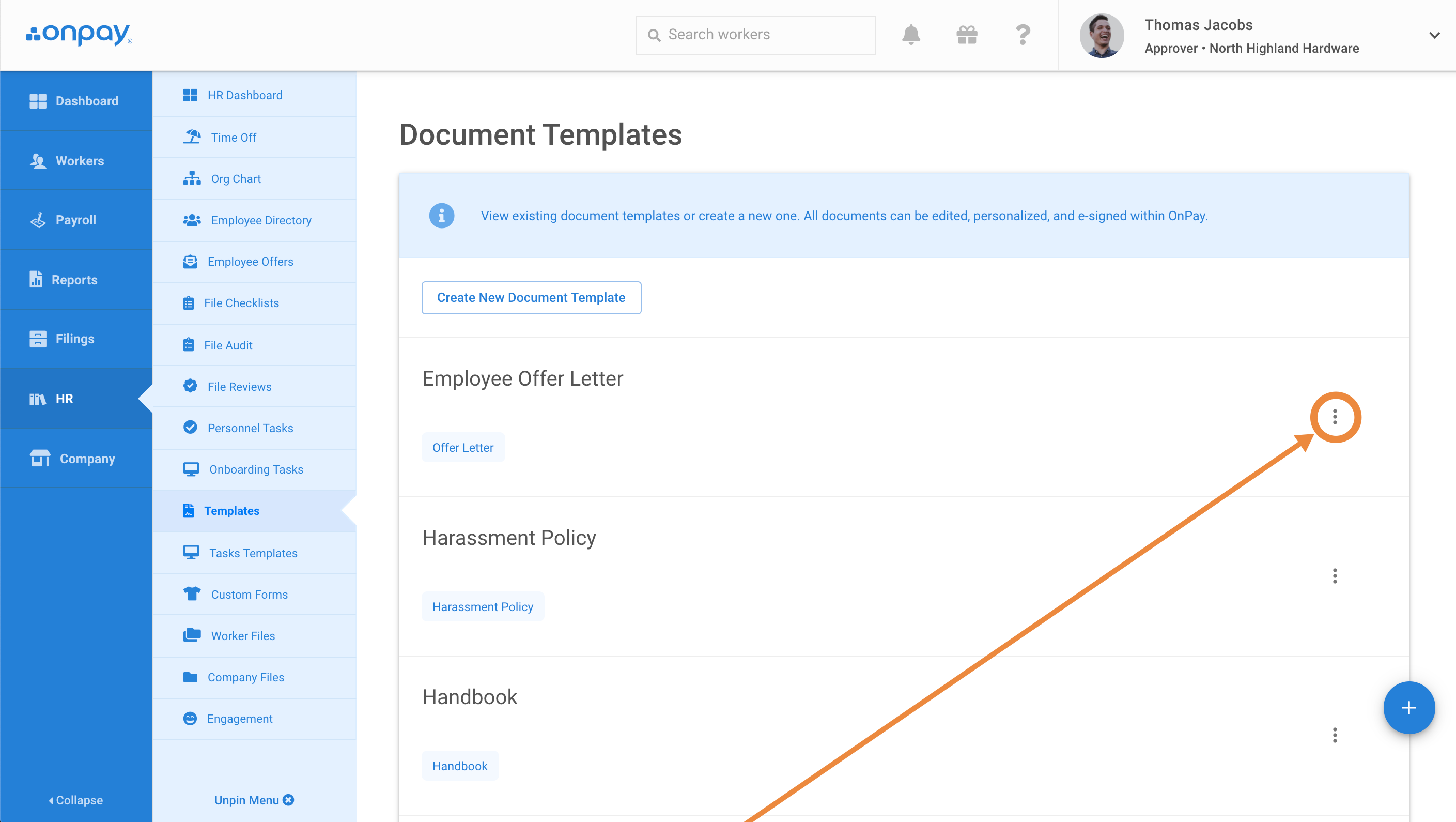 Click Edit to make changes to it. You have all the same options available that we'll explore in the rest of this article.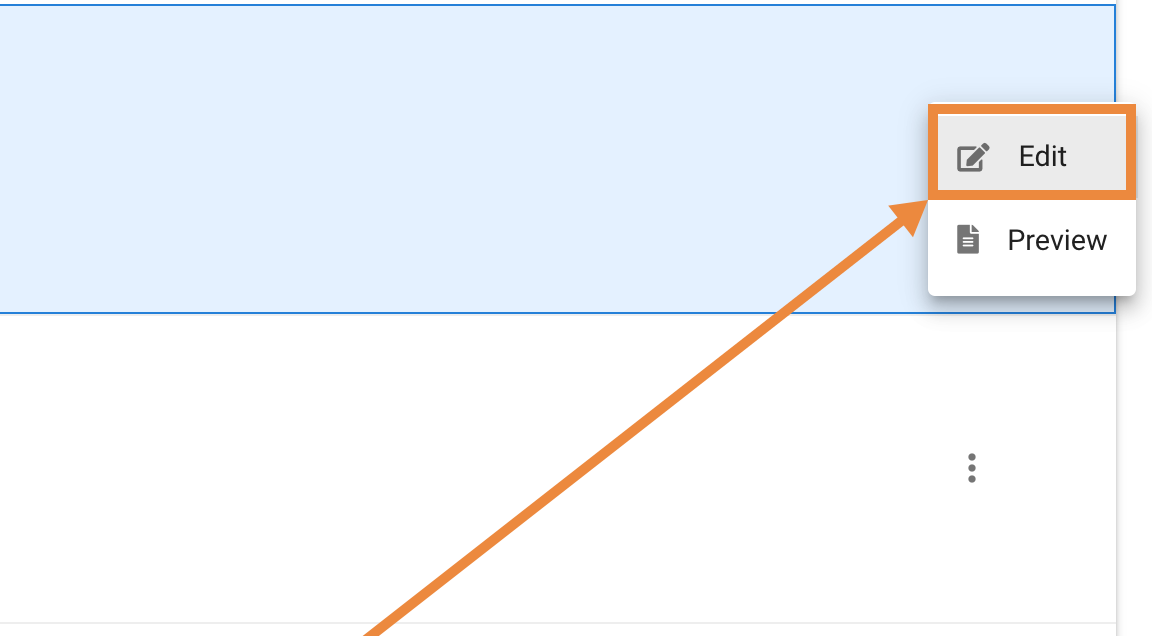 Template basics
Give your template a name, and assign it a template type. Template types come in handy when auditing these documents. We'll talk about auditing later in this article.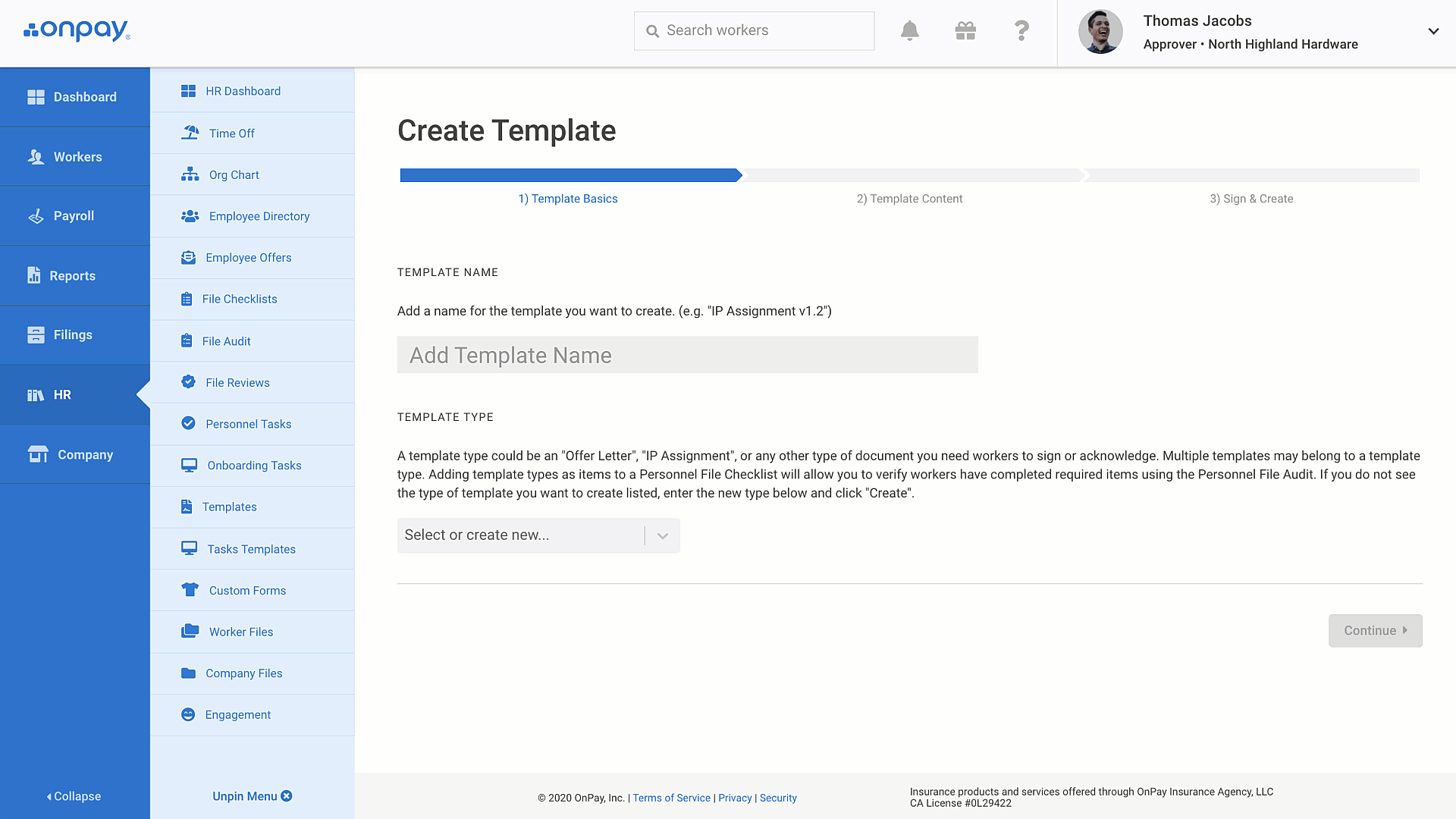 Click Continue to Template Content. You can always come back to the first step, if needed.

Template content
You'll see that the basics of your document have already been populated including smart fields like "Employee First Name". Smart fields act as placeholders so that OnPay can put information from your account into the documents you send out based on this template. Smart fields can be names, titles, dates, job duties, worksite addresses, and much more.
Add your message in the content field. You can type or paste from an existing document.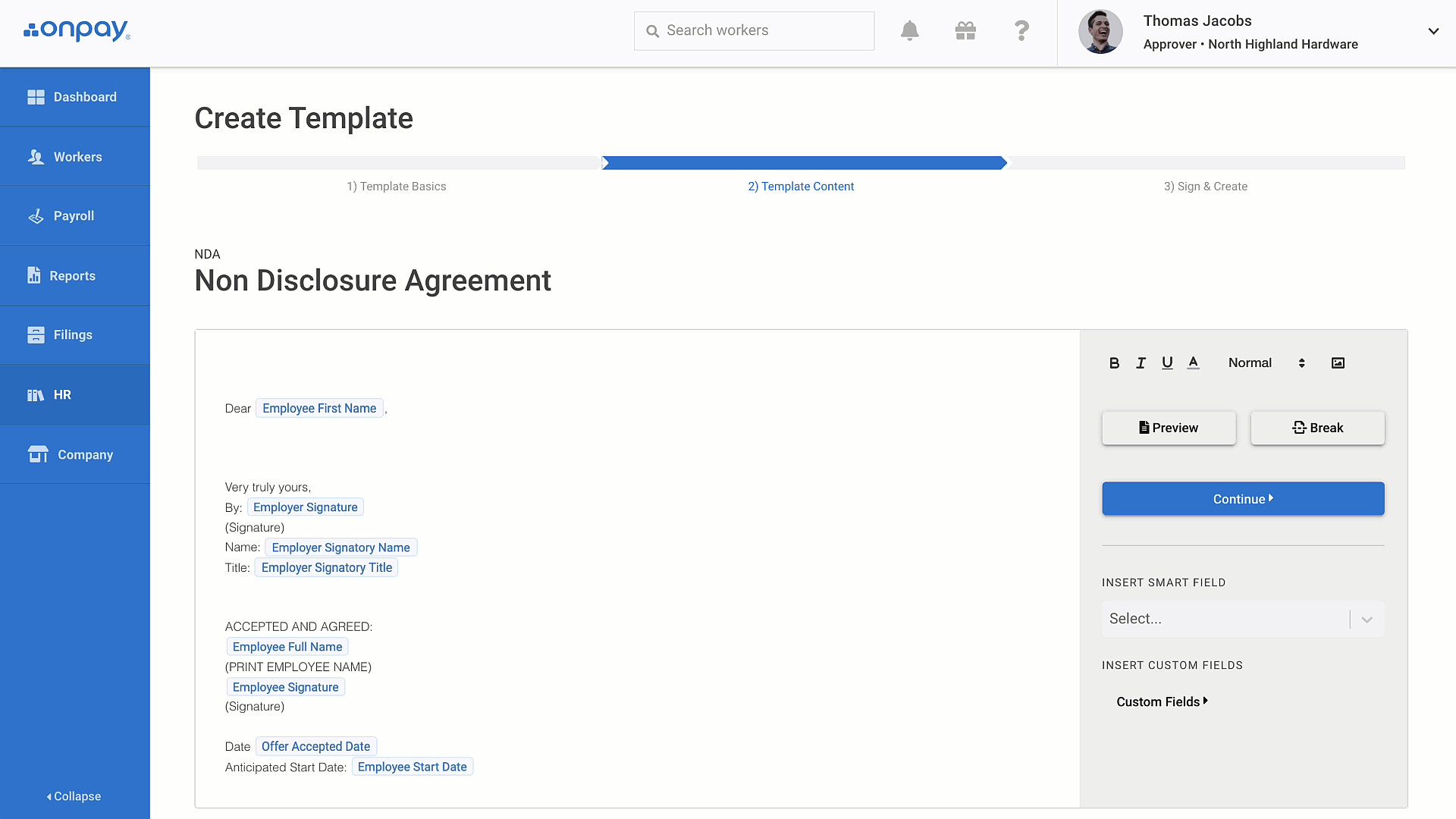 Formatting and smart fields
In the format panel on the right, you can adjust text style and size, add an image, logo, or custom letterhead preview your document, add a page break, or insert smart fields.
In the format panel on the right, you can:

Adjust text style and size
Add an image, logo, or custom letterhead
Preview your document
Add a page break
Insert smart fields
Need to add an image, logo, or custom letterhead?
Click

to upload an image from your computer to add in-line with the text. Be sure to preview before continuing, as objects may appear smaller than they actually are. You can resize the image as needed.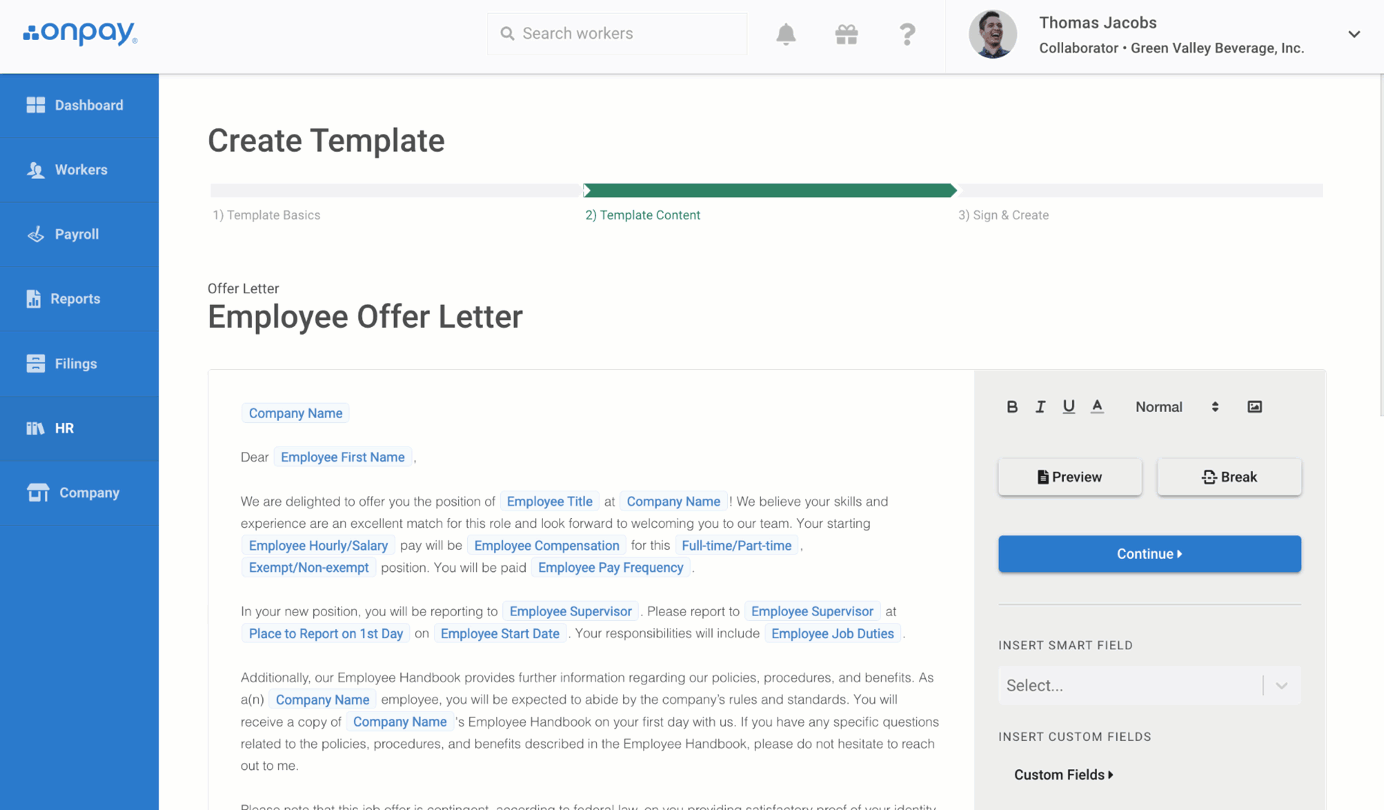 Smart fields
Smart fields reference information in your OnPay account to personalize documents for each recipient. To insert a smart field, click where you'd like the smart field to appear, delete any placeholders, and choose a smart field from the format panel.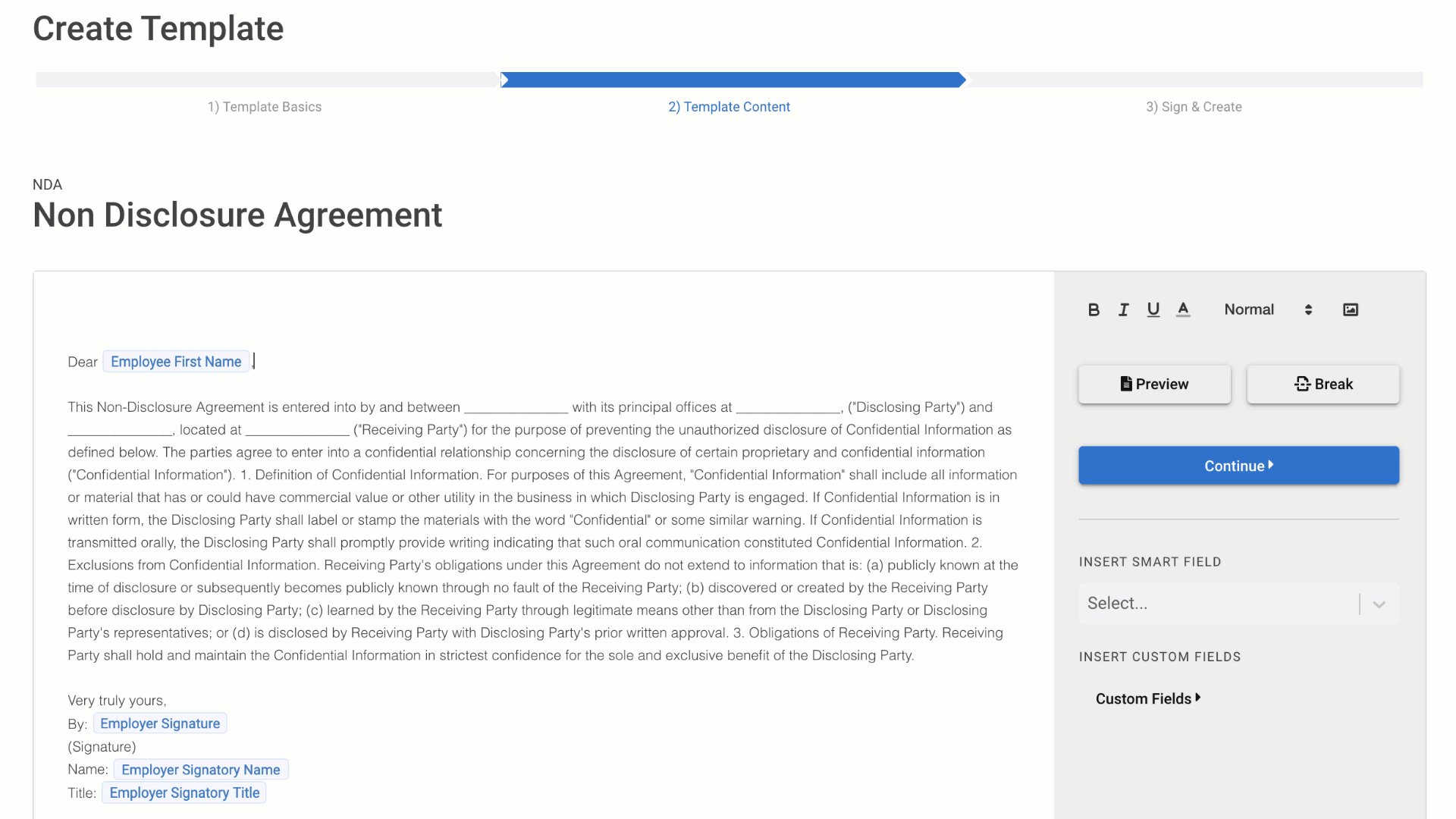 Click Continue in the format panel when you're ready to sign and create.

Sign & Create
This step lets you add a digital signature in the document. Enter your title, and your name, then sign in the box with your mouse, or stylus. Signatures are saved for future use.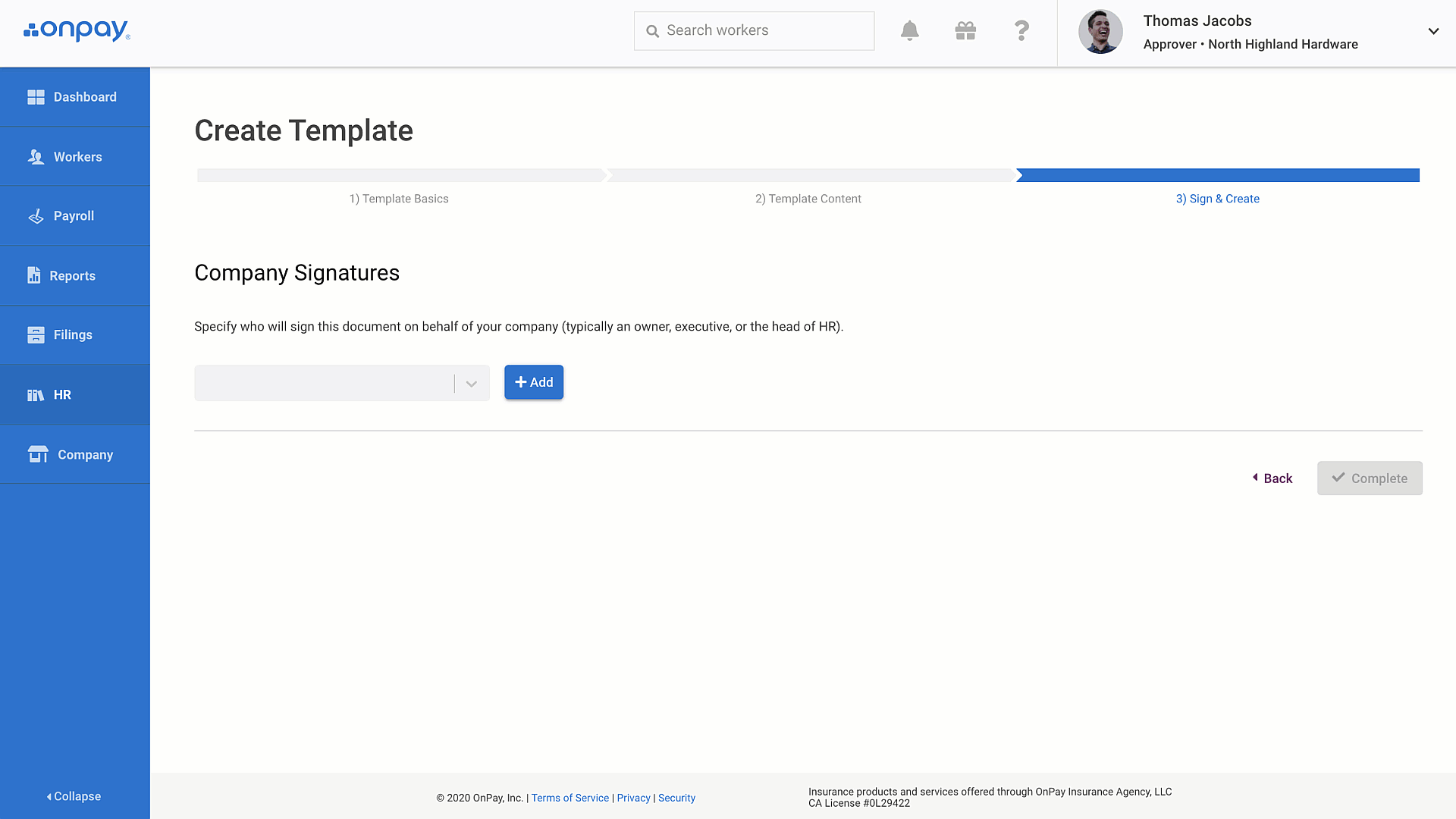 Creating an offer letter
If you're creating an offer letter, let us do a lot of the writing for you, by answering a few questions about your business. Just click Get Started to begin.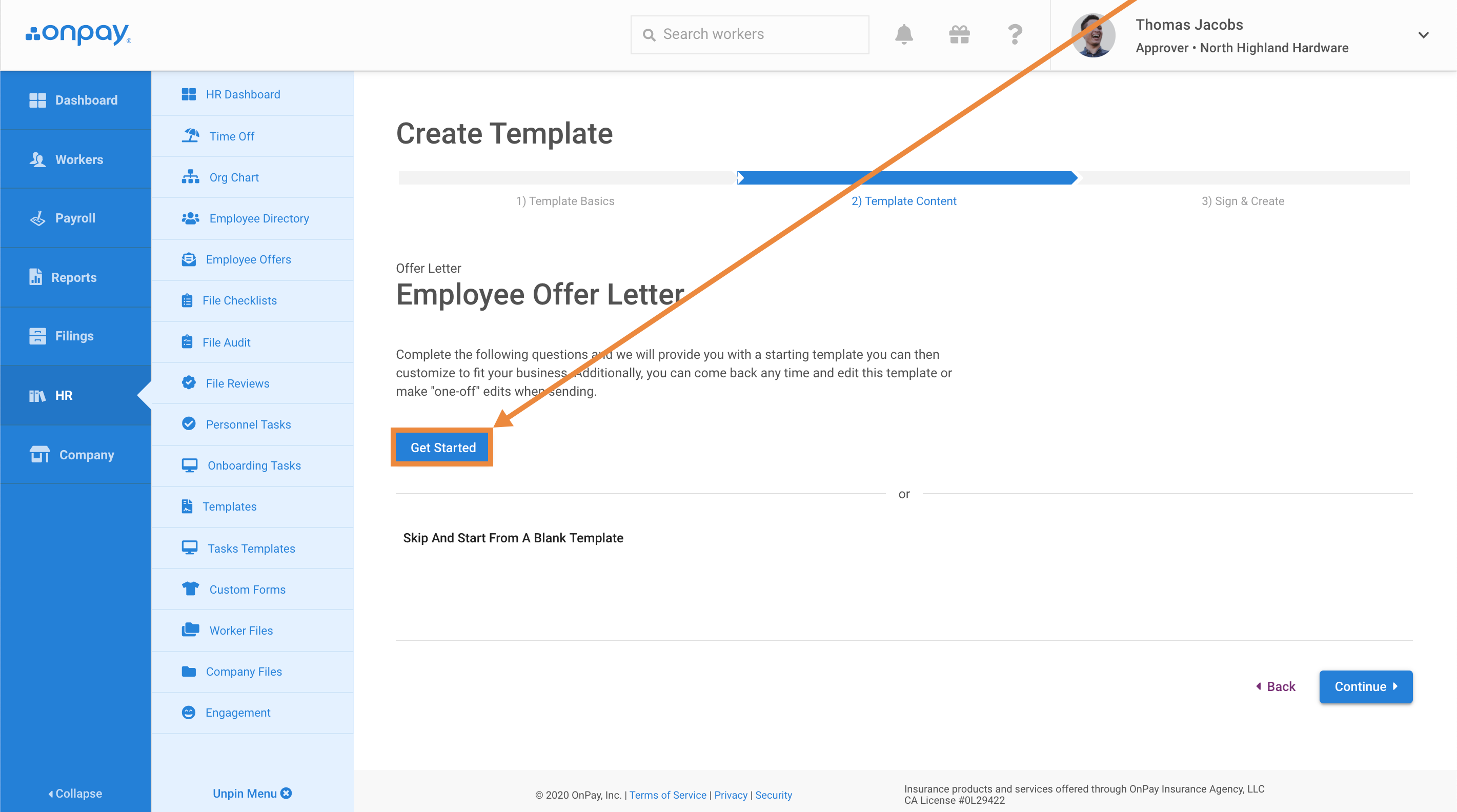 Note: You can also skip the questionnaire and start from a blank template.
7-Step Offer Letter Guide
We'll ask you questions about bonuses and commissions, company hours, Benefits and PTO, introductory period and pre-employment screening.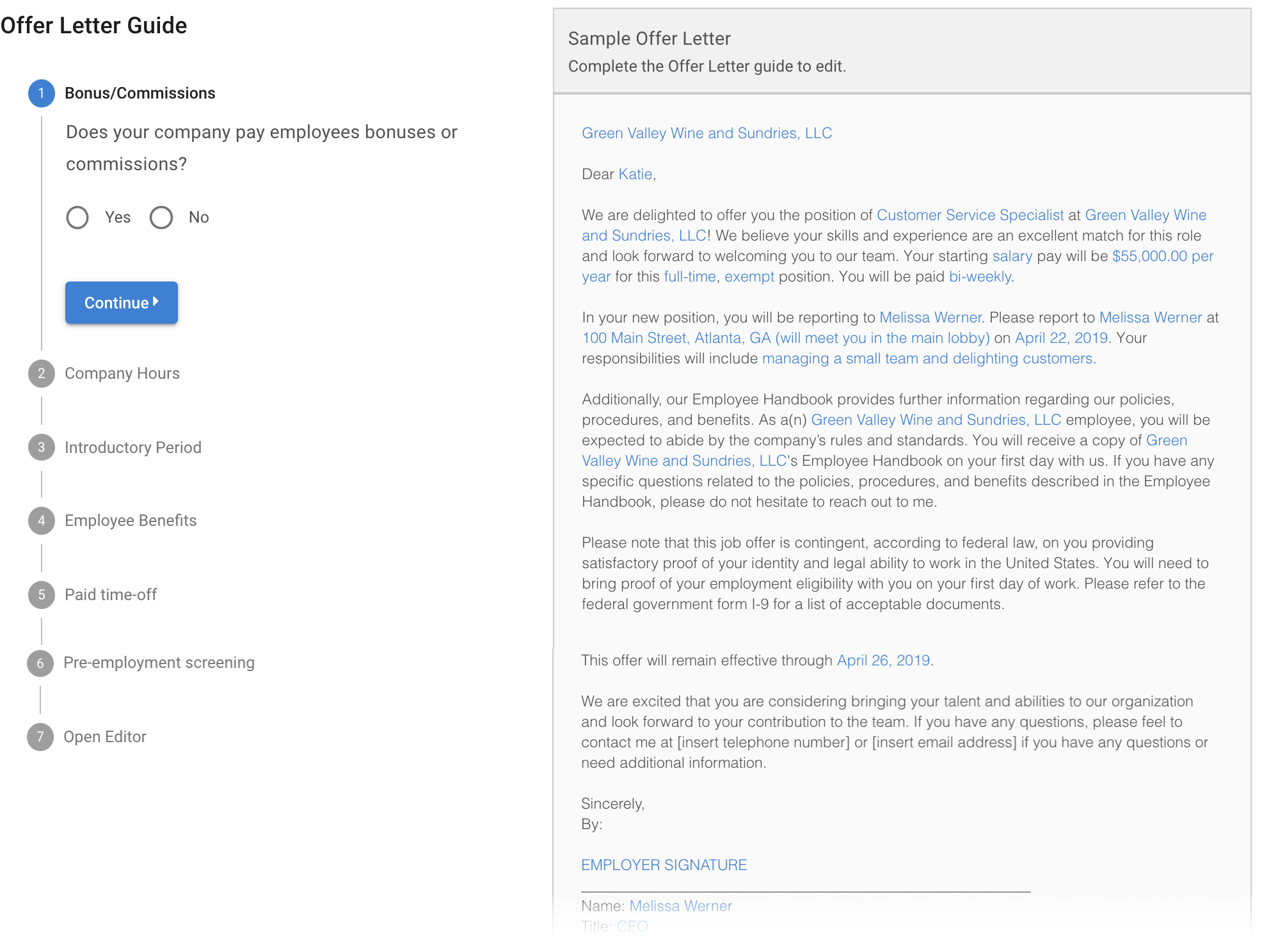 When you're ready to view our draft of your offer letter, click Open Editor.

You can edit the text, as well as customize smart fields and other formatting as detailed in the smart fields section of this article.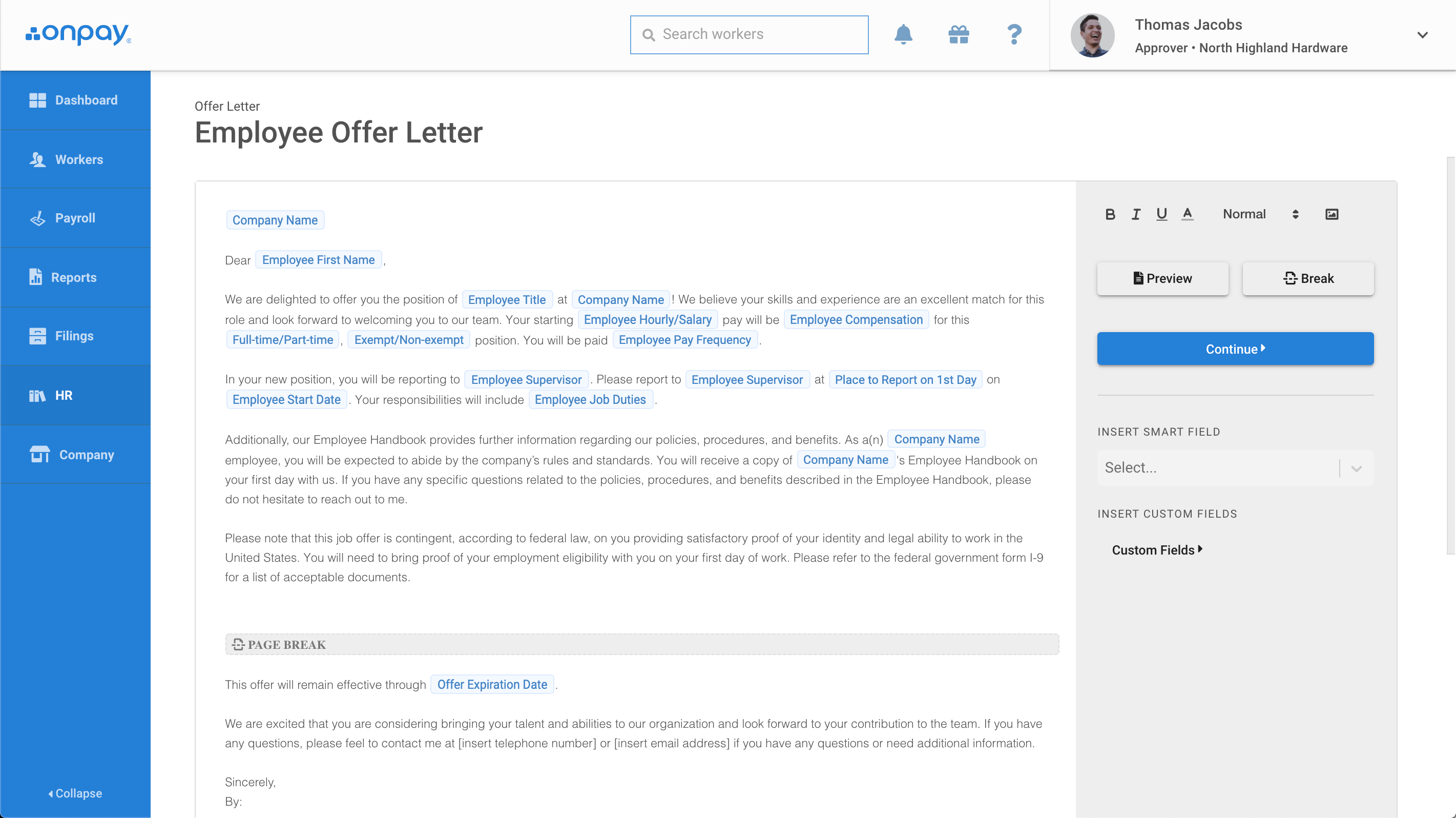 You can take your time when editing this document. Your progress is saved, and you can revise this template at any time. When you're ready, click Continue to add a signature as detailed in the Sign & Create section of this article.

Auditing onboarding workflows
If you've included documents in an employee onboarding workflow, you can keep track of who's signed and who hasn't.
Go to File Audit in the HR menu, and choose the personnel file checklists you wish to audit. Workers will be in the left column, and the form types are listed in the header.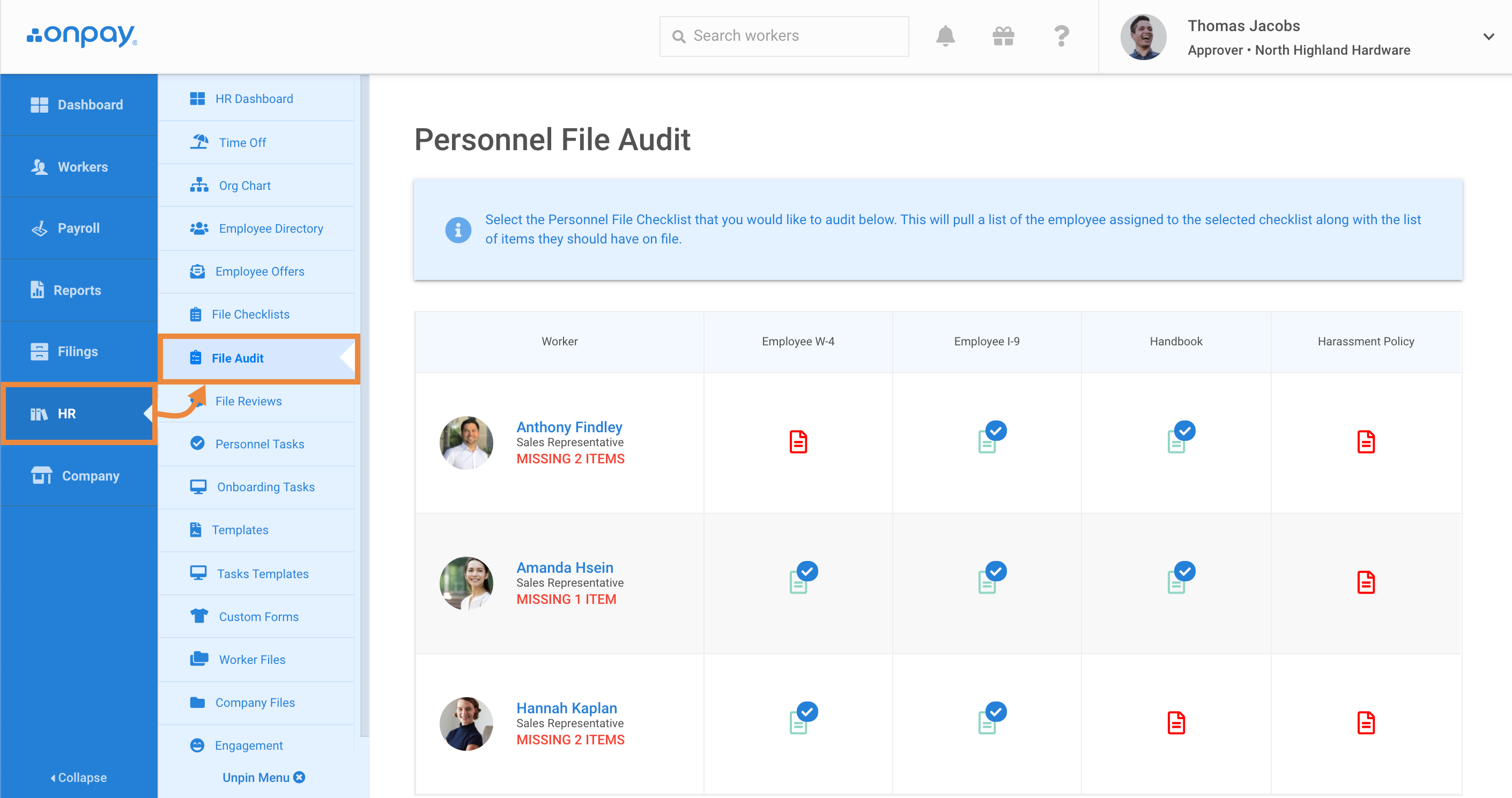 v6.0 ps