OnPay's offer letter templates let you offer jobs with ease. You can assign onboarding tasks, and even invite the prospect to accept and enter their personal information so you don't have to.
What we'll cover
Get started
You can begin in your Dashboard under "My Team", or in Workers, by clicking +Hire Worker.

Click Send an offer letter. If you've already hired this worker, and just need to enter their information, or invite them to self-onboard, you can choose Add an employee. You can also enter or invite contractors with Add a contractor.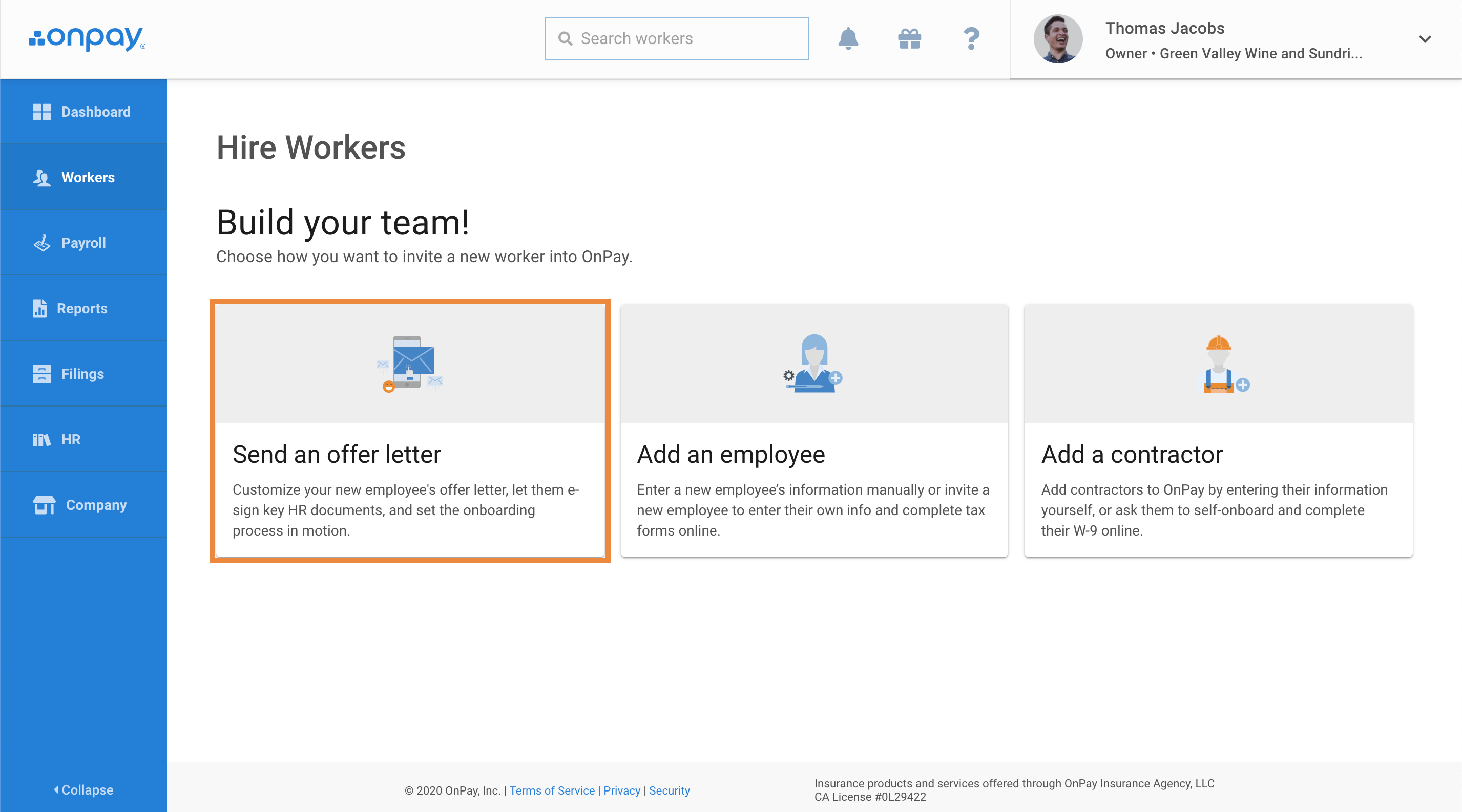 Click Start to begin. You can stop at any time, your progress will be automatically saved.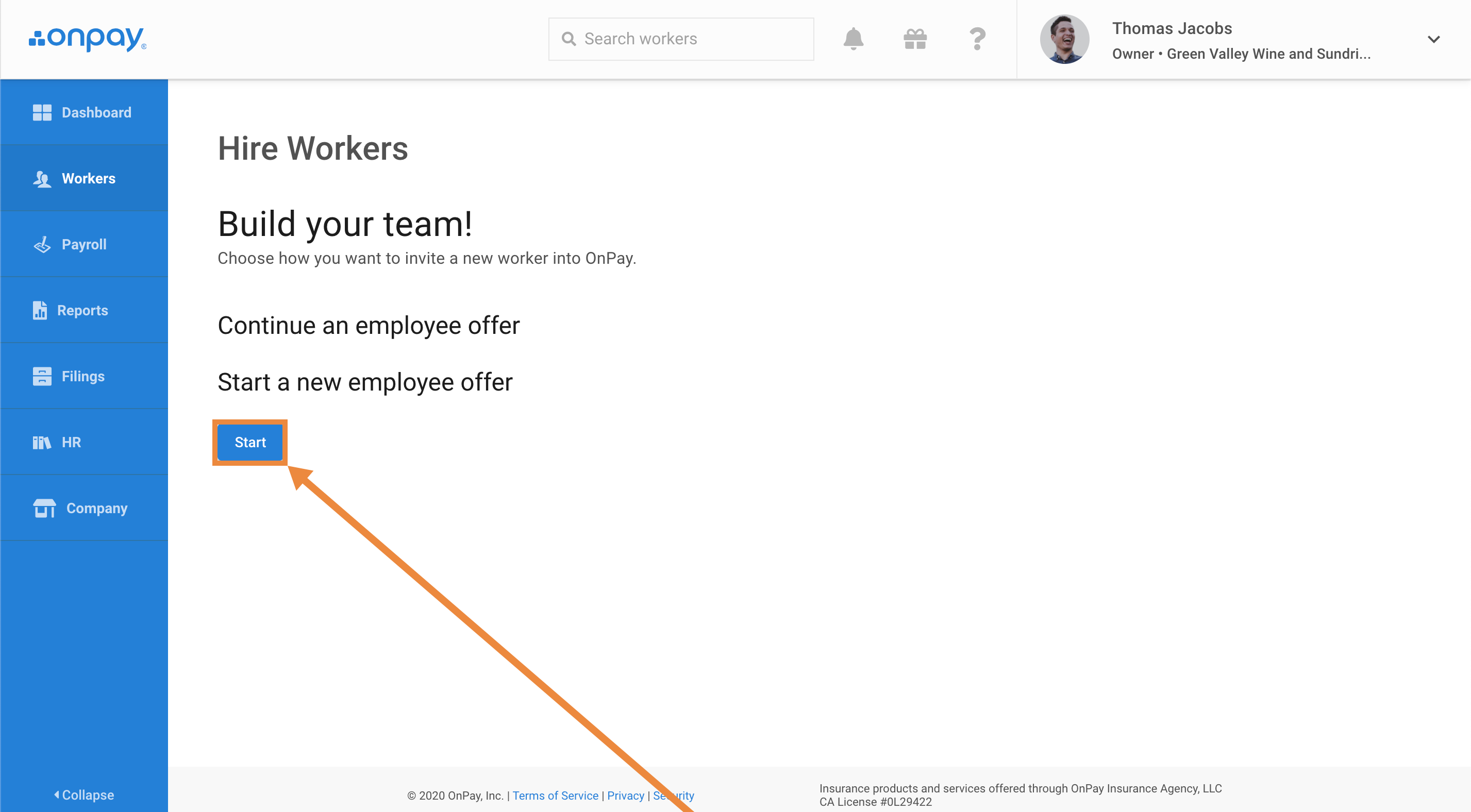 You can always pick up right where you left off under "Continue an employee offer."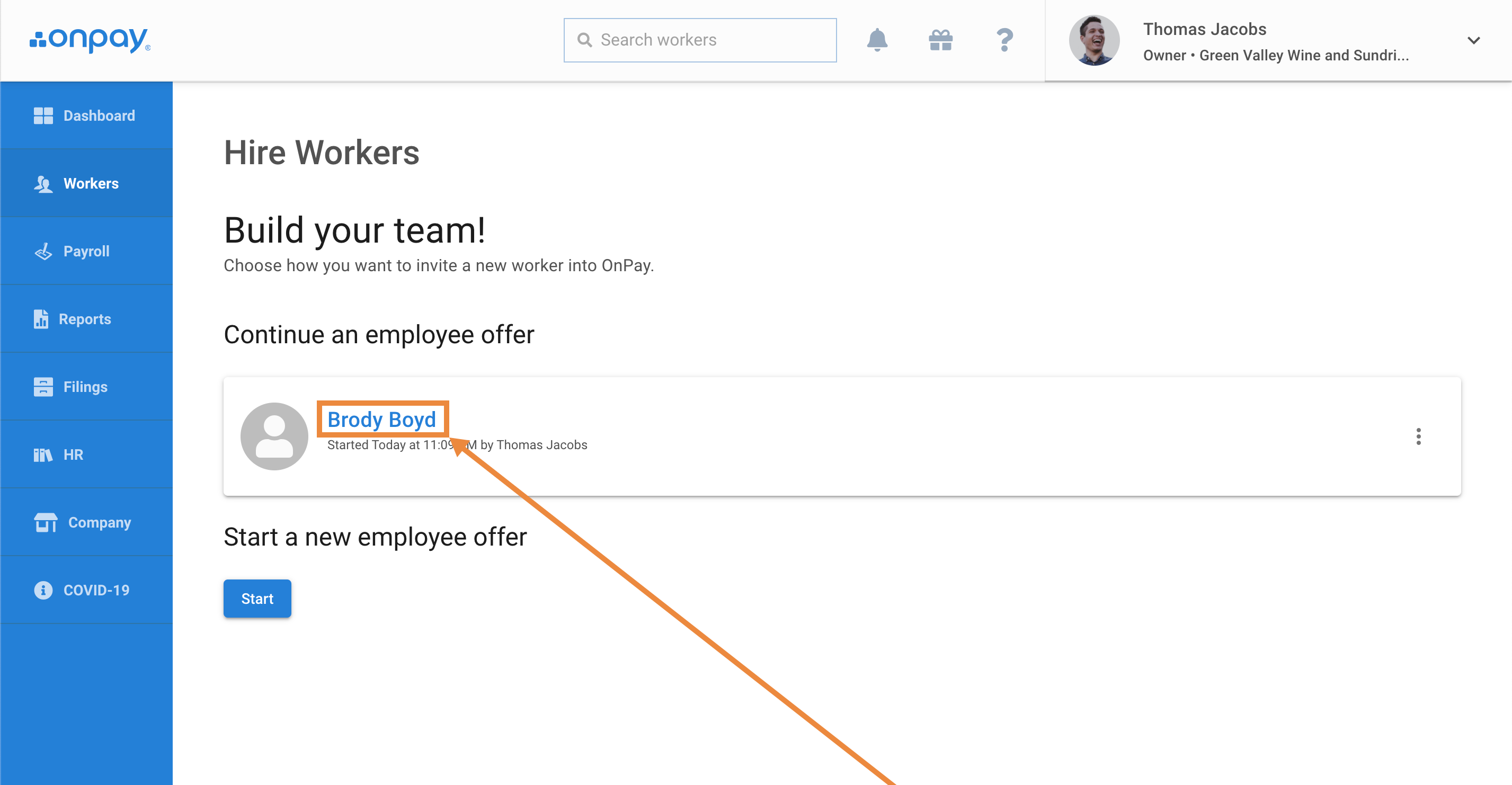 Enter information
Enter the information for the new employee, including:
Personal email
Hire date (first day of employment)
Name
Supervisor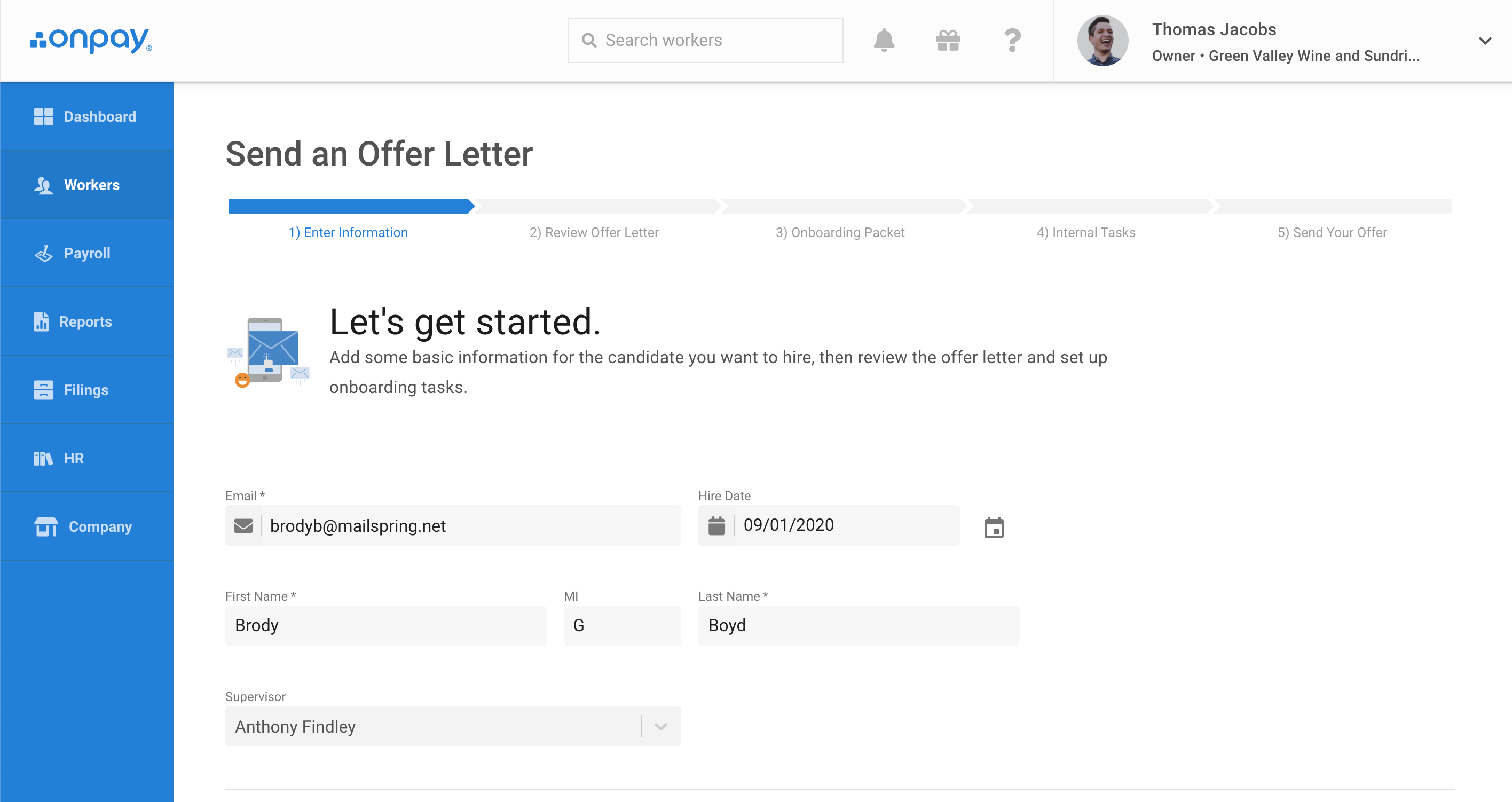 Specify their job details, including their pay rate. Some fields have default choices, but most will present options that are already set up for your company. These are:
Worksite - Can be added in Company→My Company→Company Worksites
Pay schedule - Can be added by following these instructions
Location - Can be added in Company→Loc/Dep/Pos→Locations
Department - Can be added in Company→Loc/Dep/Pos→Departments
Position - Can be added in Company→Loc/Dep/Pos→Positions
Title - Can be added instantly in the "Title" field
Type - Choose from default
Amount - Enter the amount
Per - Choose from default
Full/Part time - Select one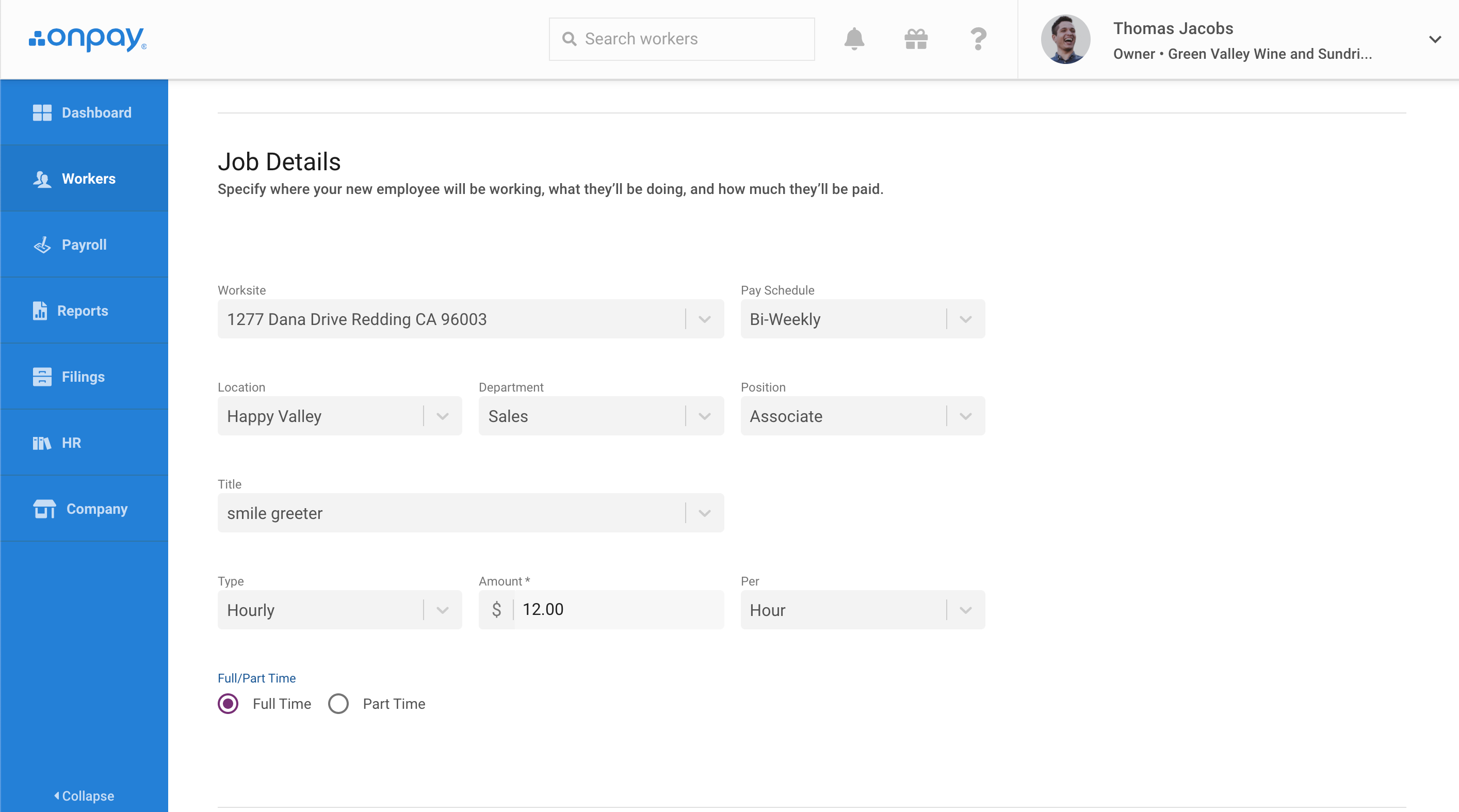 Custom forms
Custom forms are helpful in collecting information about a new employee during the onboarding process. It can include multiple choice or dropdown menus, lists, text fields, and more, allowing for a variety of uses. In this example, the hiring employer has already asked the prospect for their uniform t-shirt size, and are using a custom form to document this.

Note: If you'd rather ask the prospect this information during the onboarding process, use File Checklists (covered later in this article).
Custom forms can be created in HR, Custom Forms.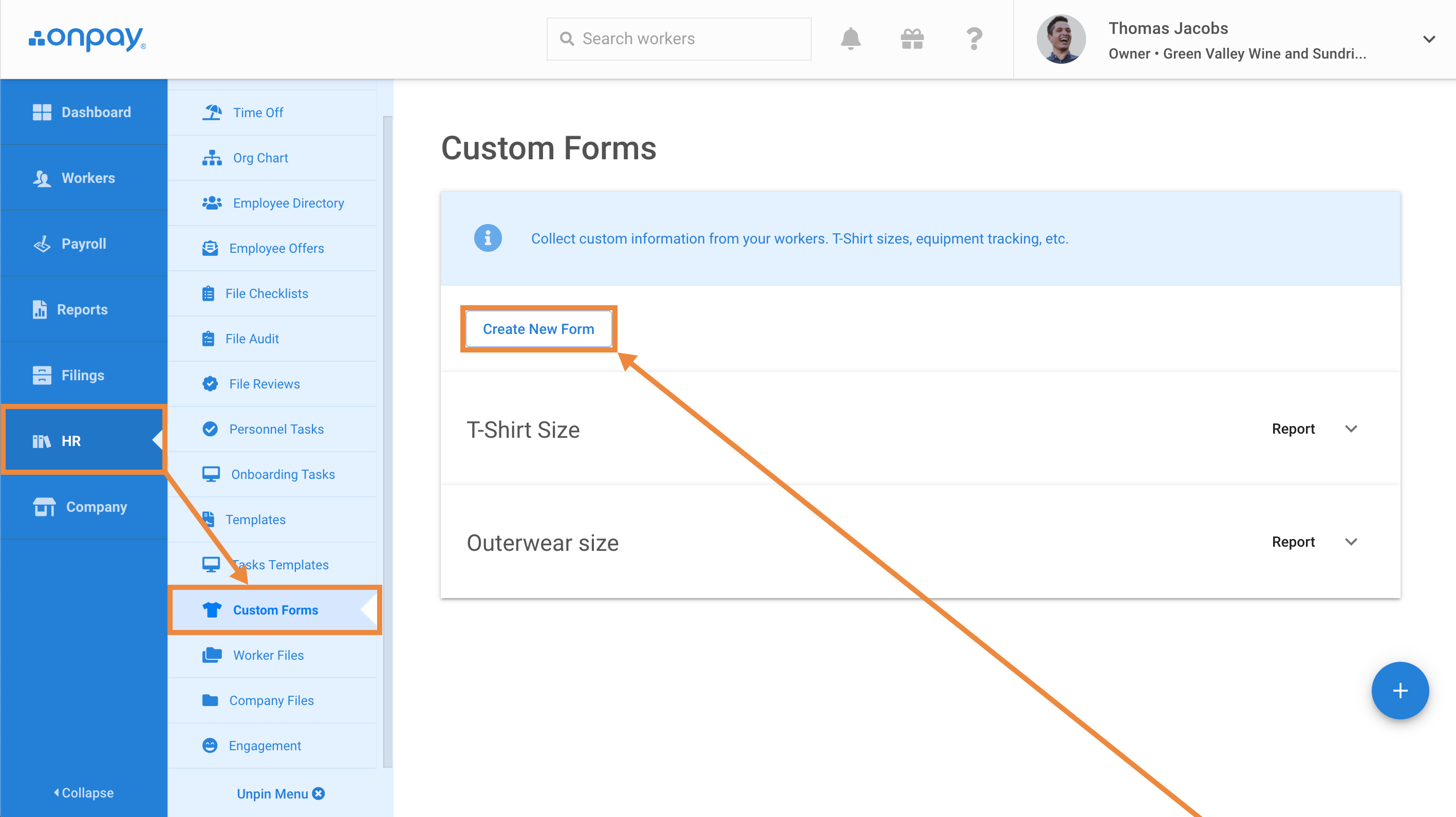 Select the Offer letter template you would like to use. You can have as many offer letter templates as your company needs.

Offer letter template
Offer letter templates can be made in HR, Templates.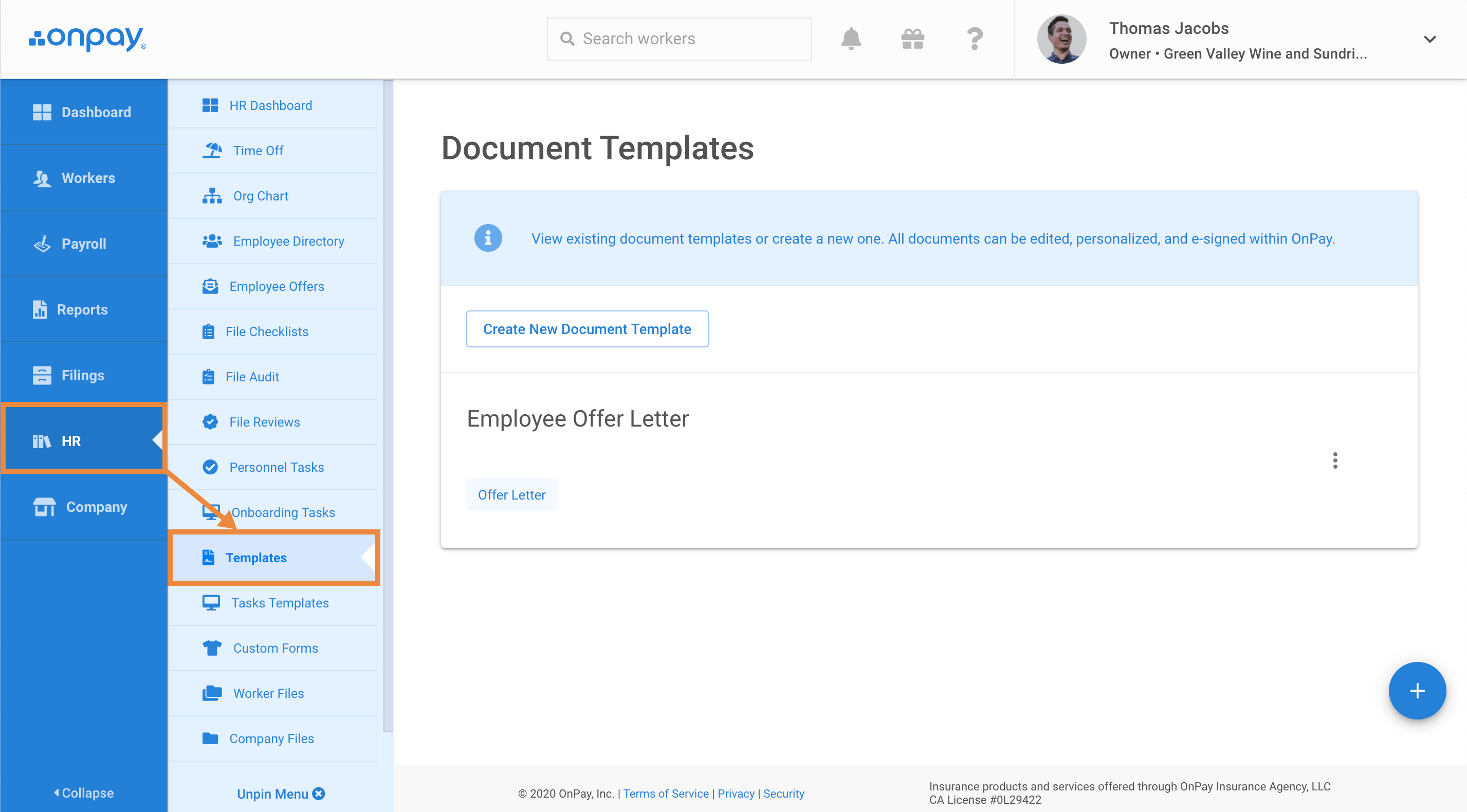 Add any needed additional information that this candidate should know, like where to report on their first day, their job duties, or when this offer will expire. This information will be used in the offer letter.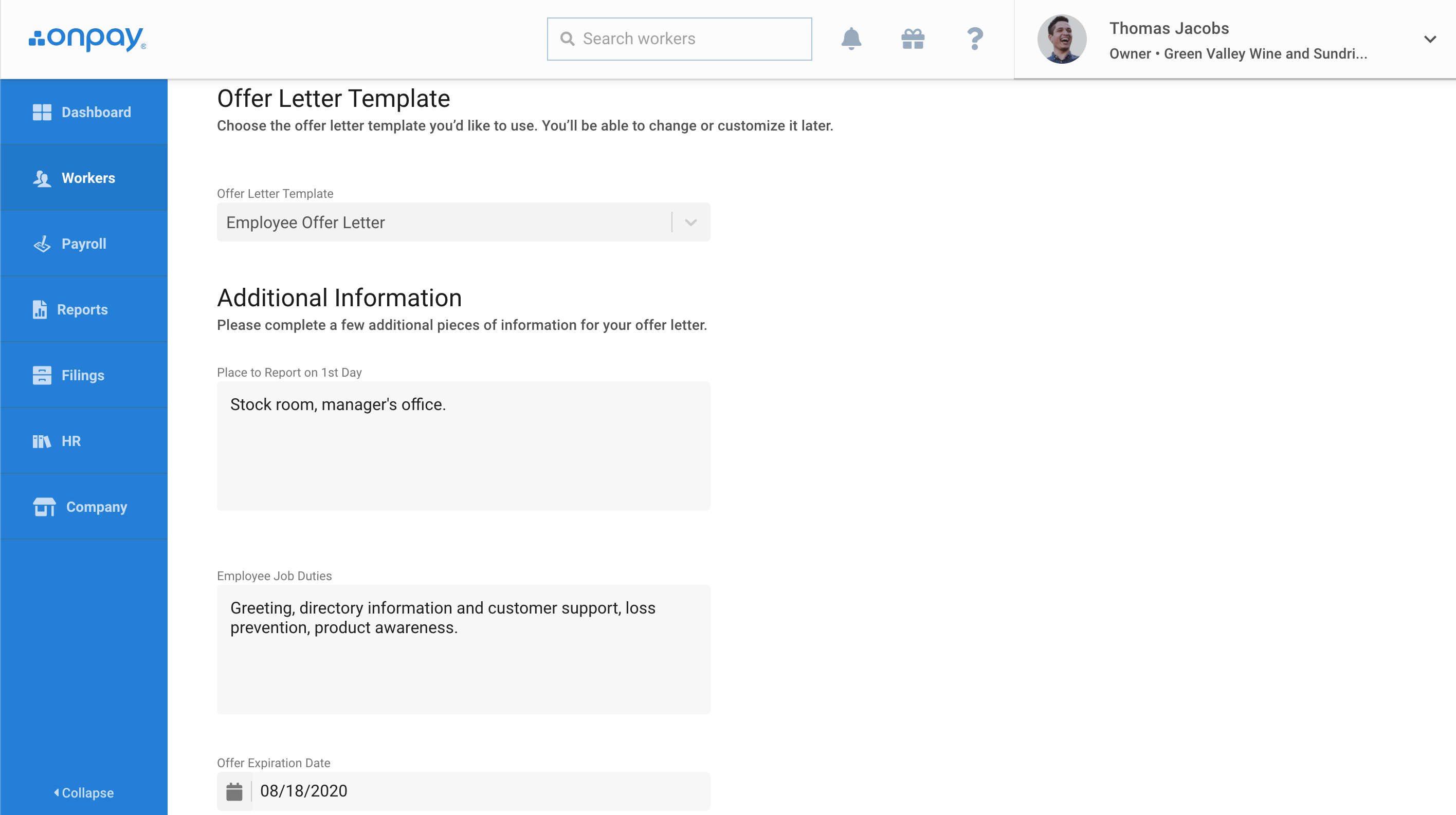 Click Continue when you're ready to review the completed offer letter.

Review your offer letter
Your offer letter will be a combination of your template, and the information entered in the previous step. In the example below, inserted variables, or smart fields, are underlined in orange. You can have as many templates, with as many smart fields as are needed. You can edit this letter by clicking Open Editor.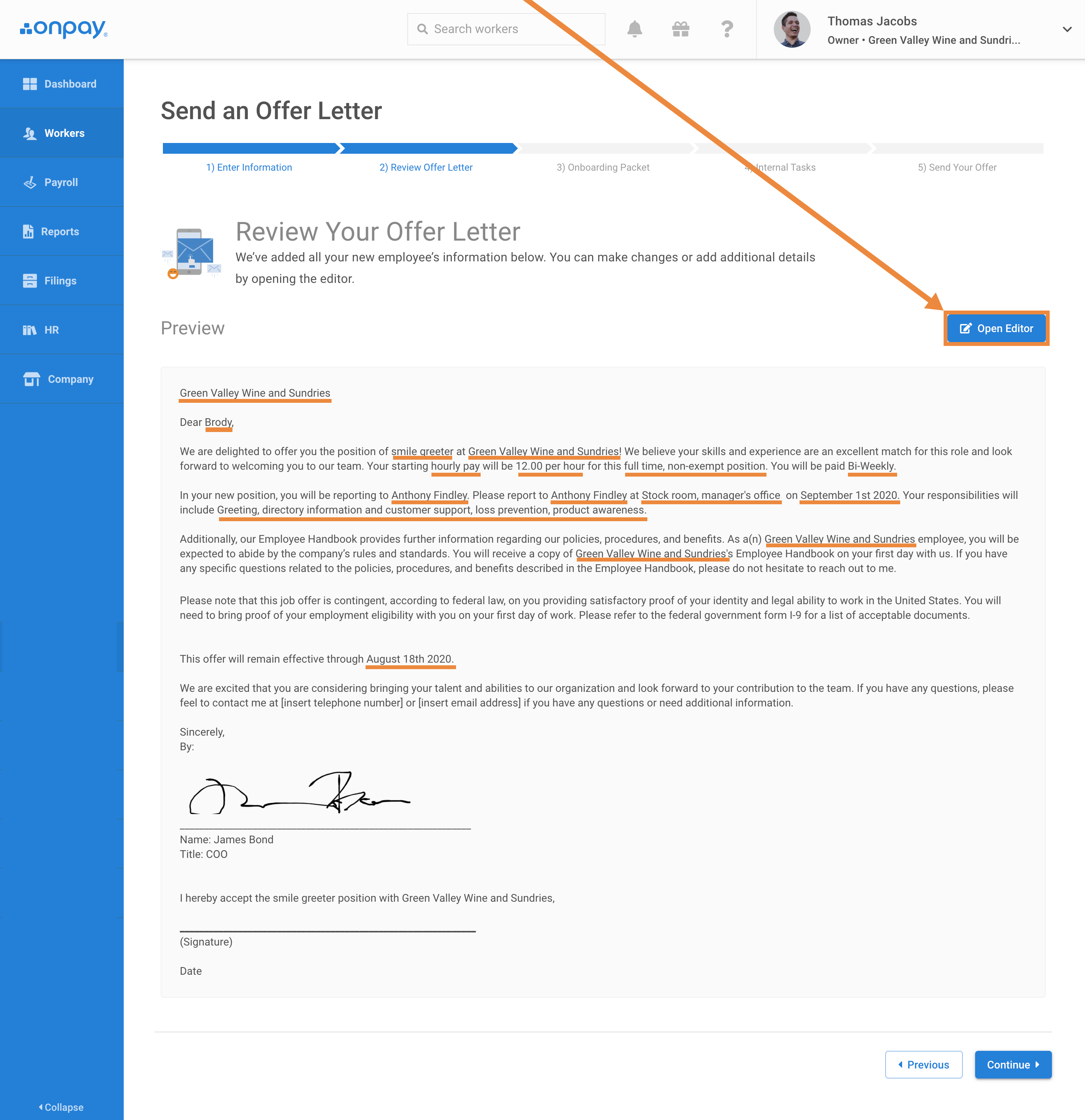 Need to add an image, logo, or custom letterhead?
Click

to upload an image from your computer to add in-line with the text. Be sure to preview before continuing, as objects may appear smaller than they actually are. You can resize the image as needed.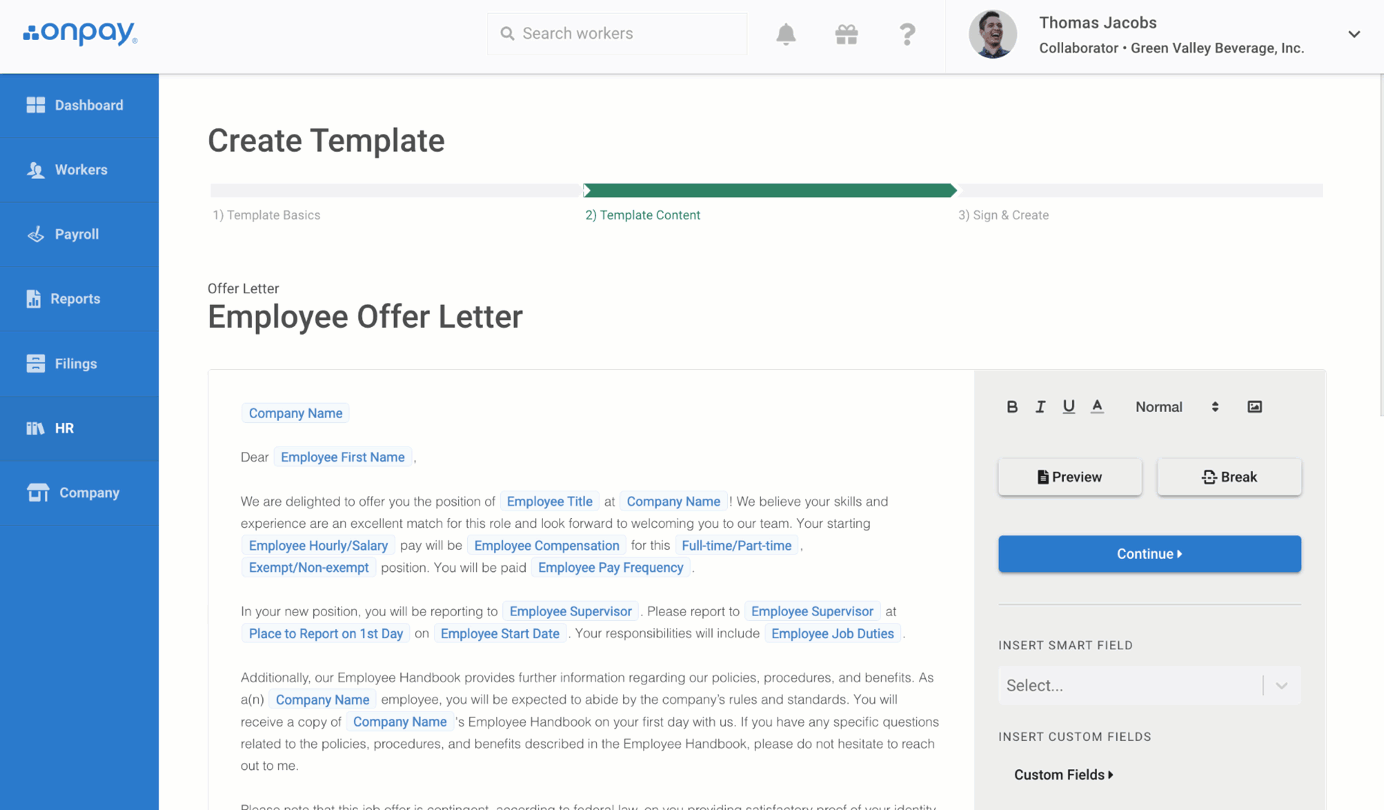 If for any other reason you need to go to the previous step, you can at any time.

Click Continue when you're ready to create your onboarding packet.

Create an onboarding packet
Onboarding packets allow you to add tasks, checklists, and documents that will be needed to help onboard this new employee, should they accept the offer. You can assign who is responsible for this onboarding, and monitor their progress in real time.
To begin, choose a "Personnel File Checklist".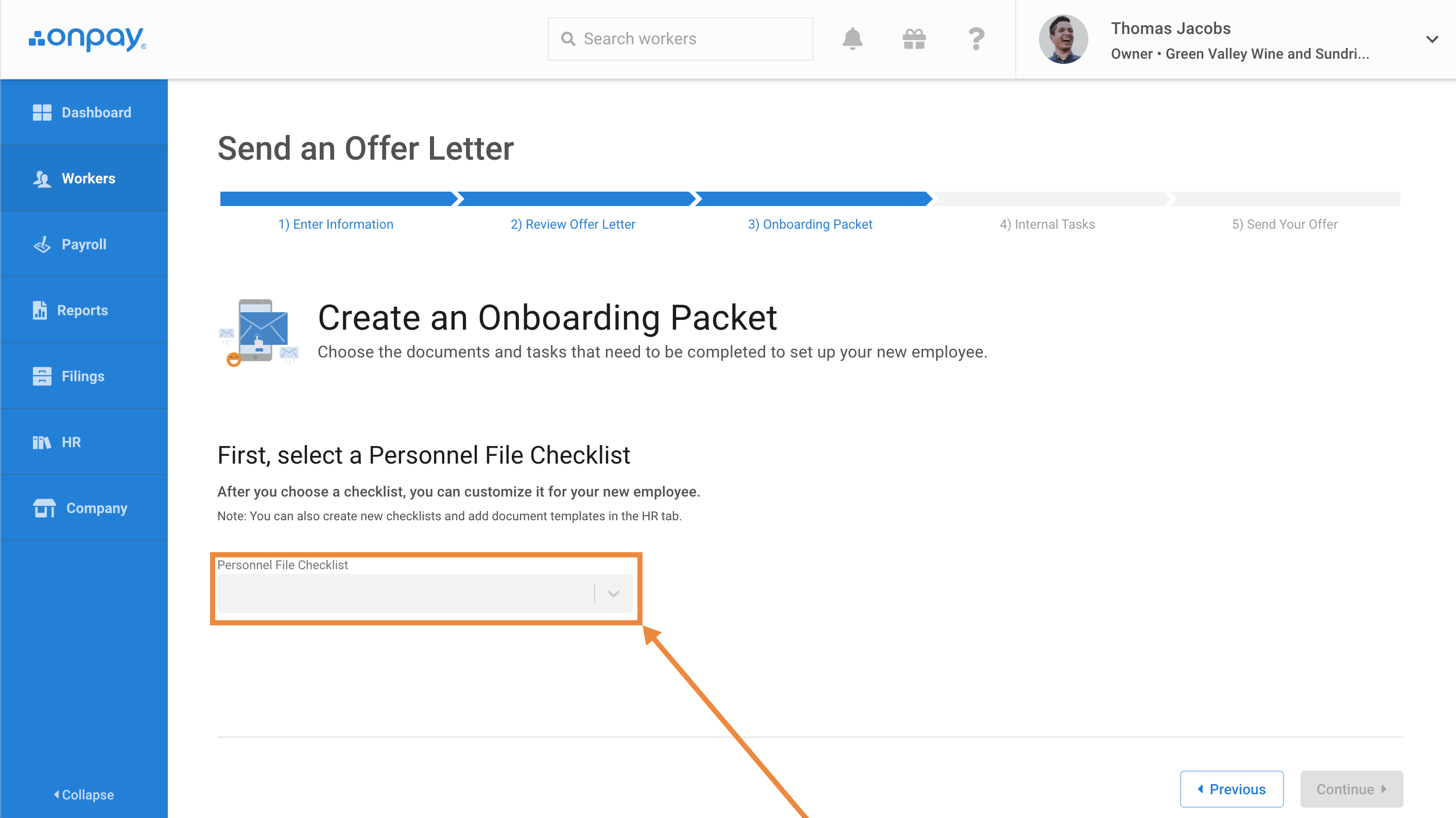 Personnel file checklists can be created in HR, File Checklists.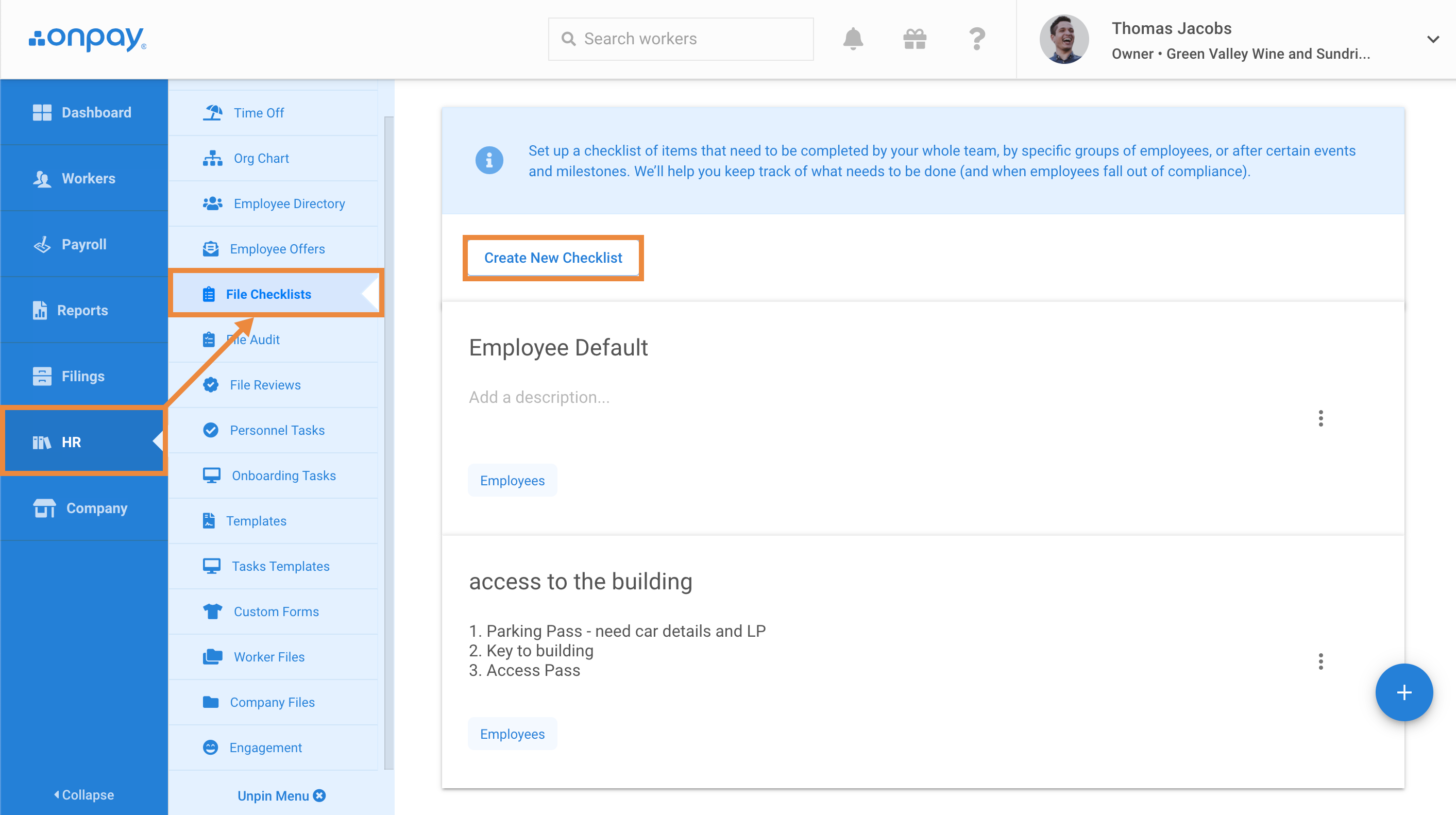 Tasks
Add personnel tasks
You can add personnel tasks that aren't included in the onboarding packet template.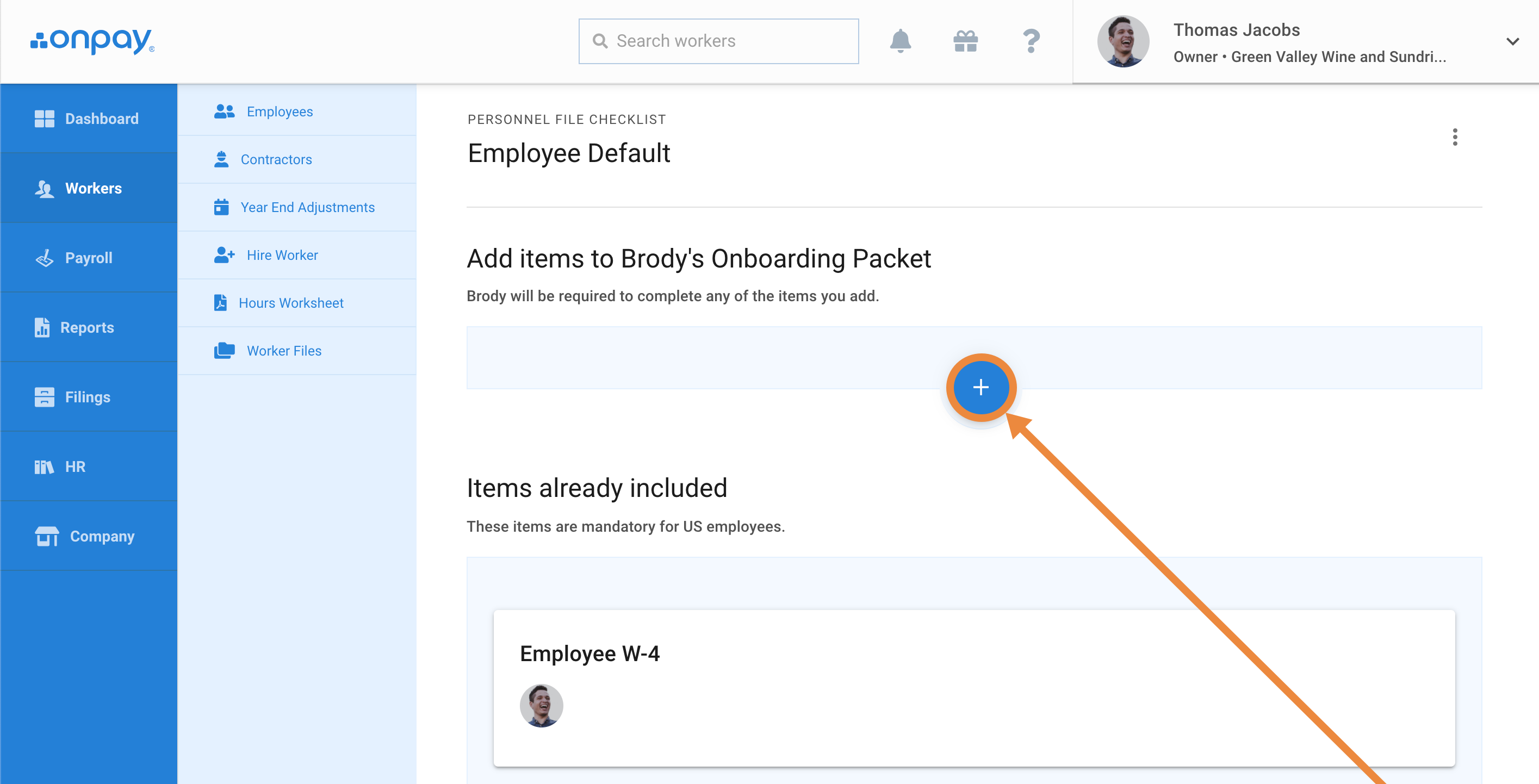 In the below example, we'll ask that the new employee upload a photo for their ID badge, but you also can ask them to upload other files, or to review, complete, and sign documents.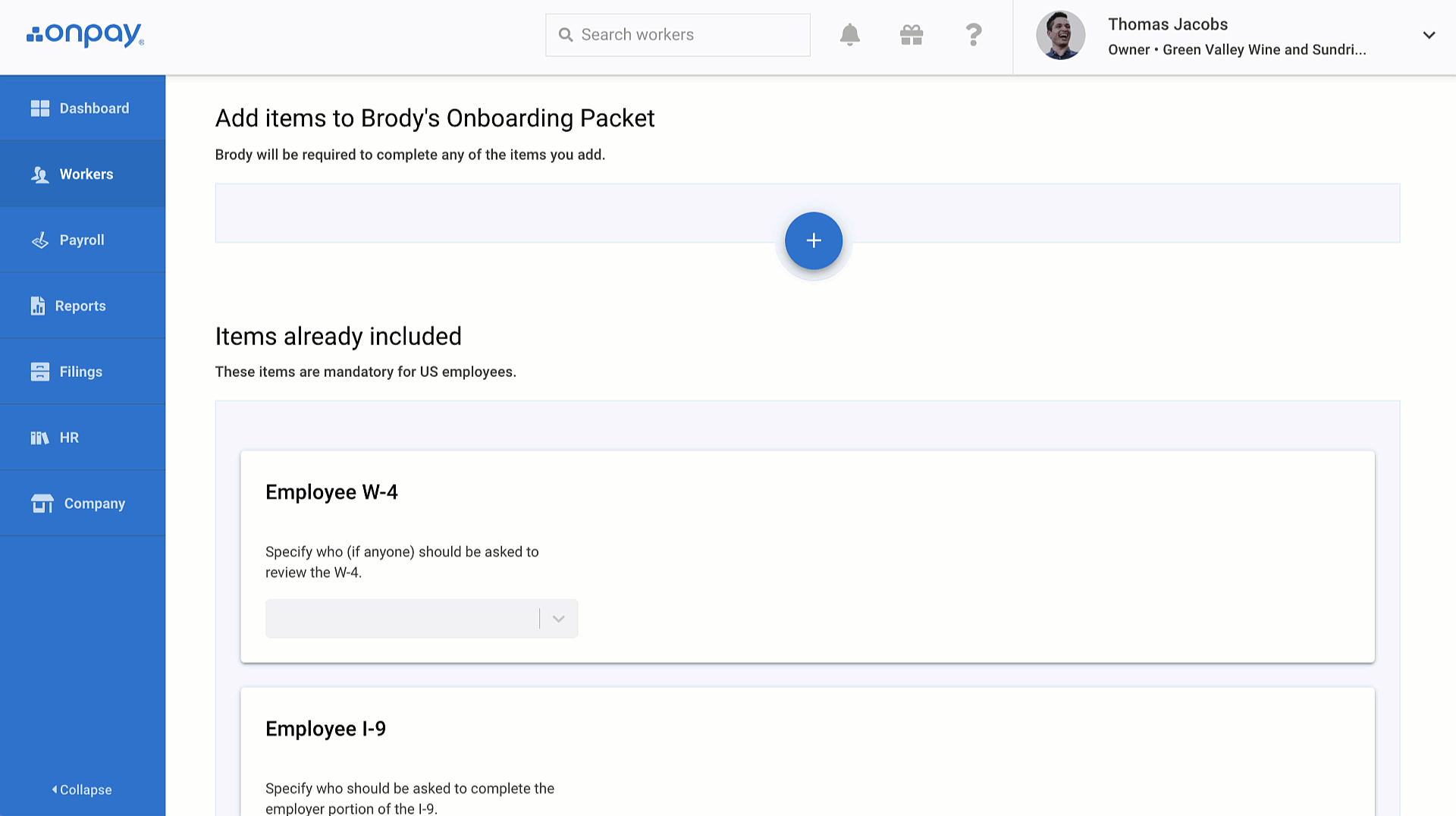 Employee W-4 and I-9 forms are already included in the onboarding packet. Assign someone to review each form. Once the new employee has completed their portion of the form, the assignee will be notified to review or complete it.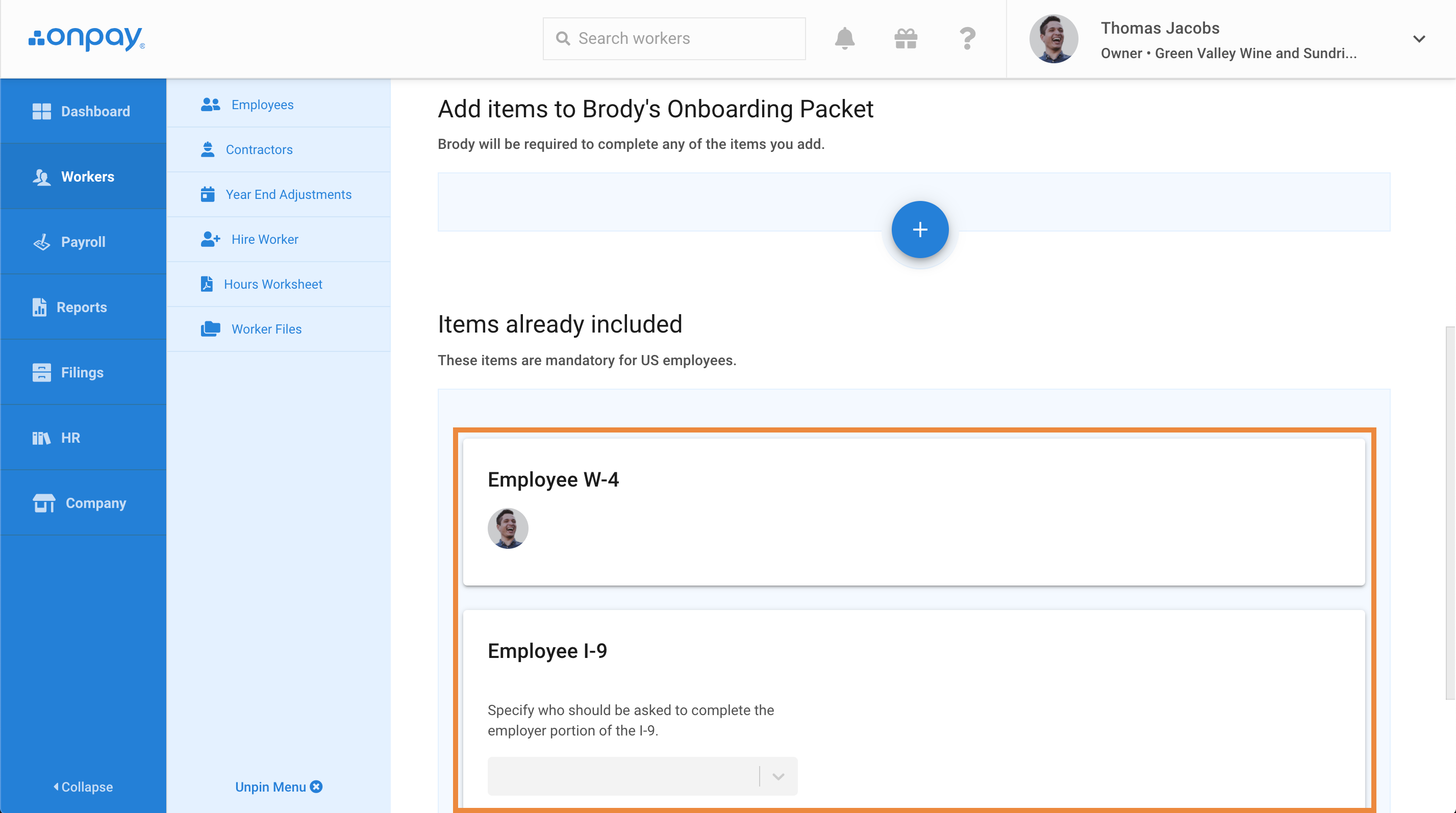 Add internal tasks
Internal tasks allow you to coordinate your team around onboarding tasks and responsibilities. Click the (+) to begin.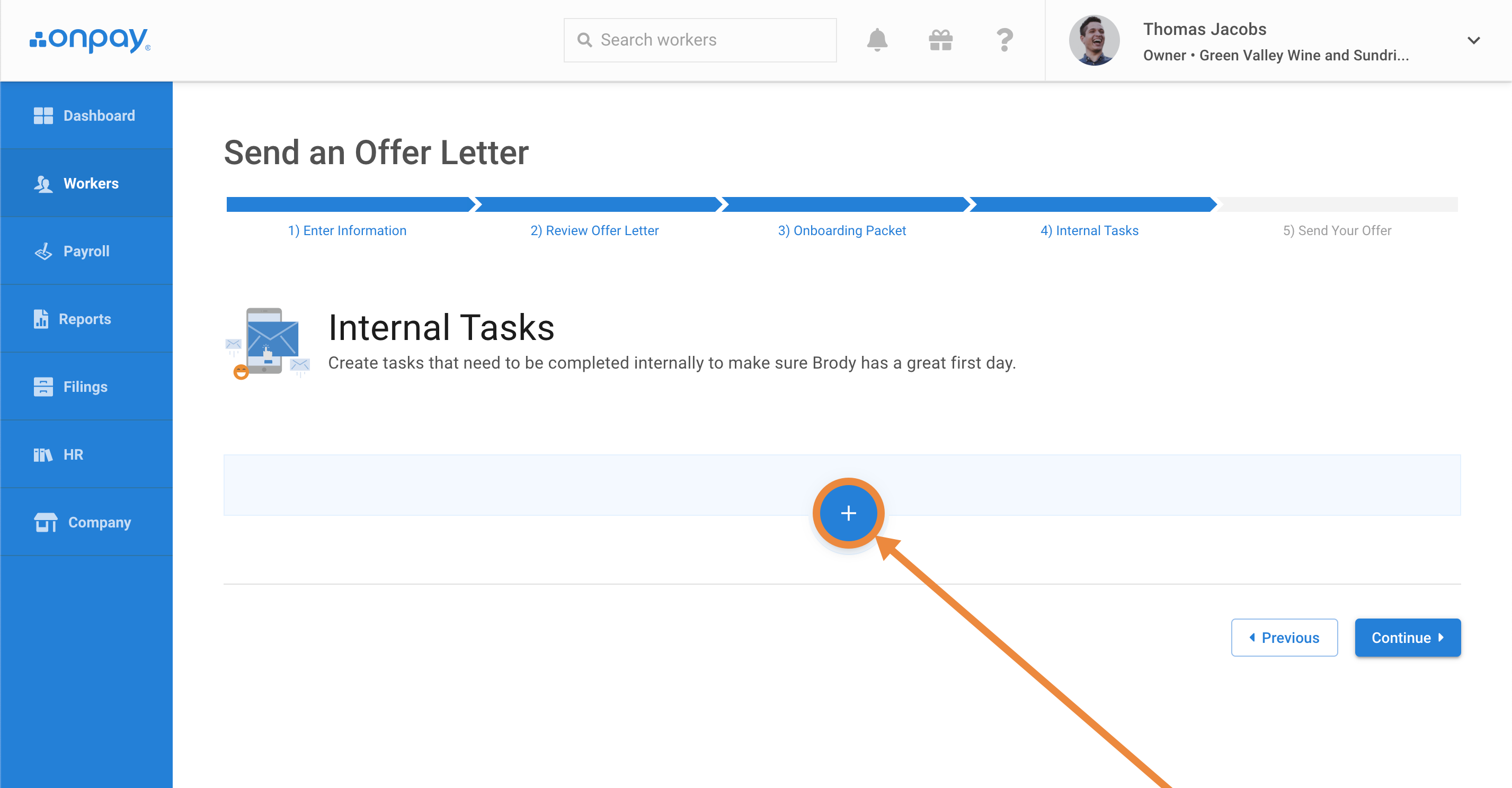 For this example, we'll make sure that the new employee has someone to guide them on their first day. You can add a description or any special instructions for this person to follow when completing this task.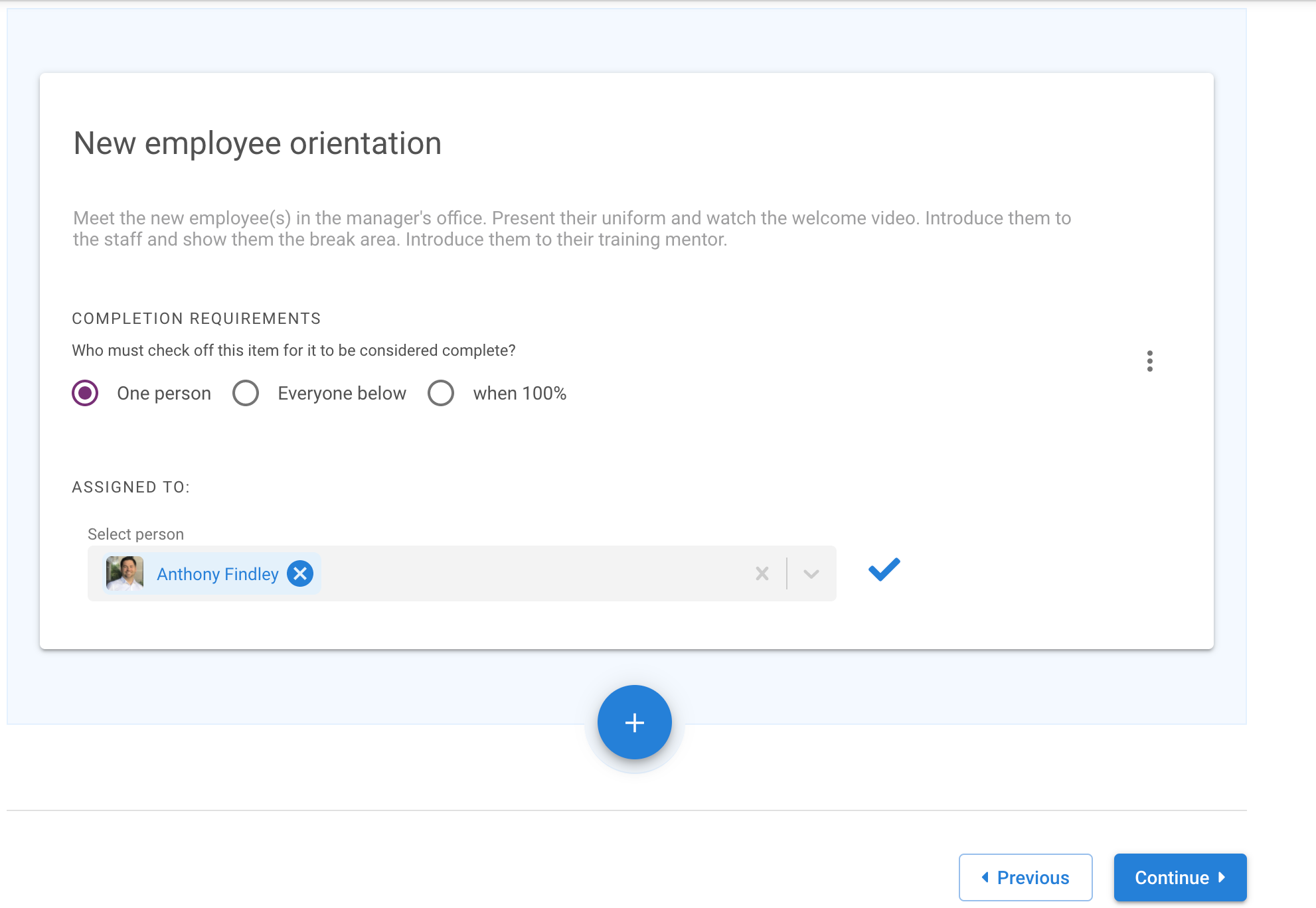 You can add as many tasks as are needed with the (+). When you're ready to move on to the last step, click Continue.

Compose email
Your offer letter is ready to go, so now it's time to write this candidate an email stating that they're being offered this position. Review the email template and make any changes necessary.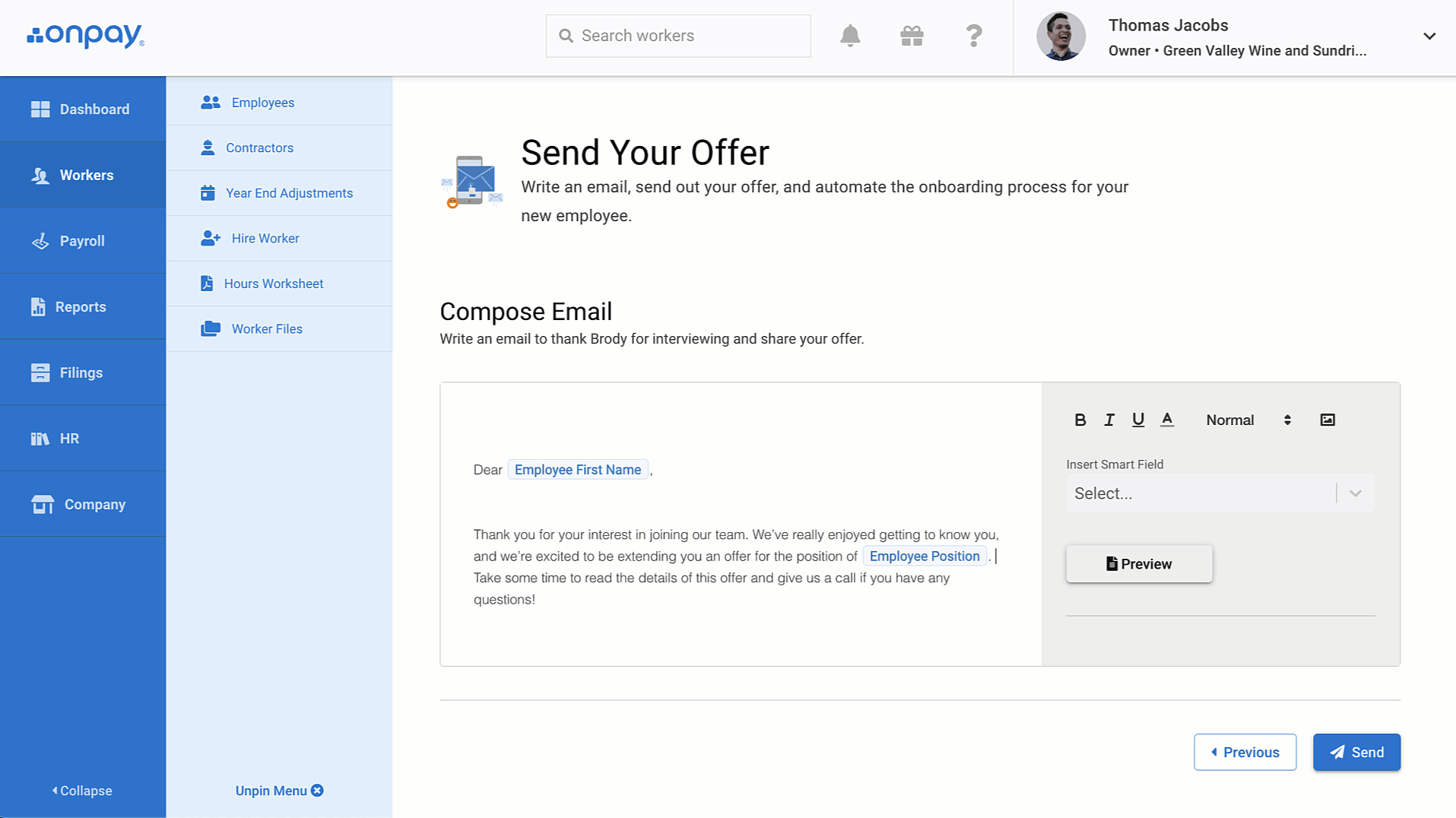 When you've finished composing your email, and are ready to send this offer, click Send.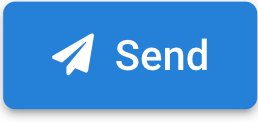 Your offer letter email will appear as below. It will contain a link the candidate can follow to read and sign the offer.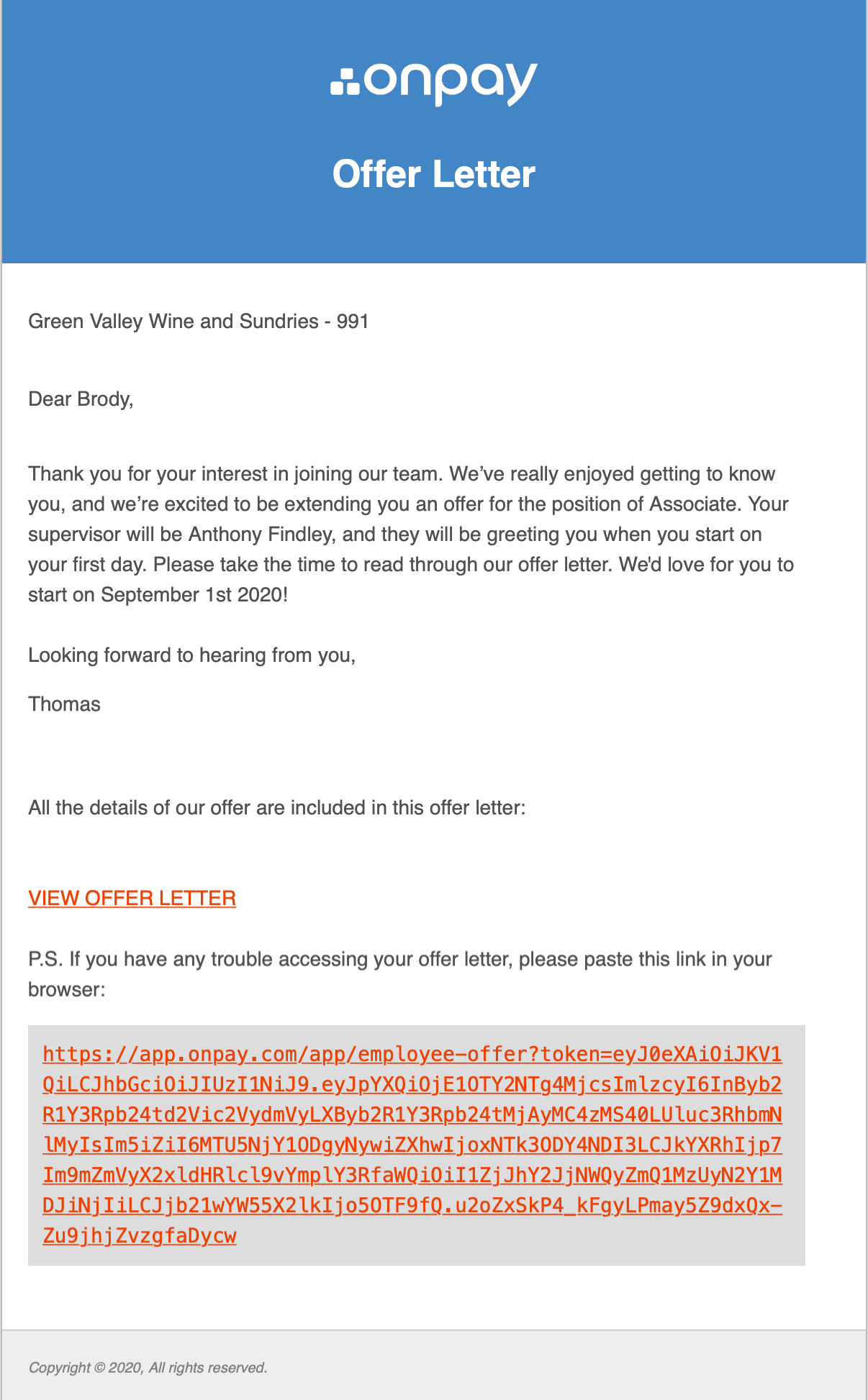 You'll receive a confirmation email when the offer is delivered, and another one when it is signed and returned.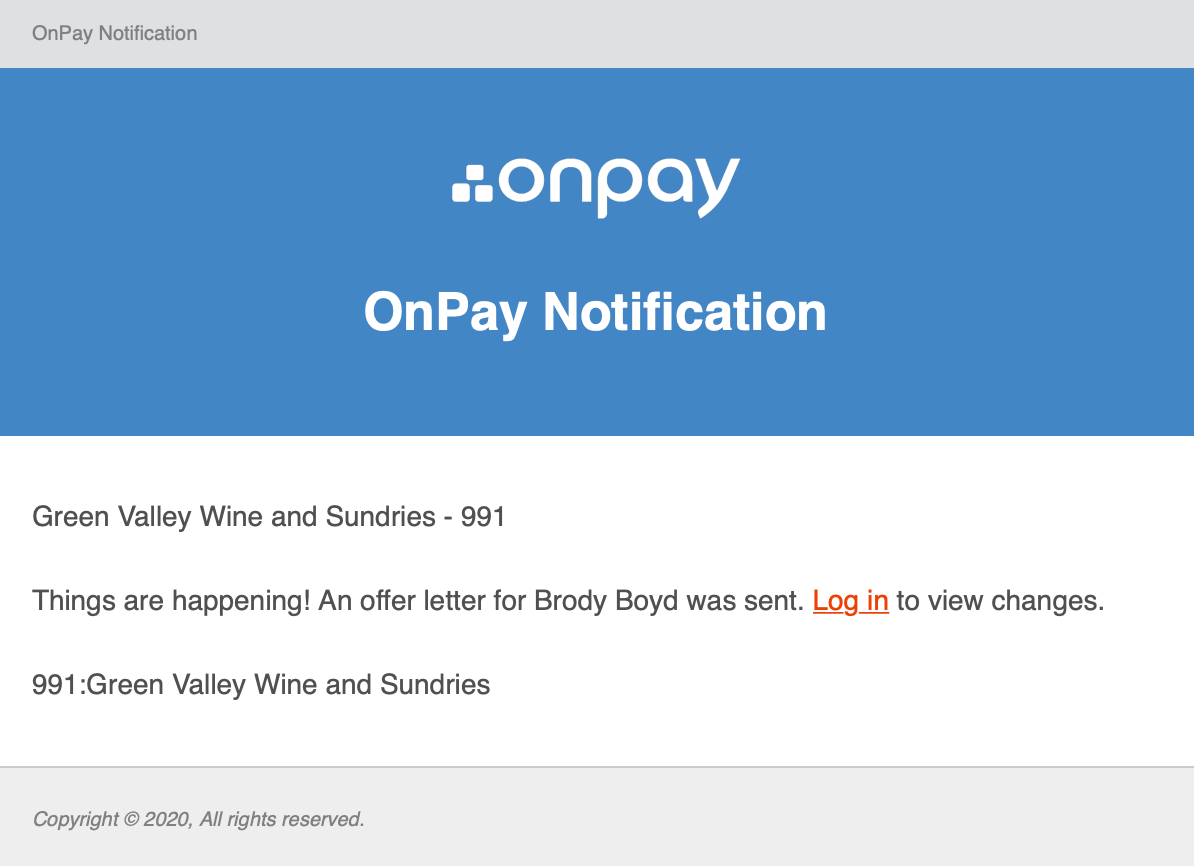 v6.0 ps