The When I Work TimeClock helps with payroll by collecting employee hours on a tablet, mobile phone, or computer. Attendance alerts remind your employees and you when they forget to clock in or out so your whole team is on the same page. GPS tracking can even be enabled to ensure employees clock in from the right place.
OnPay integrates with When I Work to make managing and paying employees seamless. The integration allows you to:
Sync employees between systems
Send timesheet data, including PTO, Vacation, and Sick time, from When I Work to OnPay
Utilize When I Work job positions and pay rates on payroll
Important Things to Know
Your workplace must utilize When I Work Time and Attendance to set up a payroll integration with OnPay.
Your pay period in OnPay and When I Work must match.
Employees must be active in OnPay and their email address and first and last names must match between the systems.
For Time Off balances to appear on paystubs, a policy must be set up in OnPay and assigned to the employees.
Integration Setup
Step 1: Click the Company menu, select "Integrations," and then "Time and Attendance." Select "Connect to When I Work." A pop-up window will appear asking you to enter your When I Work login credentials.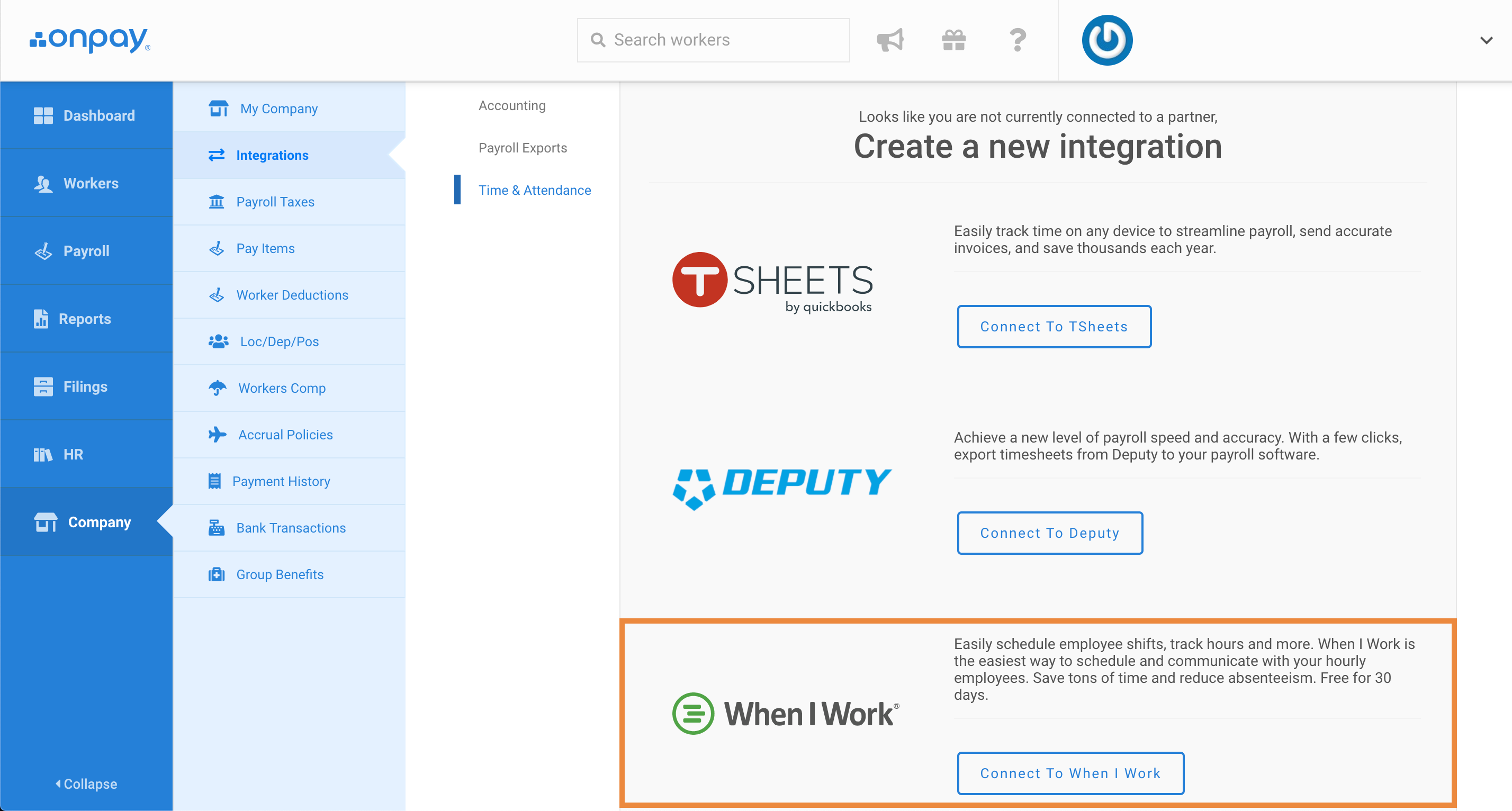 Once connected, you should receive a message that employees have been synced successfully.

If the employee data such as name or e-mail address do not match, an error message will display which employees could not be synced. Once the name or e-mail addresses match in When I Work and OnPay, you can click "Sync Employees" to connect any employees who were indicated in the error message.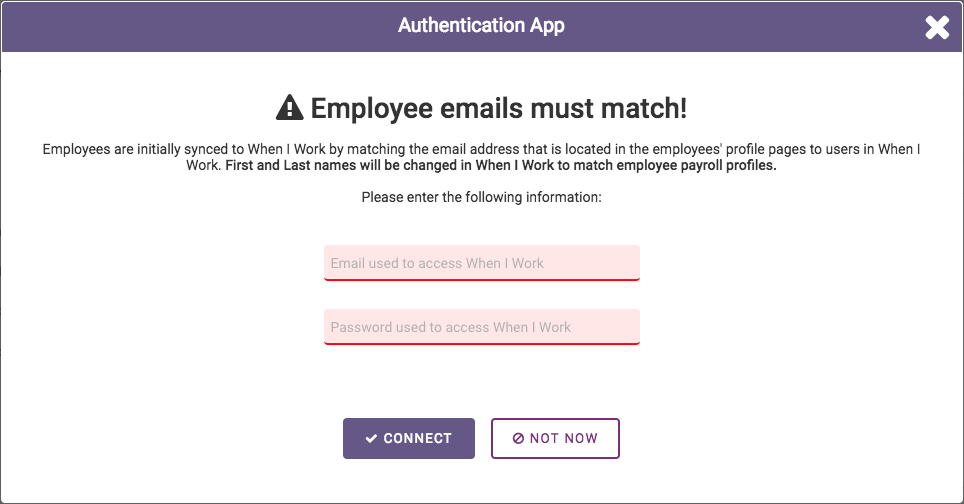 Step 2: Once the accounts are synced, the following menu will appear. You can choose to enable one or more of the available options. Keep in mind, if you want to sync employees or use Positions and Rates from When I Work, you'll need to have these set up in When I Work first.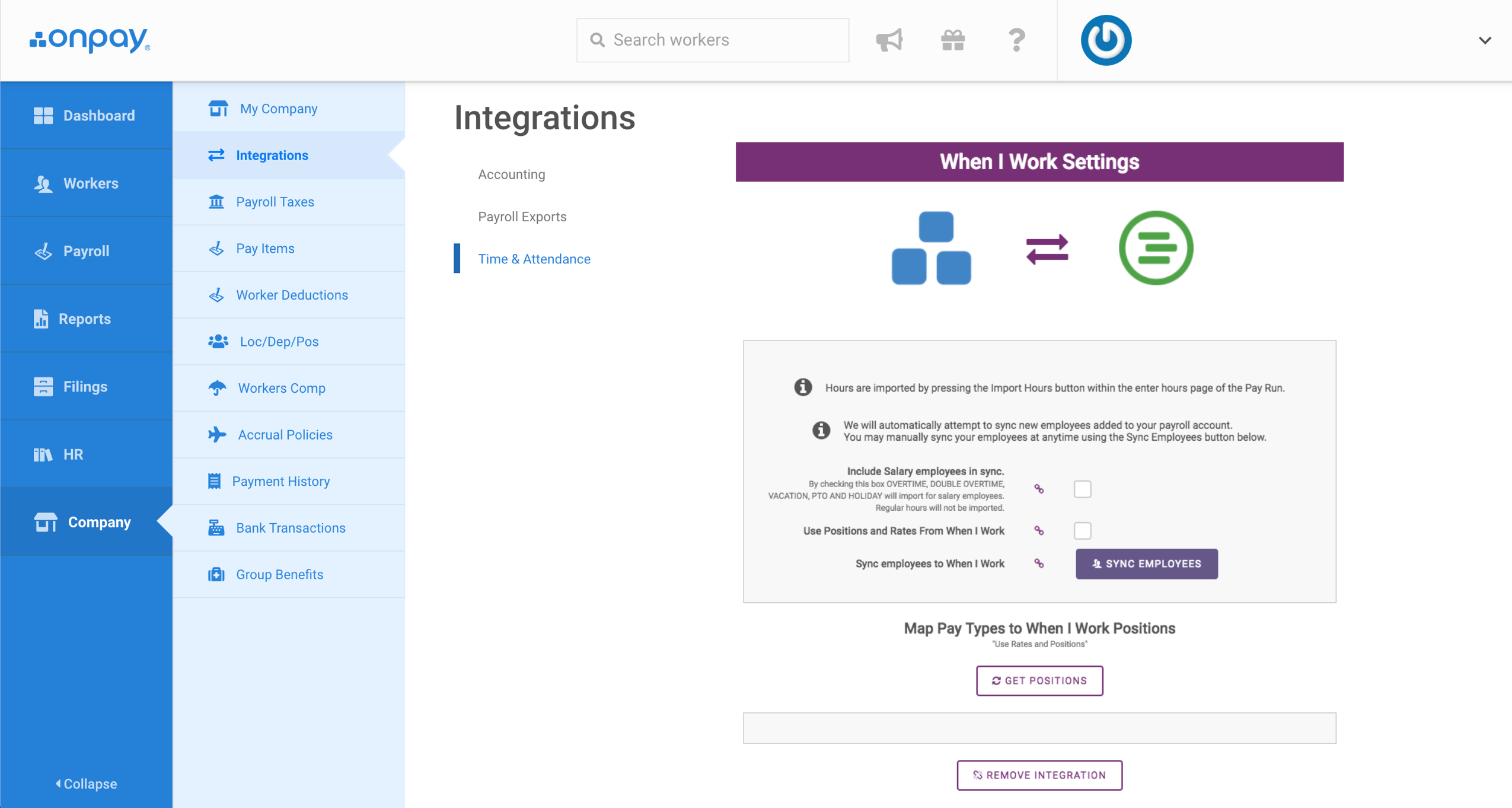 v5.1 ps