Keep the payroll and HR tools you need at your fingertips, and get any that you don't use out of the way. We'll show you how to flex your dashboard and customize your tiles to better fit your workflow — and workspace — whatever you're doing, wherever you are.
Imagine customizing your dashboard on-the-fly to download a few reports as you take the train to your accountant's office, where you can spread out on multiple screens and see everything. Run payroll at the office, or in the dining room. Send an employee offer letter while you're at the day spa, or just hire a day laborer right on the spot. It's your dashboard.

What we'll cover
Flexible whitespace and getting started
Get in where you fit in with flexible white space. OnPay is designed to adjust its layout as you resize your window, so you can always get to your desktop to open that important spreadsheet — or check that email from one of your staff — without having to close or minimize OnPay.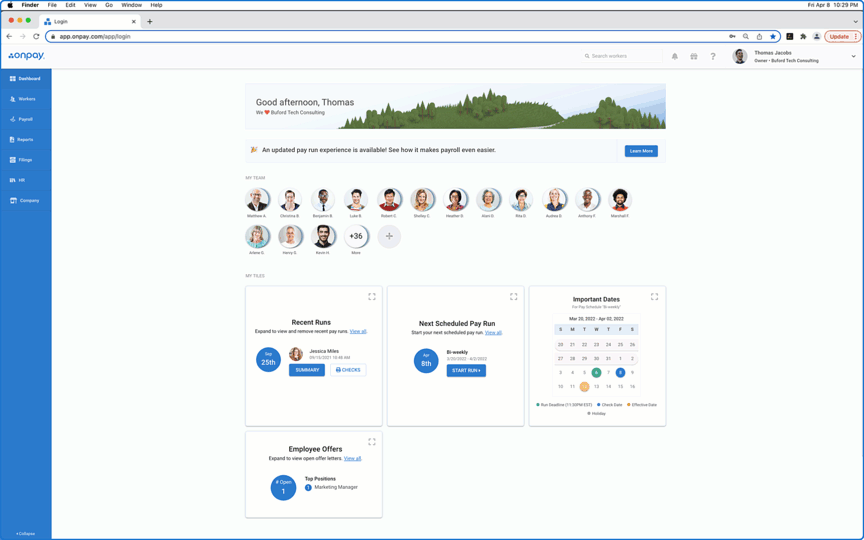 And because payroll waits for no one, OnPay works great on your smartphone, too. Tired of scrolling for your favorite HR tools like employee offers? It's time to customize your dashboard!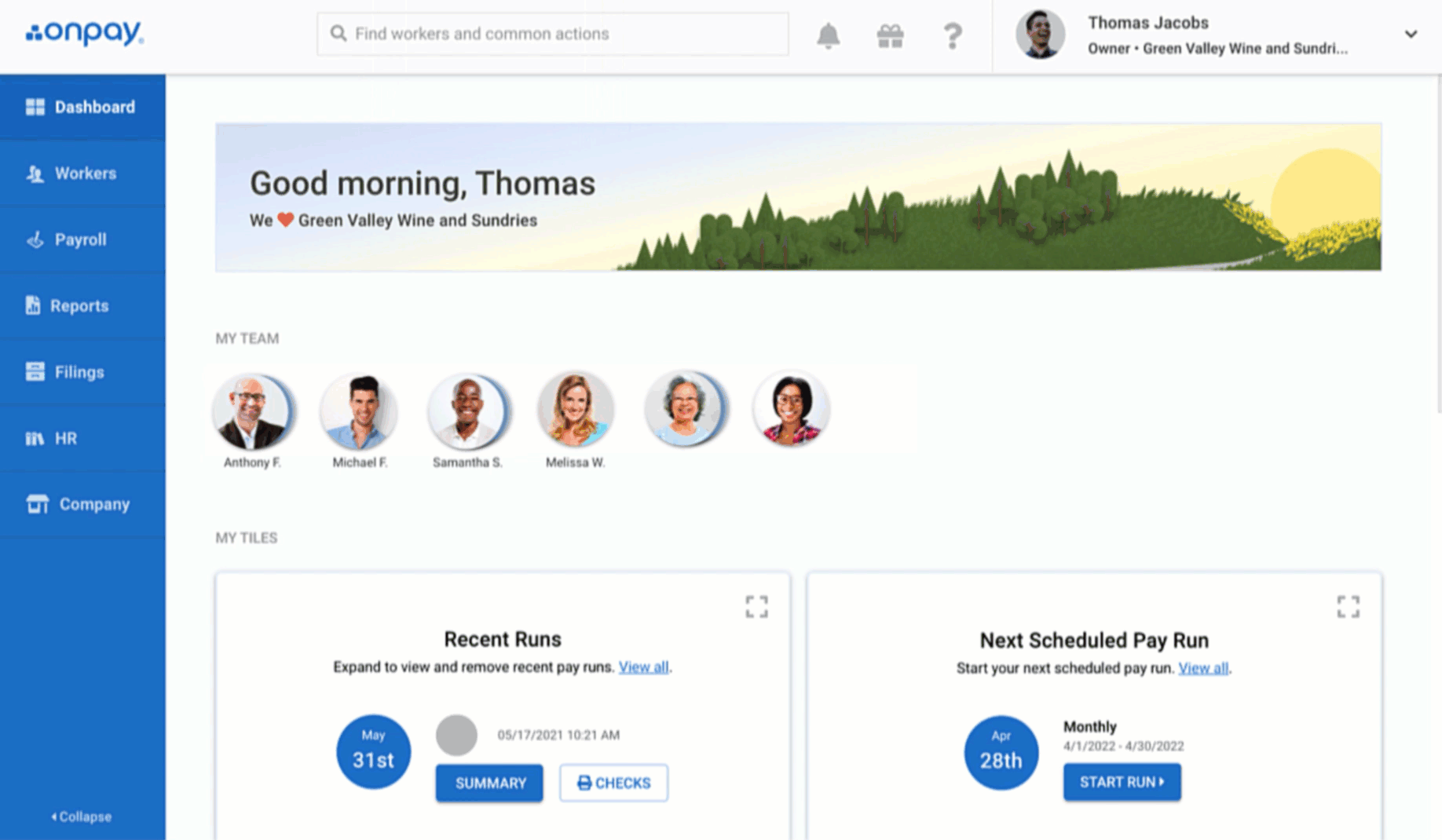 Getting started
While your dashboard presents everything you need for day-to-day payroll and HR, you decide your priorities and how they're displayed. To change the priority, layout, and appearance of your OnPay Dashboard, scroll to the bottom of the page and click Customize Dashboard.

Changing list priority
In the Customize Dashboard window, click and drag the

icon on the left of each section to shuffle the list priority. As you pull each section from the list, lower sections will step up in its place. Behind it, you can see your dashboard instantly changing before your eyes.

When you're finished, click OK, and your dashboard will be in this new priority* on every device where you log into OnPay**. Below is an example of how sections in the customization window are represented on your dashboard.

*Sections like "Alerts", Tasks", and "Year End" will not appear in the dashboard until there are relevant notifications that need your attention.
**Dashboard customizations only apply to your dashboard, based on your OnPay login credentials, and will not affect the dashboards of other owners, administrators, workers, or outside collaborators (bookkeepers) using OnPay with your company.
Many sections have a customizable view, and most of them can even be hidden, but important sections are automatic and cannot be hidden or changed. So before we examine each section and tile to see everything they do, here are the basics of customizing sections.

Basics of customizing sections
In addition to setting its priority in the list, a section's appearance can be customized based on three criteria. A section may or may not be:
Automatic
Visible
Customizable
Automatic sections
Important sections are automatic, to keep you on top of tasks and alerts. These sections can be prioritized*, but they cannot be hidden or customized.

*Alerts and tasks will also appear in the notifications panel, which is covered later in this article.
Visible sections
Most sections have a Visible switch to show or hide it in your dashboard. Turning off visibility does not delete any data, nor will it impact any calculations or notifications.

Customizable sections
Many sections can have a customized appearance, including your dashboard team count, and all your tiles.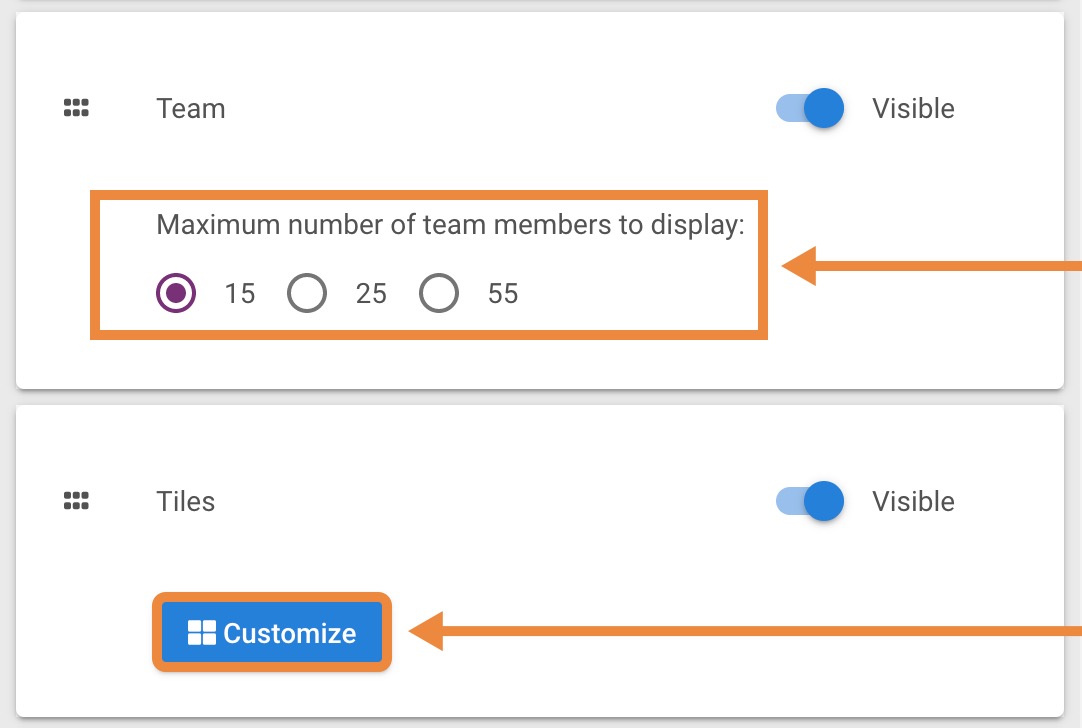 Now we'll explore the available sections, to see which ones are automatic, visible, and customizable.
Dashboard section customizations
While some dashboard sections (like automatic or year end sections) may not always be visible, the following sections are always available when customizing your dashboard:
| | | |
| --- | --- | --- |
| Automatic sections | Visible customizable sections | Visible not customizable sections |
Automatic sections
Alerts
Can be prioritized
Cannot be hidden
Cannot be customized
Actions taken by employees and managers — like an employee address change, or adding a new worksite — can affect how taxes and deductions are calculated when you run payroll. Part of our Tax Accuracy Guarantee* is that we'll alert you anytime such a change occurs, so that you may update the information before your next pay run.

Alerts will also appear in Notifications.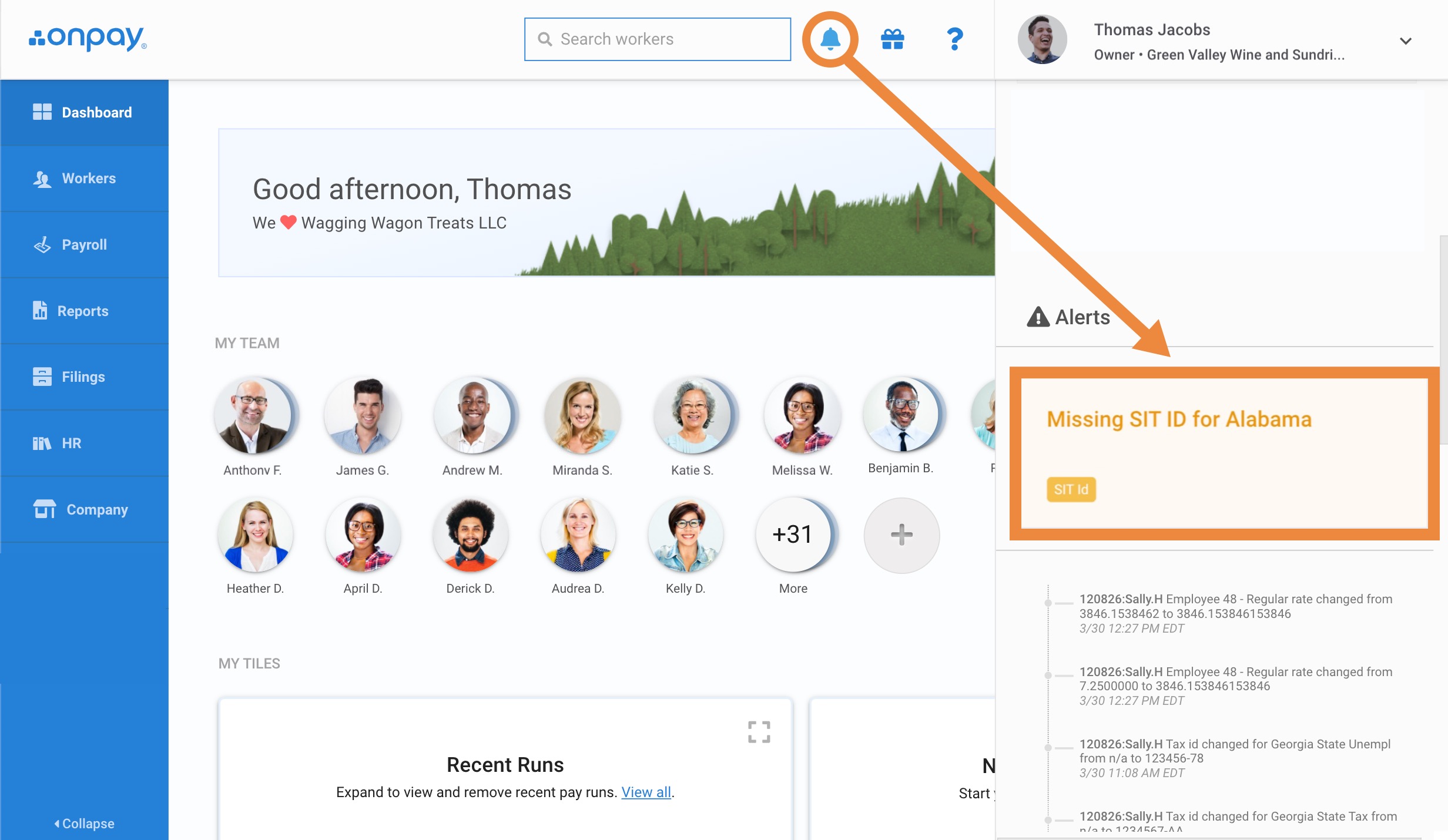 Tasks
Can be prioritized
Cannot be hidden
Cannot be customized
Tasks are an integral part of the employee onboarding workflow that allow you to message responsibilities and track the progress of multiple administrative tasks, just by filling out the offer letter template you've created.
Tasks can be things like setting up a work laptop, reviewing an employee handbook, or uploading a tax form. Tasks assigned to you will appear in the "Tasks" section until completed or hidden. Tasks help with employee onboarding with a transparent method of assigning orientation responsibilities to employee supervisors. When you assign a task to a supervisor or manager, it appears in their dashboard under "Tasks".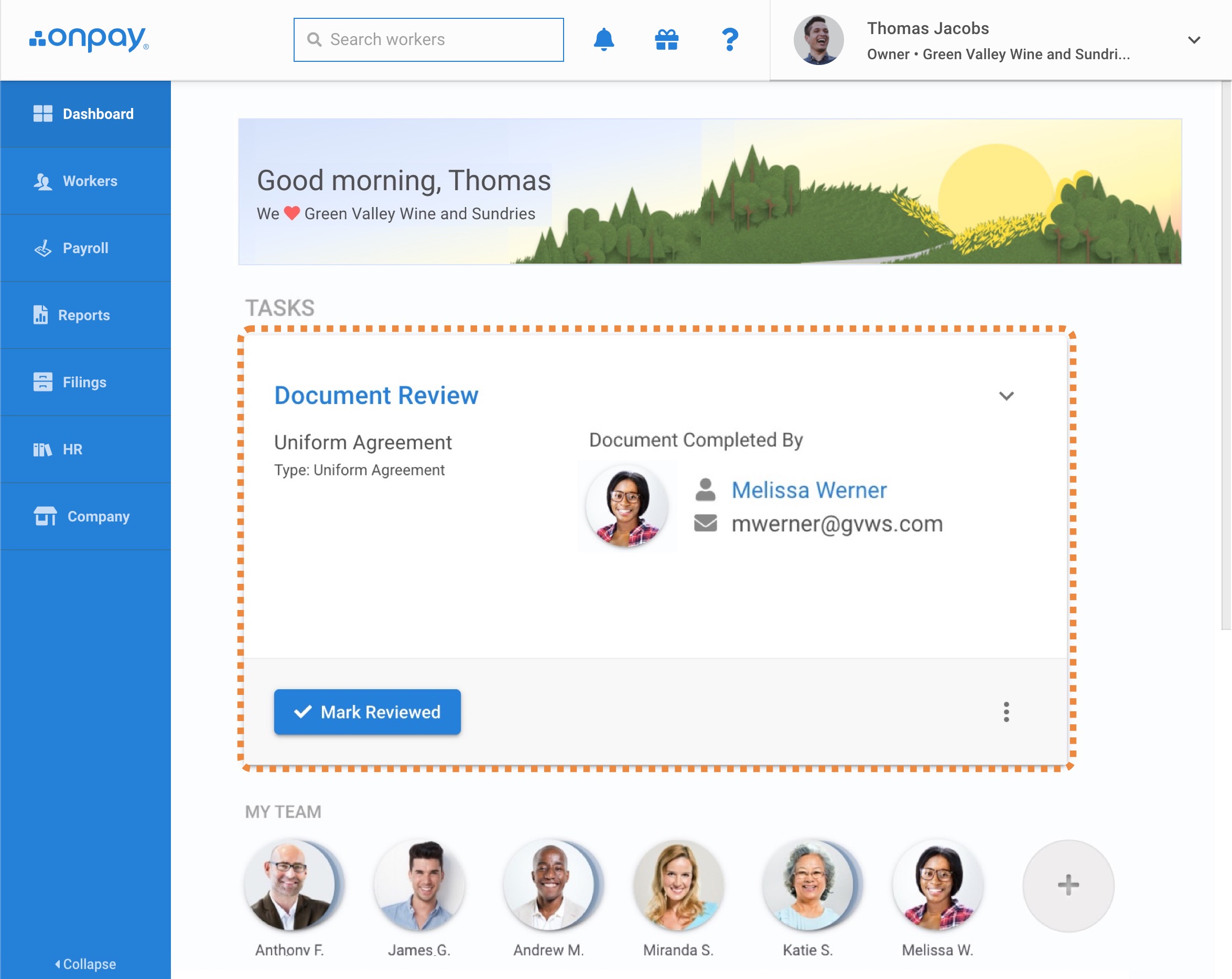 A task can be for a new employee to read and sign a document, or for a manager to review that document before filing it away. Tasks can be used to instructions for assigning and setting up the employee's work computer, or really anything that needs to be completed to ensure a world-class onboarding experience for your workers.
Visible and customizable sections
Team
Can be prioritized
Can be hidden
Can be customized
The "Team" section displays the number of team member profile photos as you choose.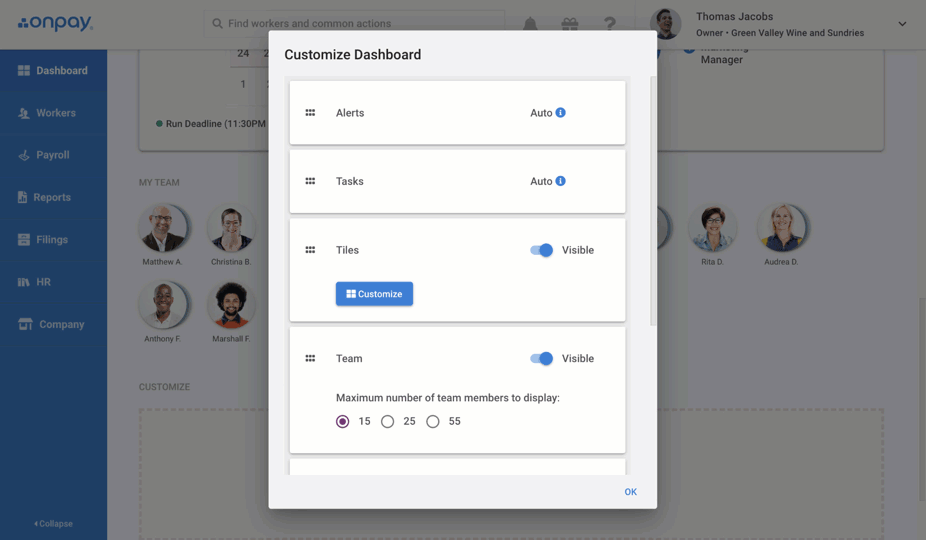 Quick actions: View/edit employee profile
Click any profile photo to see that employee's information.
Employees that are managers, or supervisors will have a shadow behind their profile photo.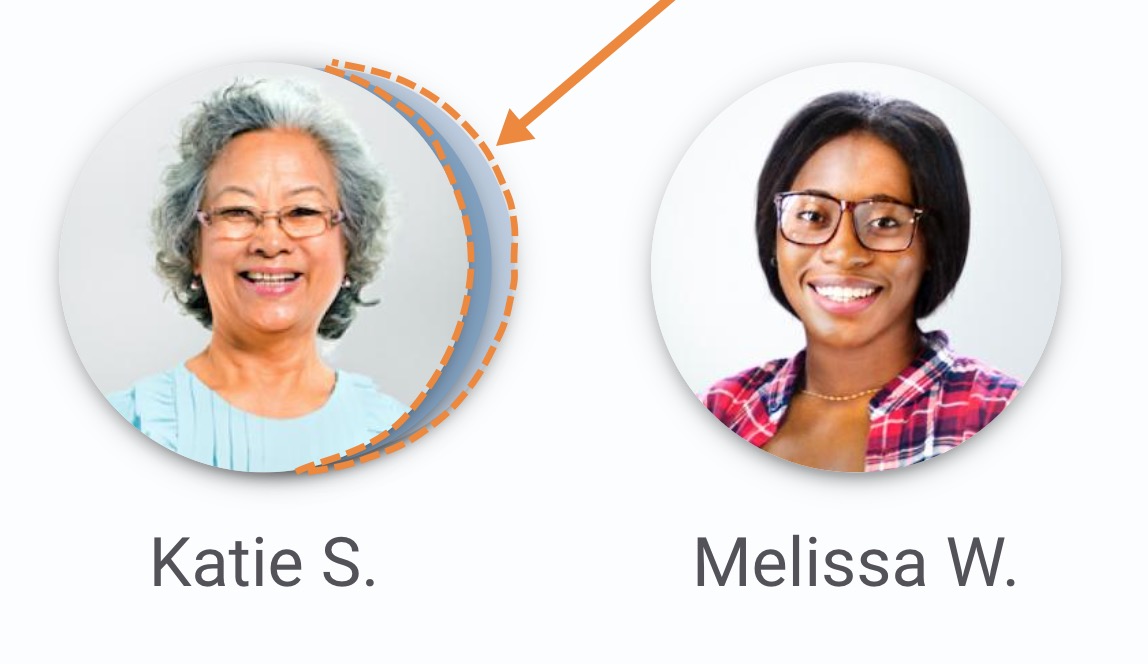 Click supervisor profiles to see their reports. Click on any photo to view or edit a profile.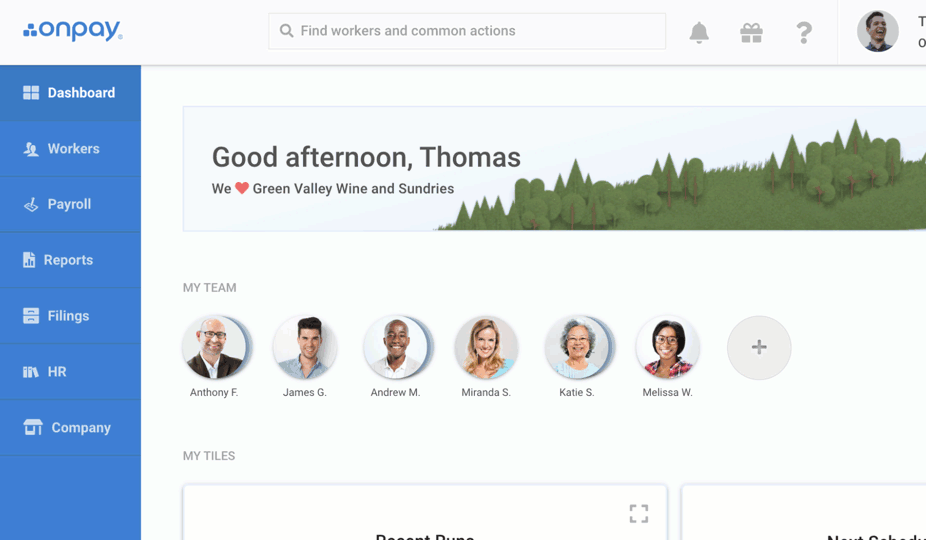 Tiles
Time for the exciting part! Tiles are the payroll shortcuts that put everything you need to run payroll all in one place. Click Customize to get started.

The "Tiles" section has its own sub-sections, which can also be prioritized or hidden. Below are the tiles as they appear on your dashboard, with their corresponding "Visible" switch marked on the right. We'll cover each one next.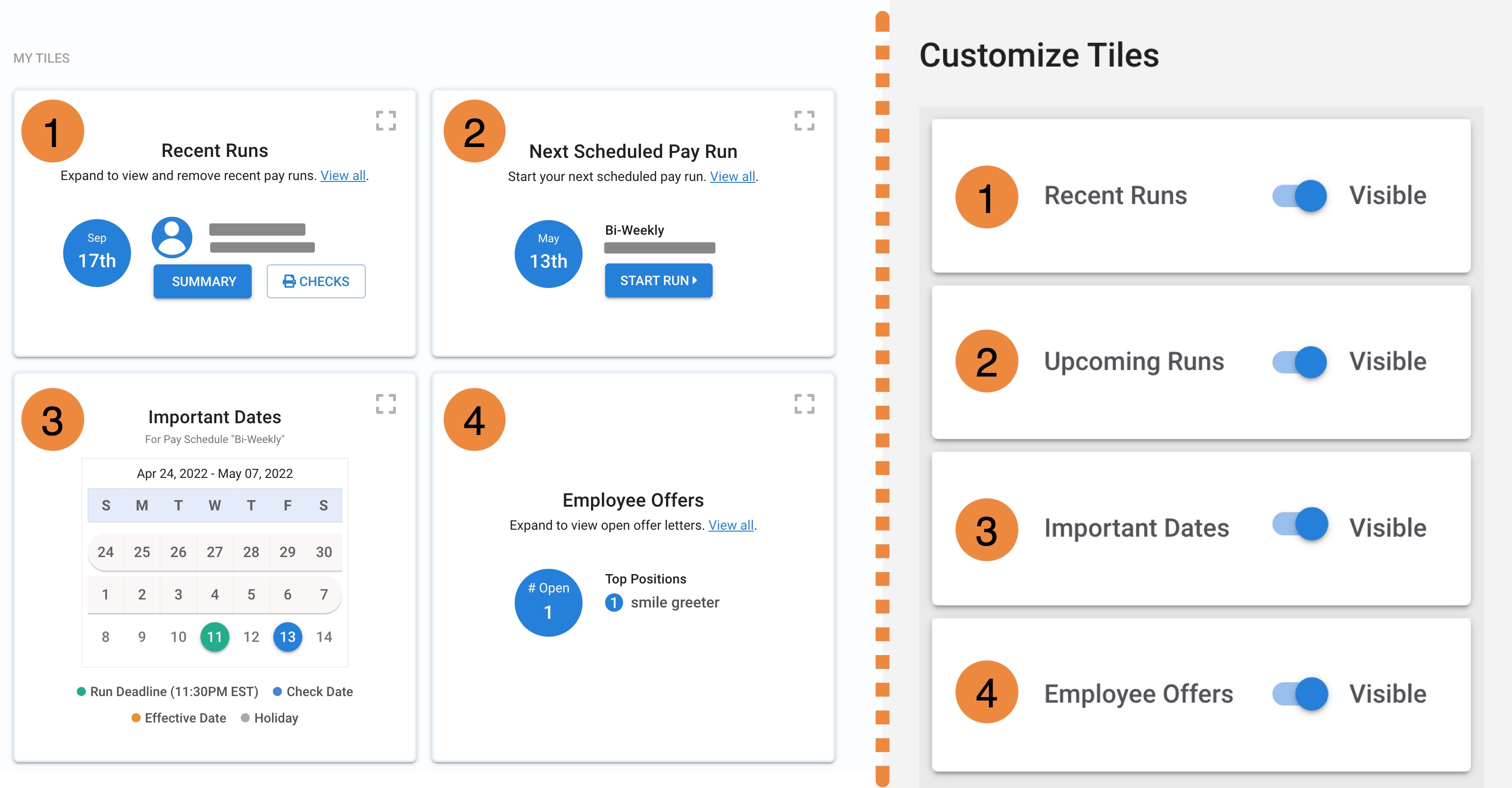 Recent runs
Whether you're auditing your payroll, or just checking the last run, Recent Runs gives you a historical account of your pay runs, down to the last penny.

Next scheduled pay run / Upcoming runs
Get a head start on adding bonuses or tips,or even submit the next pay run in a few clicks.

Important dates
Keep a calendar handy of upcoming dates for scheduled submission deadlines, bank drafts, employee direct deposits, and federal banking holidays, so you never miss a beat.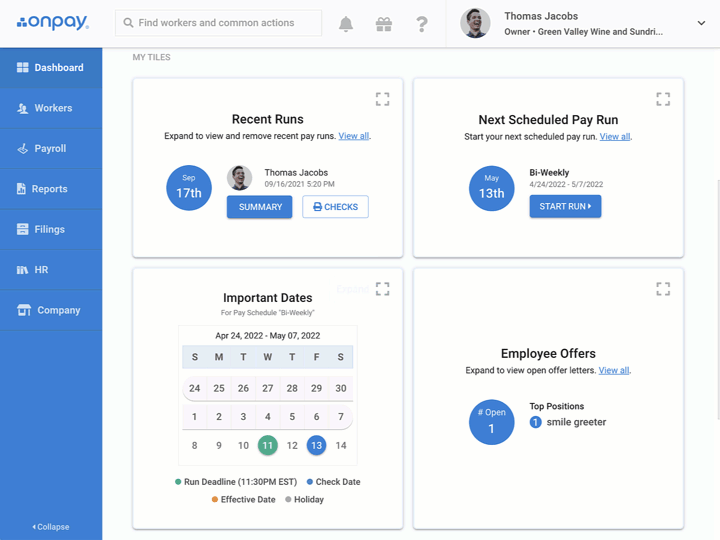 Employee offers
Our employee offer letter template and onboarding workflow are unmatched in the industry, and keeping tabs on employee offers couldn't be easier than than when it's in your tiles.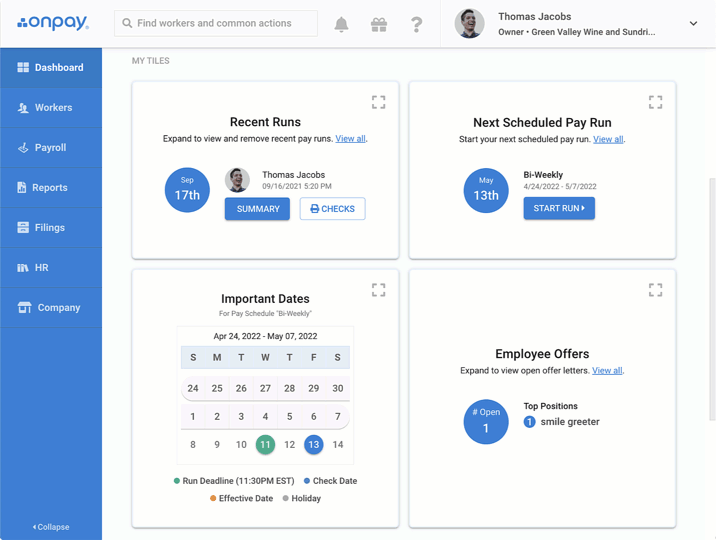 Visible but not customizable sections
Year End
Can be prioritized
Can be hidden
Cannot be customized
A big part of full-service payroll is delivering tax forms to workers at the end of the year. When it's time, you'll see a form in your dashboard where you can select your delivery method for year-end forms.

Once you choose your delivery method, you can change this selection at any time before the new year.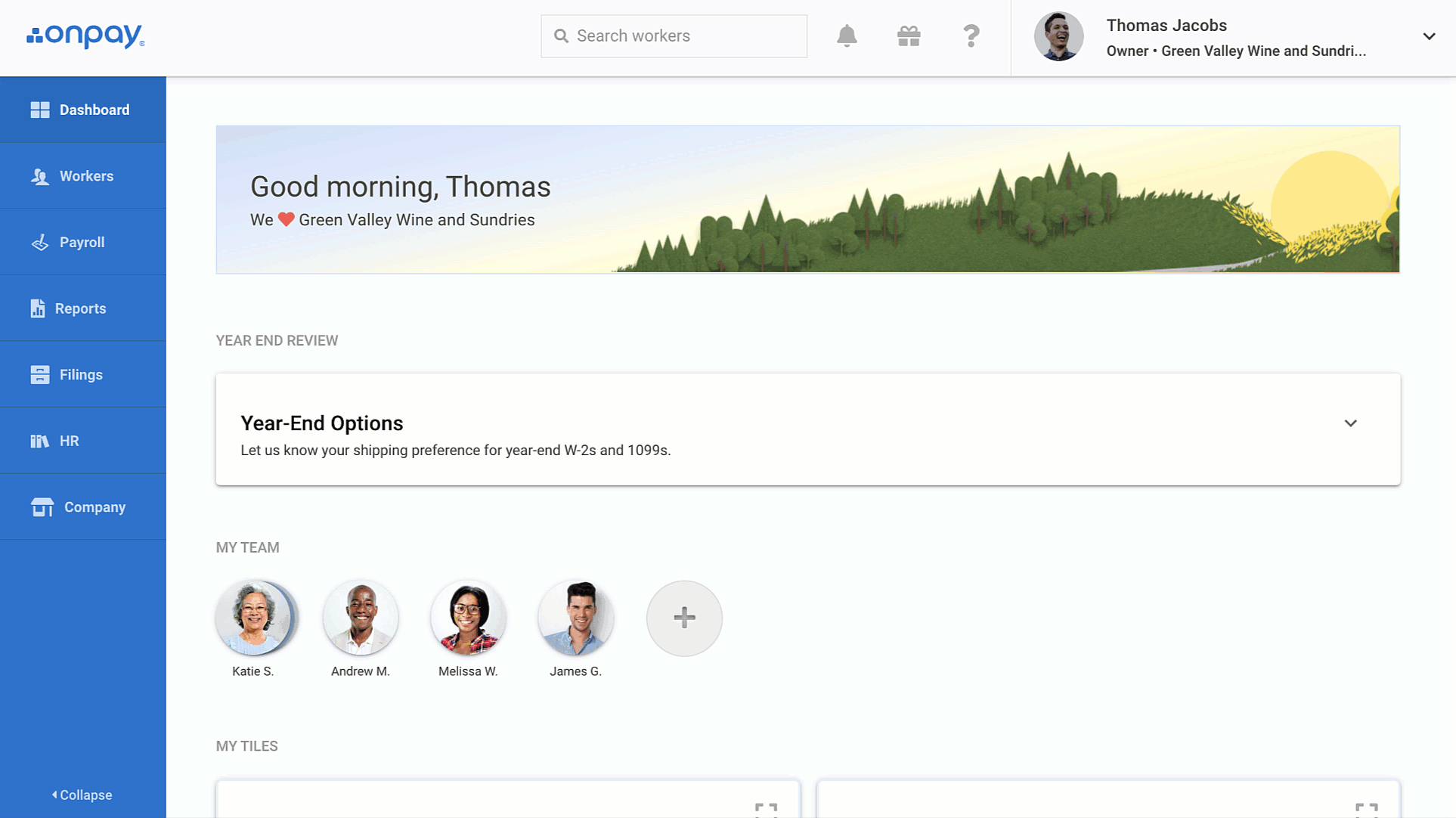 Other Customizations: Persistent Notifications
Notifications can be persistent, so nothing gets by you.

*

Our Tax Accuracy Guarantee

Bottom line: We take the accuracy of our payroll tax calculations very seriously — and our accuracy guarantee ensures we'll always have your back.

However, because we file on your behalf using information provided by you, it's important that you provide and input accurate information about your company, its employees, and the states and districts in which they live and your business operates, including all IDs and tax rates. Our Tax Accuracy Guarantee picks up where you leave off by covering all our calculations, and the filings and payments we base on them.

In rare circumstances, OnPay may need additional information from you, or may request you take action in order for us to file and pay your taxes. If such information is requested by us, but never provided by you, any affected tax filings and payments will not be covered by our Tax Accuracy Guarantee.

v6.22