When you Partner with OnPay, you get a lot more than just easy, accurate payroll for every type of organization you work with. You also get tools and support to run your practice efficiently, so you can spend more time serving your clients and growing your business.
You can learn more or get started by scheduling a demo or signing up to become an OnPay Partner.
Partner Program Perks
Free firm payroll (with no client minimums)
That's right. As a Partner, you get free payroll for your firm ⁠— even before you start adding clients.
Flexible billing
When you add payroll to your practice with OnPay, you can choose how you want clients to be billed. Clients can pay for payroll services through your firm, or you can opt to have them pay OnPay directly.
Revenue sharing or discounts
As a Partner, you get the option of discounts or revenue sharing that increase as you add more clients to OnPay. If you choose revenue sharing, we'll send you payments every quarter. Or you can opt to take a discount for your firm, or pass along the savings directly to your clients. Either way, the more clients you add to OnPay, the better we all do!

Expert support from trained payroll professionals
As a trusted advisor to your clients, we know you need timely, accurate support to make sure everything is done just right. As a Partner, you get exclusive access to the OnPay Partners Team for attentive service, whenever you need it. You'll also get product support from trained experts with years of payroll experience. (And they're really friendly, too.)
Free account setup and data migration
Switching payroll providers can be time consuming. That's why our experts are ready to set everything up and migrate all of the data for you and your clients ⁠— so you can stay focused on running your firm.
Free co-branding
When you have 50 clients or more in your dashboard, you unlock free co-branding. It's a great way to remind your client's how hard you're working for them every time they log into OnPay.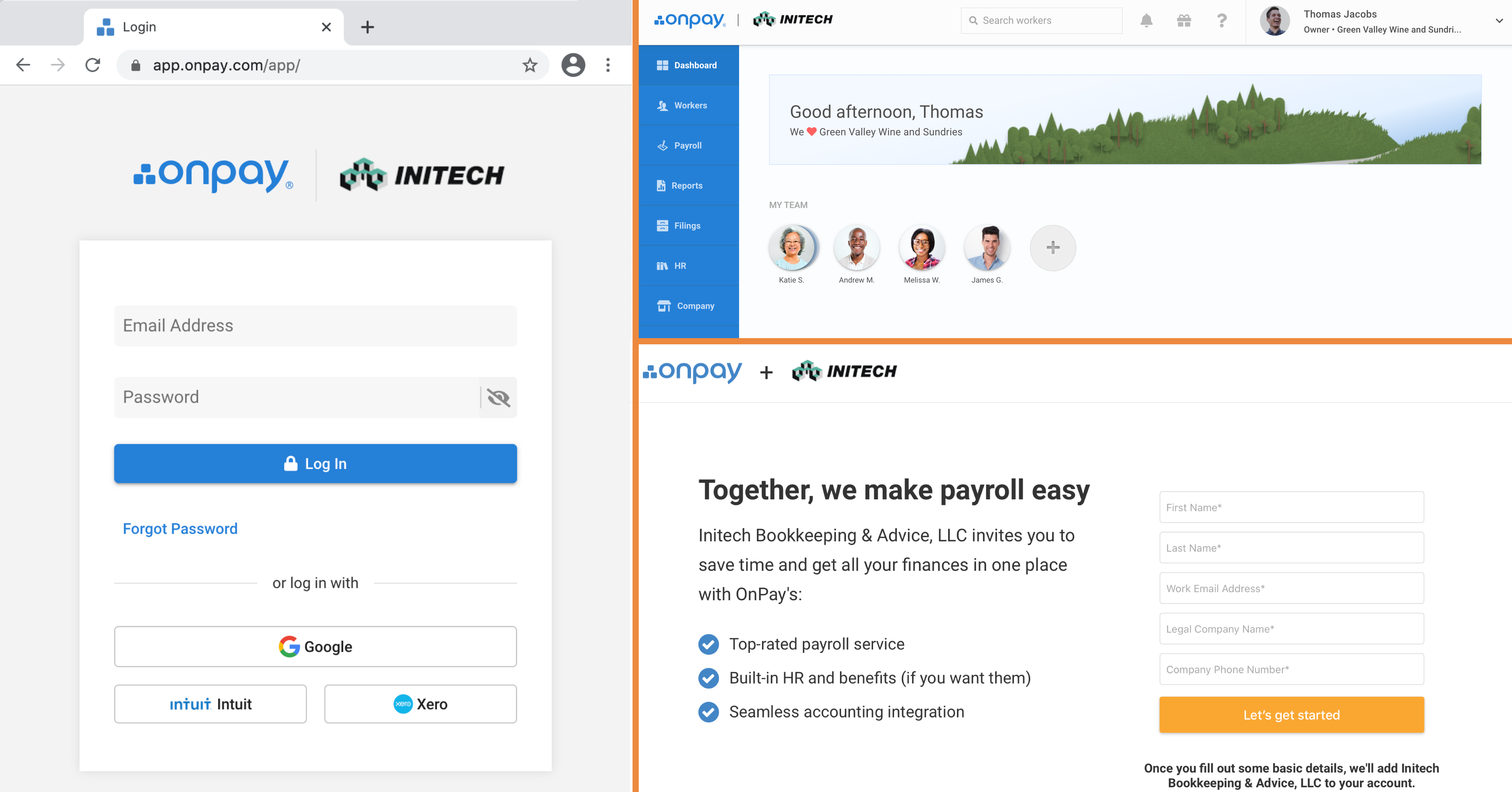 You'll also get a personalized referral page so people can see your logo when they sign up.
All your clients organized in one custom dashboard
View all your clients at a glance by keeping them in one place: your OnPay Partner Dashboard. Here, you can manage all of your clients ⁠— and your firm ⁠— by creating departmental teams with unique user permissions, tracking payroll deadlines, monitoring client actions, and more. You can even log into client accounts to do everything from reporting to running payroll!
Free integration setup and custom-item mapping to QuickBooks or Xero
We've built the best integrations with QuickBooks and Xero to ensure that your payroll items are fully mapped to your general ledger with every detail you need. And because we know how important it is to get this right the first time, we can help set up custom-item mapping for you, free of charge.
Integrated HR, benefits, and more
We make it easy for your clients to offer health benefits, workers' comp, and other benefits that automatically deduct with each payroll. We also simplify HR workflows with our offer letter templates and onboarding workflows, plus helpful features like pay run reminders and employee self-service.
v6.0 ps