How to update your new unemployment tax rate and withholding tax filing frequencies/deposit schedules.
Occasionally, states will update an employer unemployment tax rate because of changes in their payroll, or benefit charges on their account when former employees claim unemployment against the company. These rates can go up and down year to year depending on each individual states requirements and calculations. The only way to be sure you are pay the appropriate amount is to provide us with the correct tax rate when the state sends you the updates. Filings frequencies tend to be updated less often as they are based on total withholdings over a period of time. In most cases, these updates come near the end of the year for the next year. When you receive these tax rate and filing frequency updates, simply follow these steps in OnPay to make sure we continue to calculate and pay accurately for you into each new year!
FIRST: Log into OnPay > choose the Settings Menu icon > choose Payroll Taxes in the light gray sub-menu. If you have more than one state listed, simply choose the state you need to update from the list.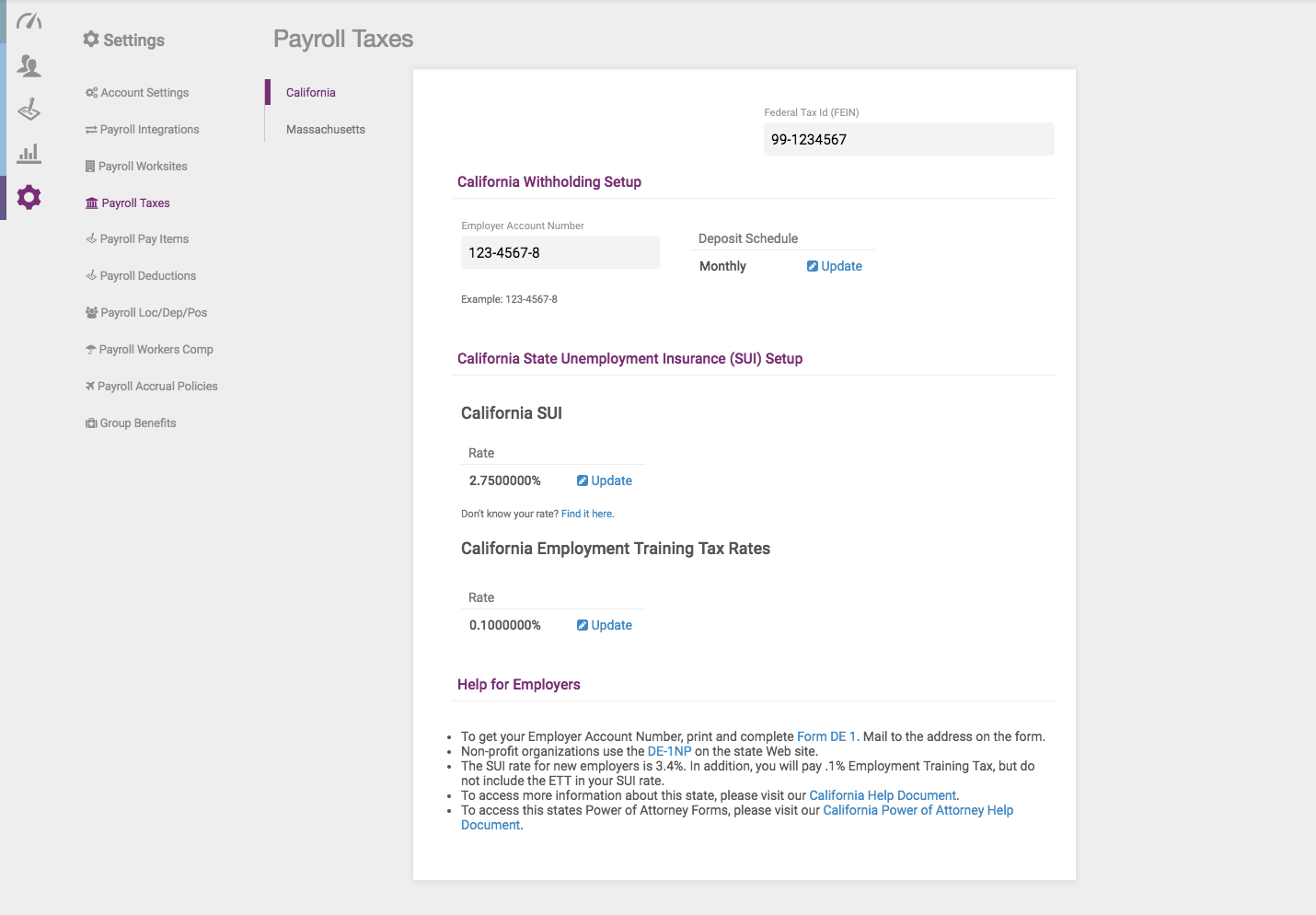 SECOND: Identify the item that needs to be updated, either the rate or filing frequency, and choose the blue update link beside that item. You will then be shown one of these two windows depending on what you are updating: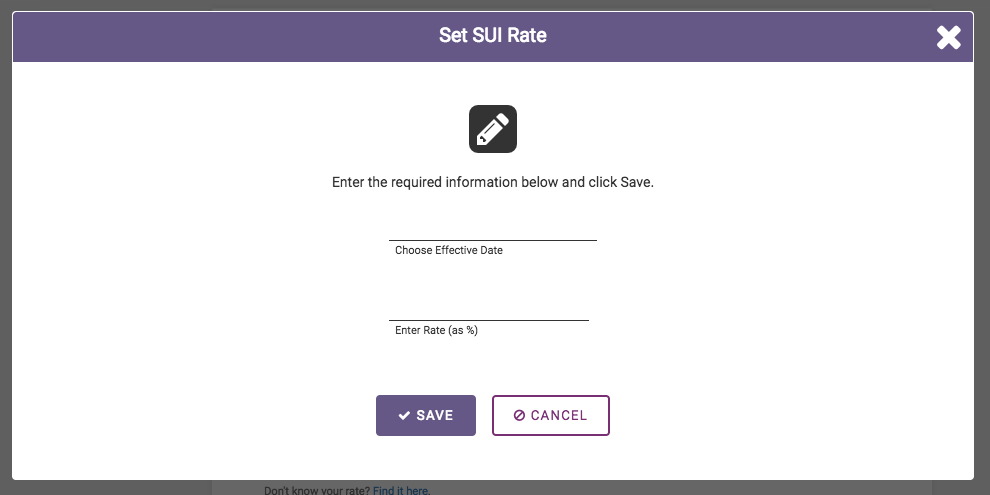 Window to Update SUI Rate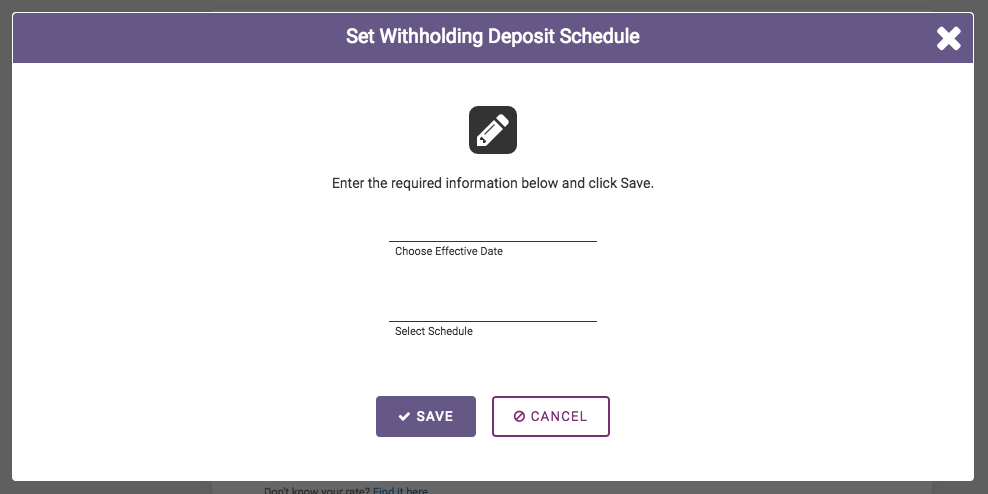 Window to Update Filing Frequencies (deposit schedules)
THIRD: Choose the effective date for the change you are making, typically January of the next year. For Rate Changes, you will enter in the tax rate for that next year. For states that have other supplemental rates, make sure to follow the OnPay instructions below those items and only enter in the amounts needed in this box. For Deposit Schedule changes, simply choose a new schedule from the drop down list. Once you are happy with your entries, click save.
Once you have made the changes, you will see a scheduled change listed below the item you updated. It looks like this: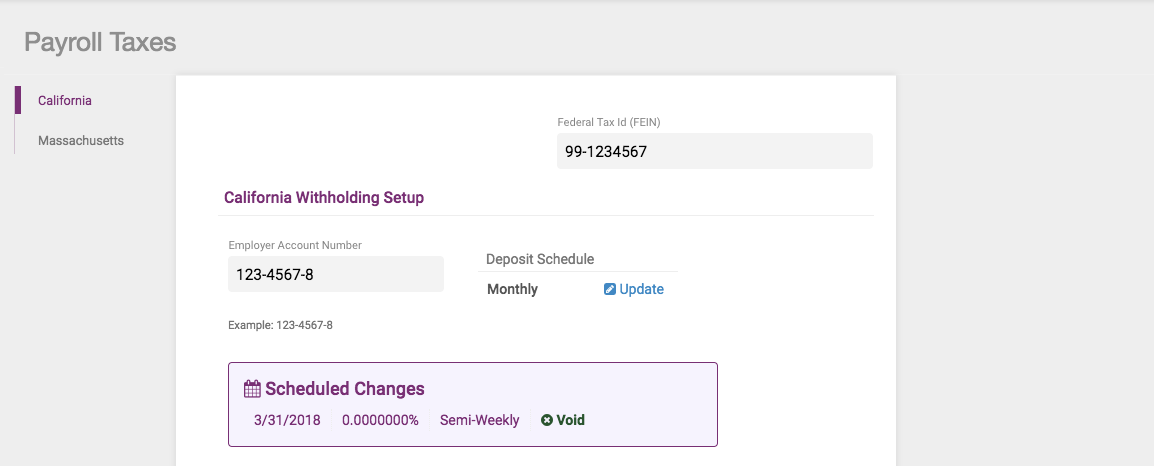 If you need to remove a change you have scheduled, simply click on the Void button beside the scheduled change to delete it.
As with any other change you make to your account, this can directly effect the taxes you pay, and any penalties and interest that you could be subject to if the items are not entered correctly. If at any time you have questions about how to enter these items or would like us to review your entries, give us a call and we will be happy to do so!
v5.1 ps