Direct deposit* can save you time and headaches when it comes to getting your employees the money you owe them. OnPay gives you two convenient ways to pay your employees. The first is to manually produce checks by either handwriting them or printing them out of the system. The second is to use our direct deposit service, and have OnPay deposit the funds in the employee's accounts on pay day. 
 If you are just starting with OnPay, you can indicate that you are interested during the setup process by replying to the ACH Verification email that you receive during enrollment. It can take 1-2 business days to get your Direct Deposit Service activated. 
STEP 1: Verify Your Bank Account
The first is for you to verify the Credit/Debit amounts we submit to your bank account when you apply. It can take a day or two for those to show up in your account, but when they do you will need to log into OnPay and enter those in. You can enter those in the Settings > Account Settings > Bank Info section of OnPay. 
You can enter the two small amounts in any order and click verify. That will let our ACH team know you have verified your account info.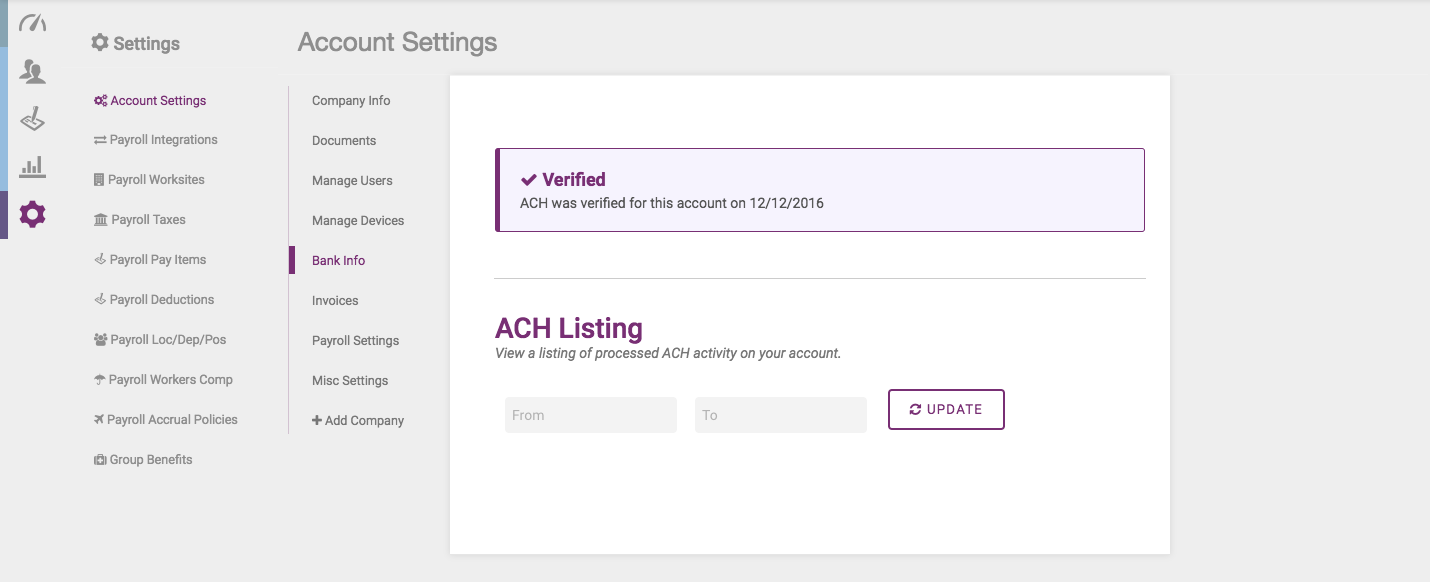 STEP 2: Risk Assessment
The next step is for our ACH team to perform a risk assessment on your company. That risk assessment will determine whether or not your company is approved for direct deposit.  Upon enrollment into OnPay and reply to the ACH Verification E-mail, the ACH team starts the risk assessment process.  You will be notified of your approval and the turn around time for processing via email.
These are the 4 options for direct deposit approval:
2-Day turn around: This is the most desirable approval. (Most Common) Ex: you run payroll on Wednesday by 4 PM EST and direct deposit goes in on Friday morning.
5-Day turn around: Less desirable because of the time between running payroll and your employees getting paid. Ex: Run payroll on Friday by 4 PM EST and direct deposit goes in on the following Friday morning.
Wire Only: For companies with very large payroll amounts we may require you to wire the direct deposit and/or tax funds to process your payrolls.
Not Approved: Your business risk assessment was found to be too high risk and we are unable to offer you direct deposit service at this time. (Most rare).
Once you are approved you can view our article on how to add direct deposit information to your employees here.
Your approval status may be reevaluated every 6-months by request to our ACH team. If you receive an approval that does not exactly fit your needs please contact us so we can discuss other options with you!
*Not every client is approved for direct deposit. Any data entry mistakes by the employer resulting in misapplied deposits or NSF fees will be the sole responsibility of the employer.
v5.1 ps