OnPay makes taxes easy by handling all the filings and payments for your business. And the records of these filings are stored right in your account, so you always know what forms we file for you, and when. Keep in mind that filings are not finalized unless specified on the return itself. Returns normally are finalized one month following the quarter end.
What we'll cover
Getting started
Click Filings in the left menu.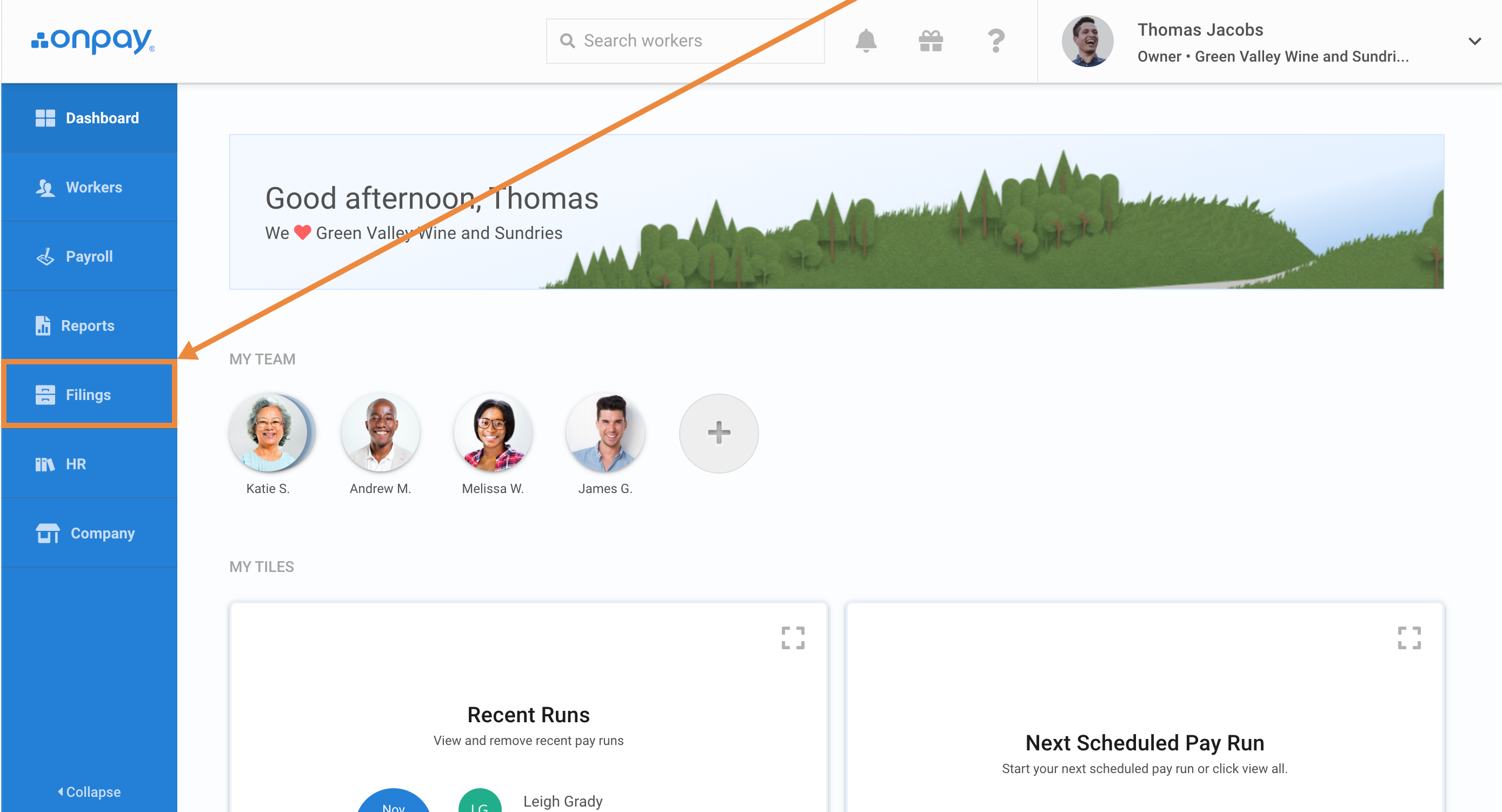 In Payroll Filings, you can see every Federal and State form we file for you by year.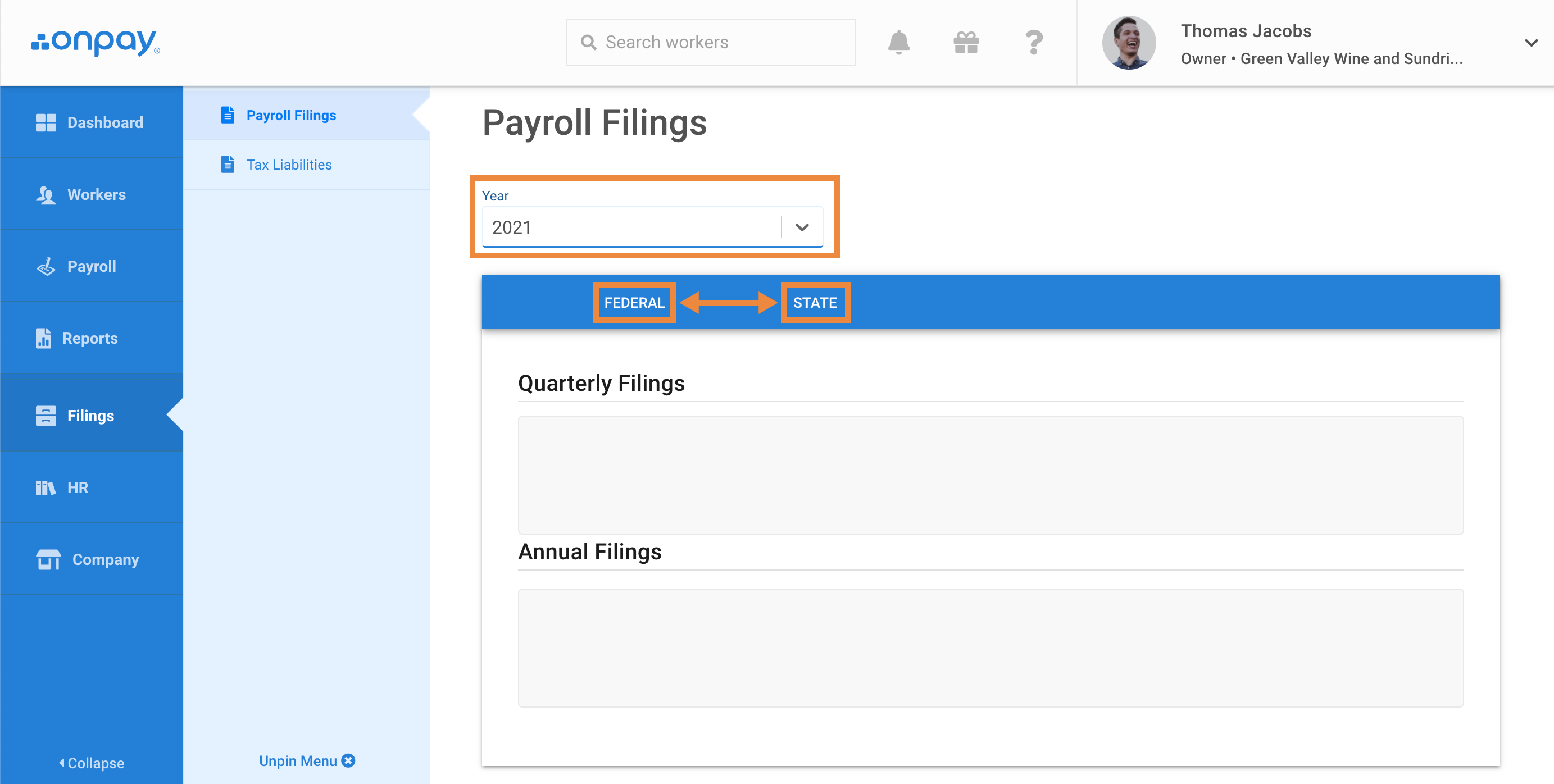 Federal forms we file
Here, you'll find your quarterly 941s and annual Forms W-2, W-3, 1099, 940, and 943 (when applicable). You can download and print them, but they're just for your records. No need to send them to the IRS, we've already done that for you.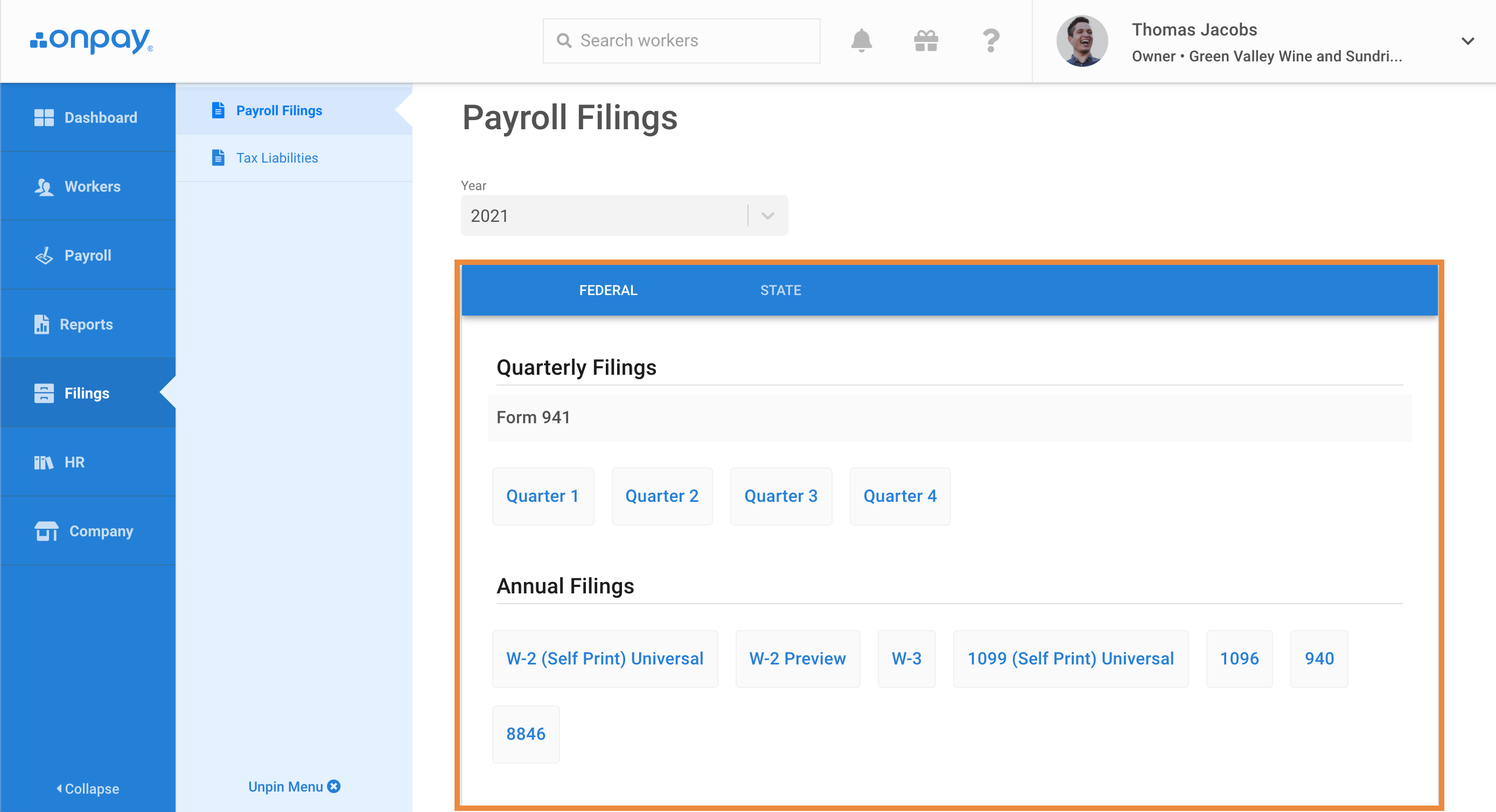 Note: You'll also find your 8846 filled out and ready to go, in case you need it for your business taxes.
What's Form 8846?
If your business is in food and beverage, you may be able to claim a credit for social security and Medicare taxes paid on employee's tips. This credit is part of the general business credit and is reported on Form 3800.
You should only file Form 8846 if:
It is customary to tip servers of food or drinks
You had employees who received tips from customers for serving food or drinks
You paid or incurred employer Social Security and Medicare taxes on those tips
If you think this applies to you, you can print and file this Form 8846 with your business tax return.
Browse, click, print
Select any year to see the forms we filed for you. Click a form to view, download or print.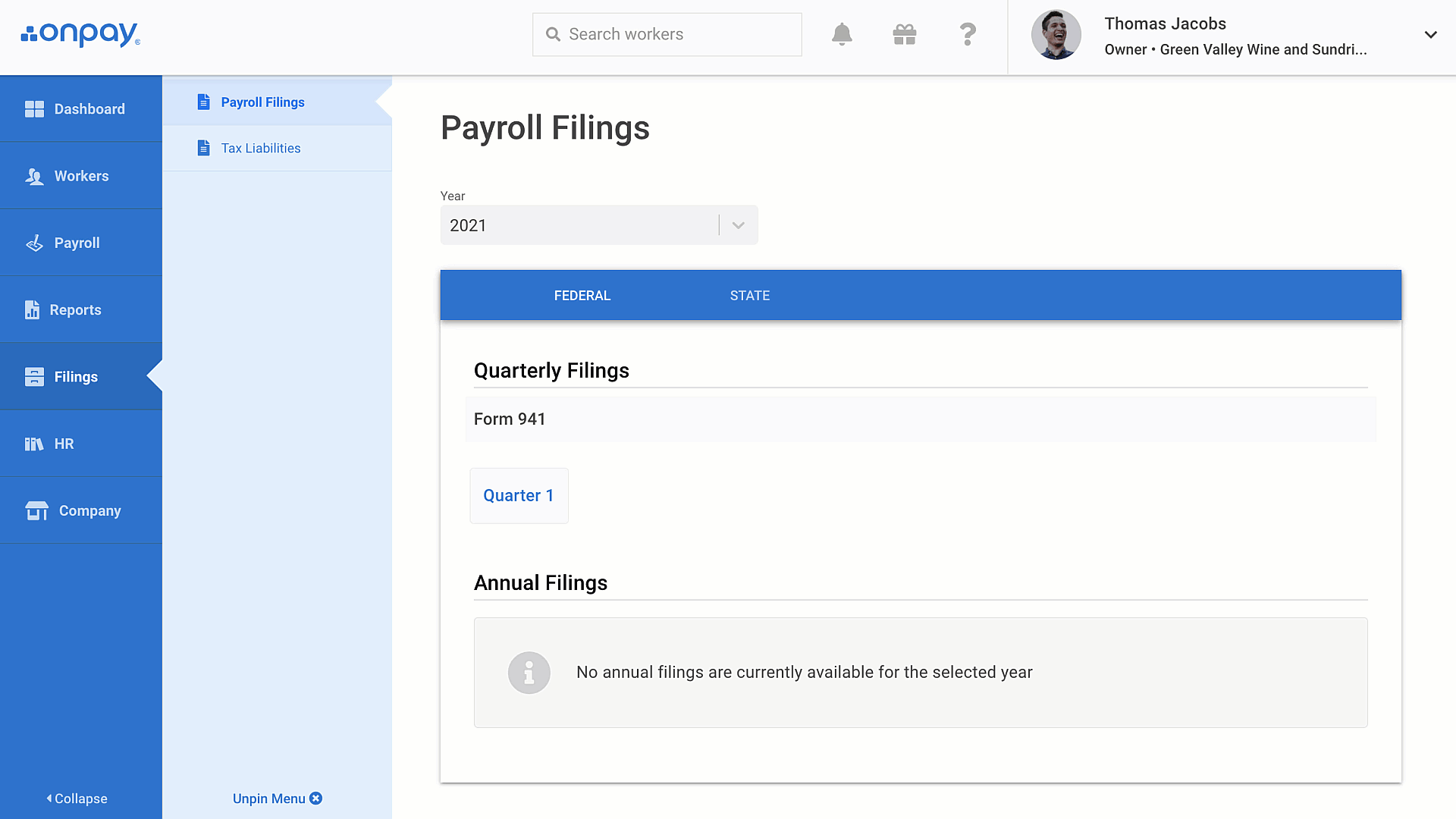 Note: These returns are for your reference. OnPay files and pays all payroll taxes on your behalf.
State forms we file for you
While income tax, unemployment tax, and paid family leave are the most common state taxes, every state's requirements (and forms) are a little different. If you have worksites in multiple states, you can see them all here for every year we've filed on your behalf. You also can download and print these forms.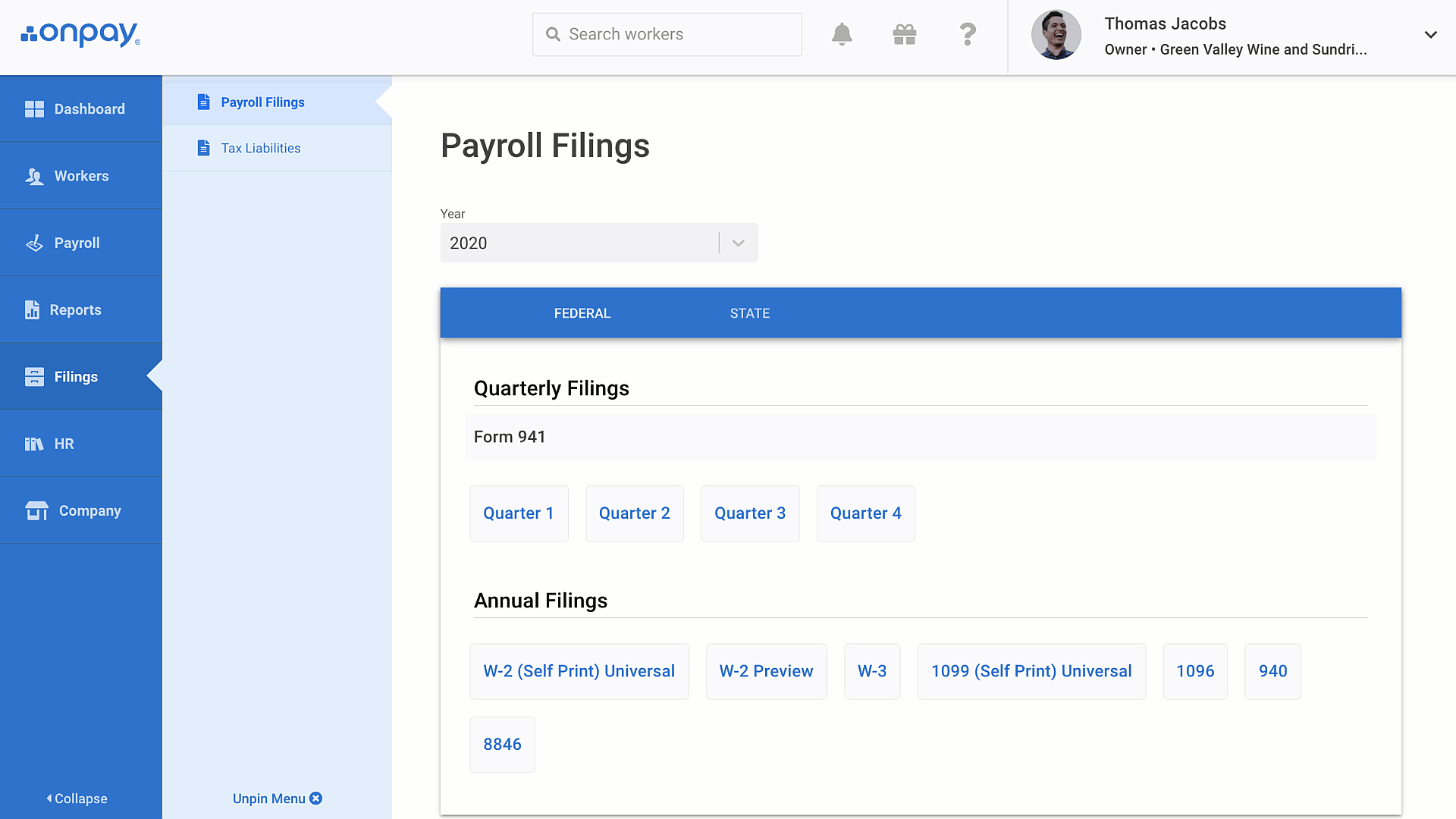 Note: Do not file any returns found here. OnPay files and pays all payroll taxes on your behalf. These returns are only copies for your reference.
What forms we file for every state
Whether you're considering expanding into another state, or just hiring an out-of-state remote worker, it's important to know local tax rates and requirements, how to register, and what forms you'll need. See what forms we file in each state, what information we need (and where to find it) in order to file on your behalf. Just click on your state to get started.
Learn more about tax planning in 2021!
v6.1 ps