Select employees, enter hours, review and approve payroll in just three steps. We'll show you how!

If you are an OnPay client who signed up after December 6, your account will be automatically configured with the new, 3-step pay run. Need help? We've got you covered→

What we'll cover
To get started, go to Payroll.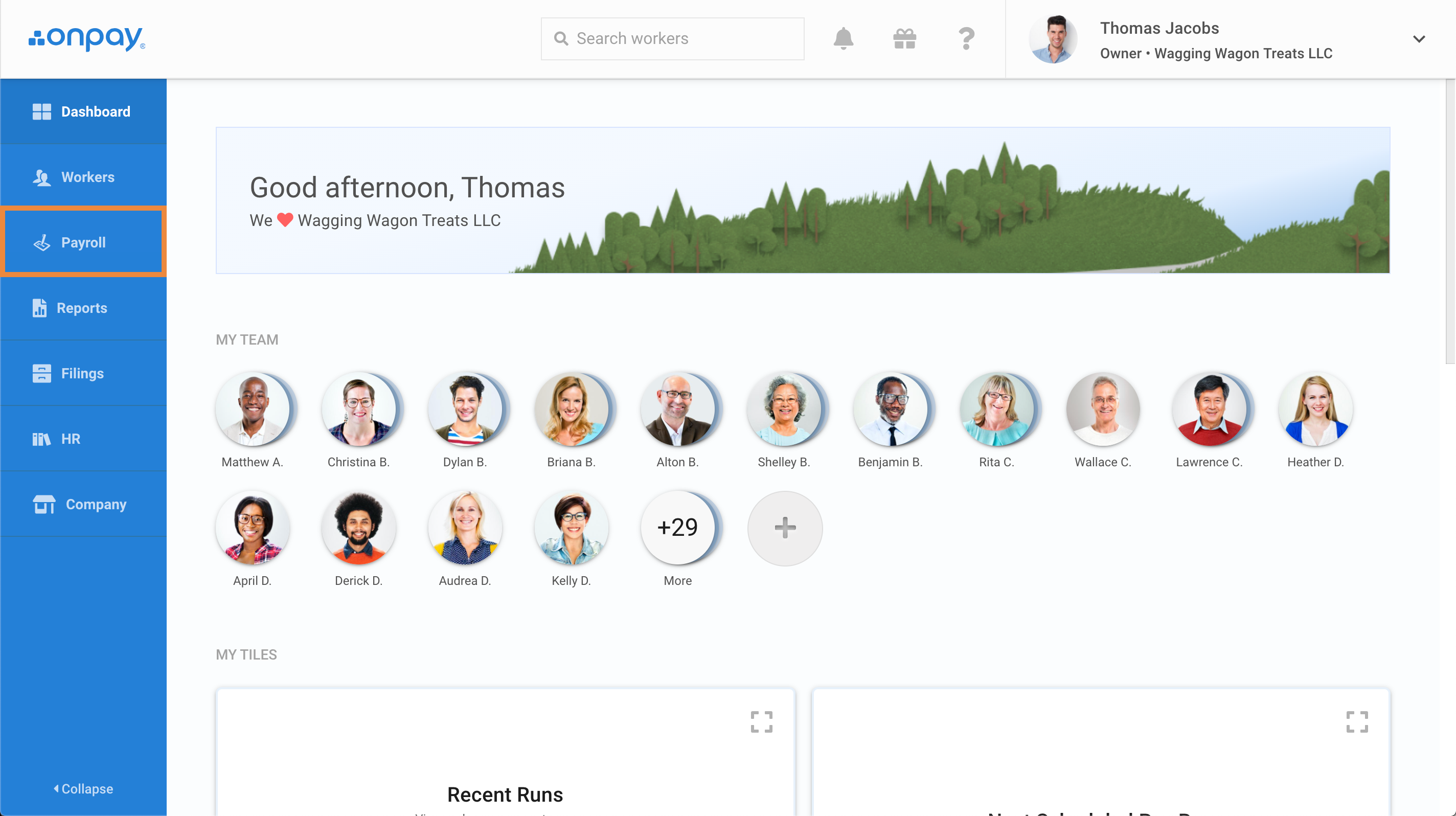 Pay run settings
You will see your current pay run settings at the top. Click on any of them to make changes.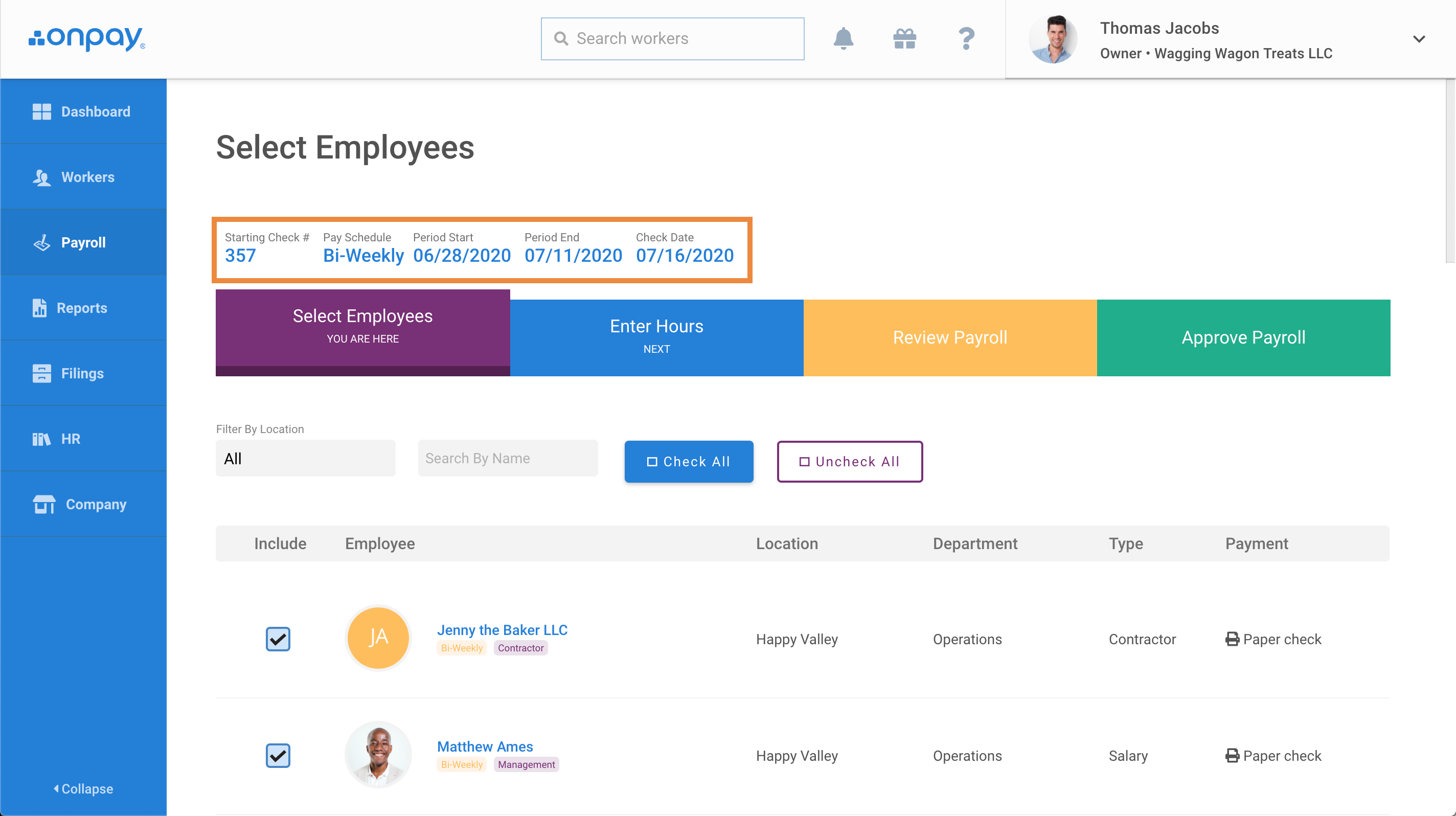 If this is a special pay run, you can make changes to the "Pay Run Settings".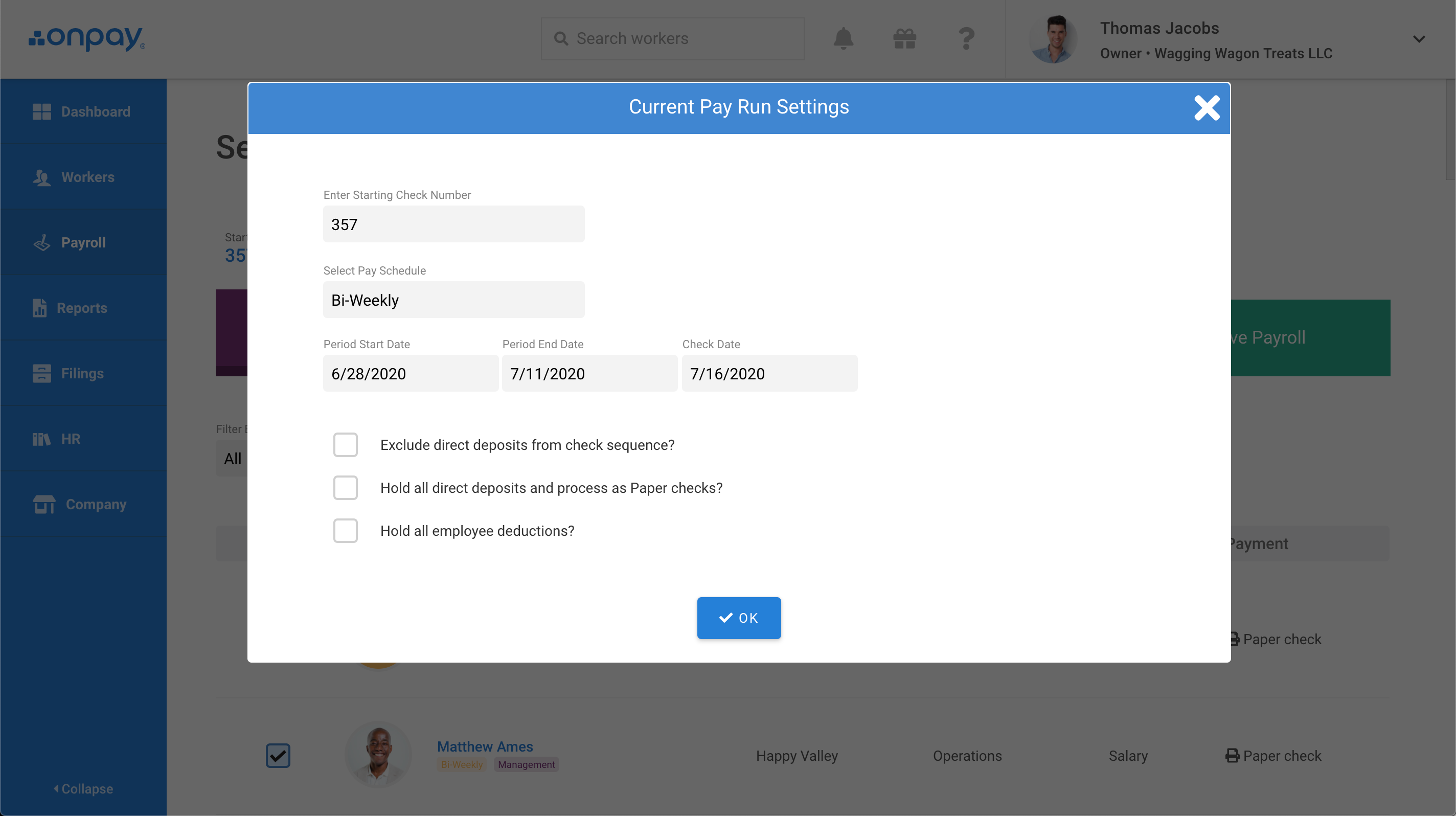 Special pay runs can be things like year-end bonuses. They typically run outside of the normal pay cycle, and shouldn't have employee deductions for things like insurance, or 401(k).

Need to run an off-cycle payroll for bonuses, or for select employees? Learn about special pay runs→
Selecting employees

If everyone selected here should be included in this pay run, you can move on to entering hours. But if not, you can "Filter By Location" or "Search By Name". Click Uncheck All to select some employees, or Check All for everyone.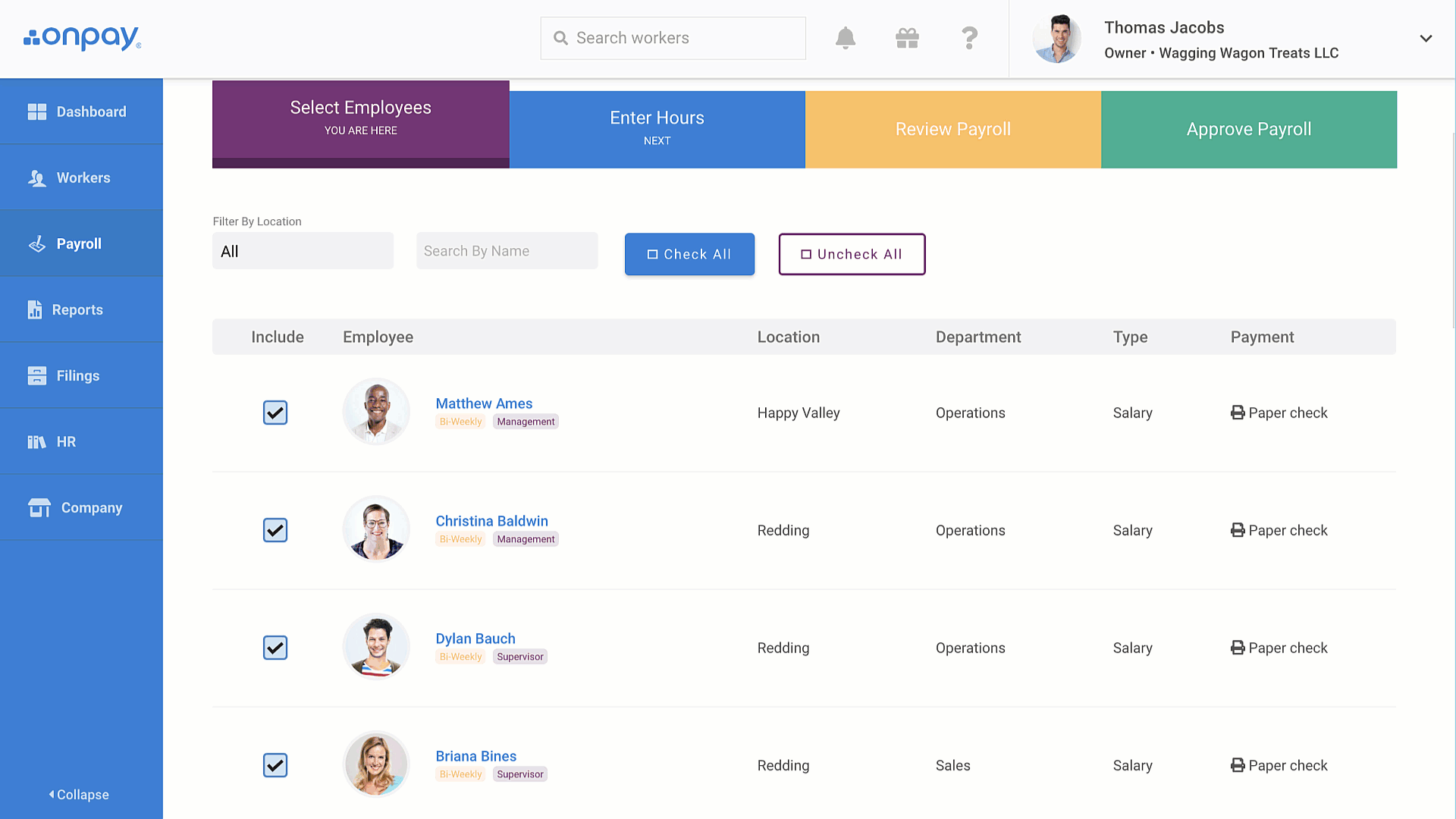 Paying by direct deposit?
You'll see "Paper check" next to employees who don't have direct deposit set up.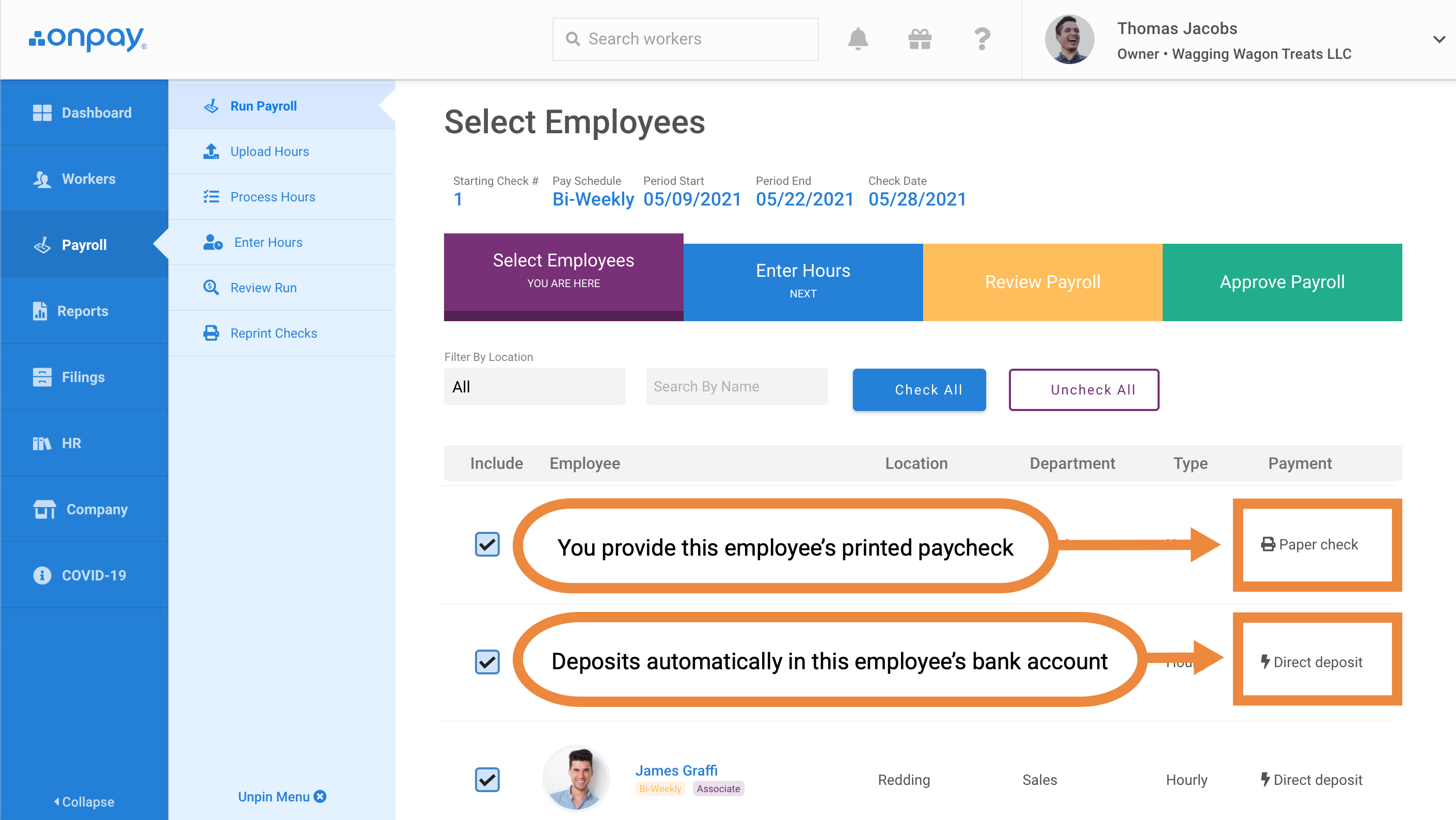 Because most employers and employees prefer direct deposit, you may want to follow these steps to make paying your as effortless as possible. Payment can be split across multiple accounts, and employees have the option to add their own bank info.
If you don't see "Direct deposit" you may need to:
If all employees for this run are selected, you can click Enter Hours.

Entering hours

You can override or edit any hours needed. If you have hourly employees, you can enter their hours here.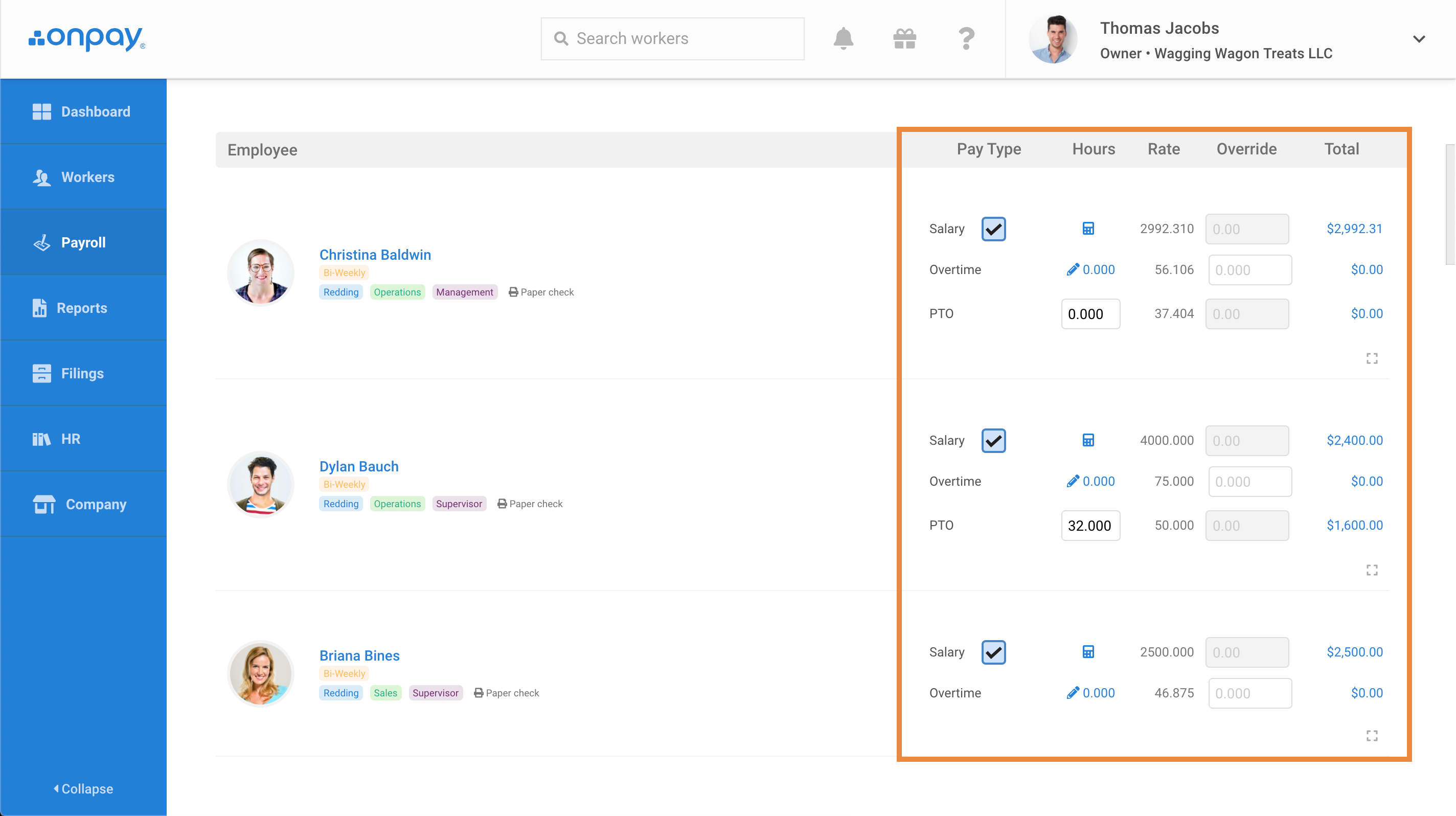 If you have time tracking software integrated with your OnPay account, you will see a button to import those hours in the upper right corner. You can also import hours with a CSV.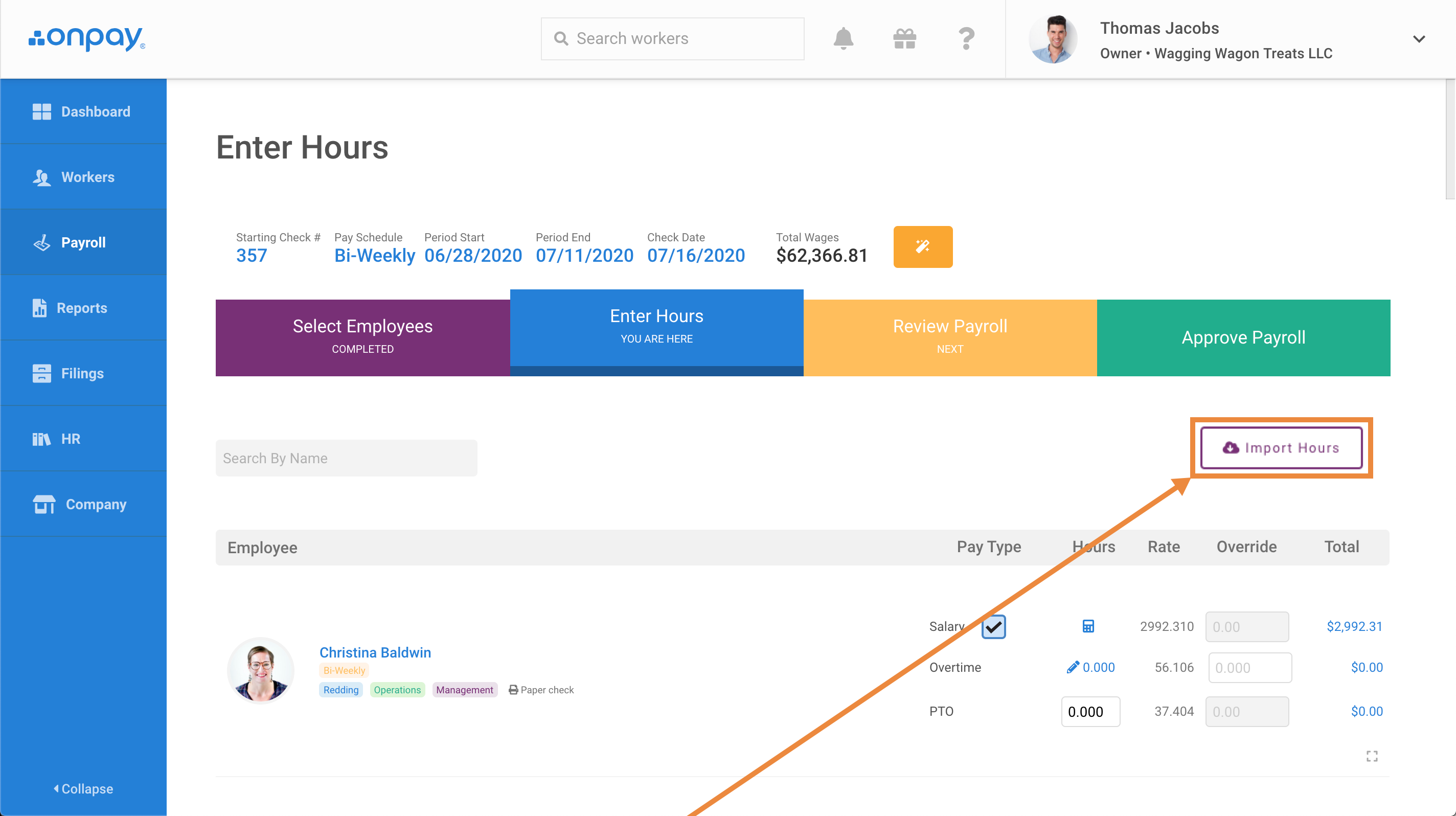 You can always reset any changes or overrides you've made to these hours by clicking the yellow wand button.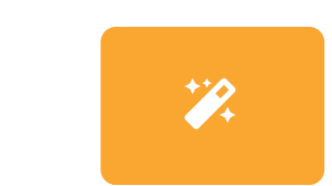 Note: Default preferences such as keeping or zeroing hours or cash amounts after pay runs, can be set in Company Preferences.
You also have the option to add pay items like bonuses, override deductions and withholdings, and even preview an employee's check.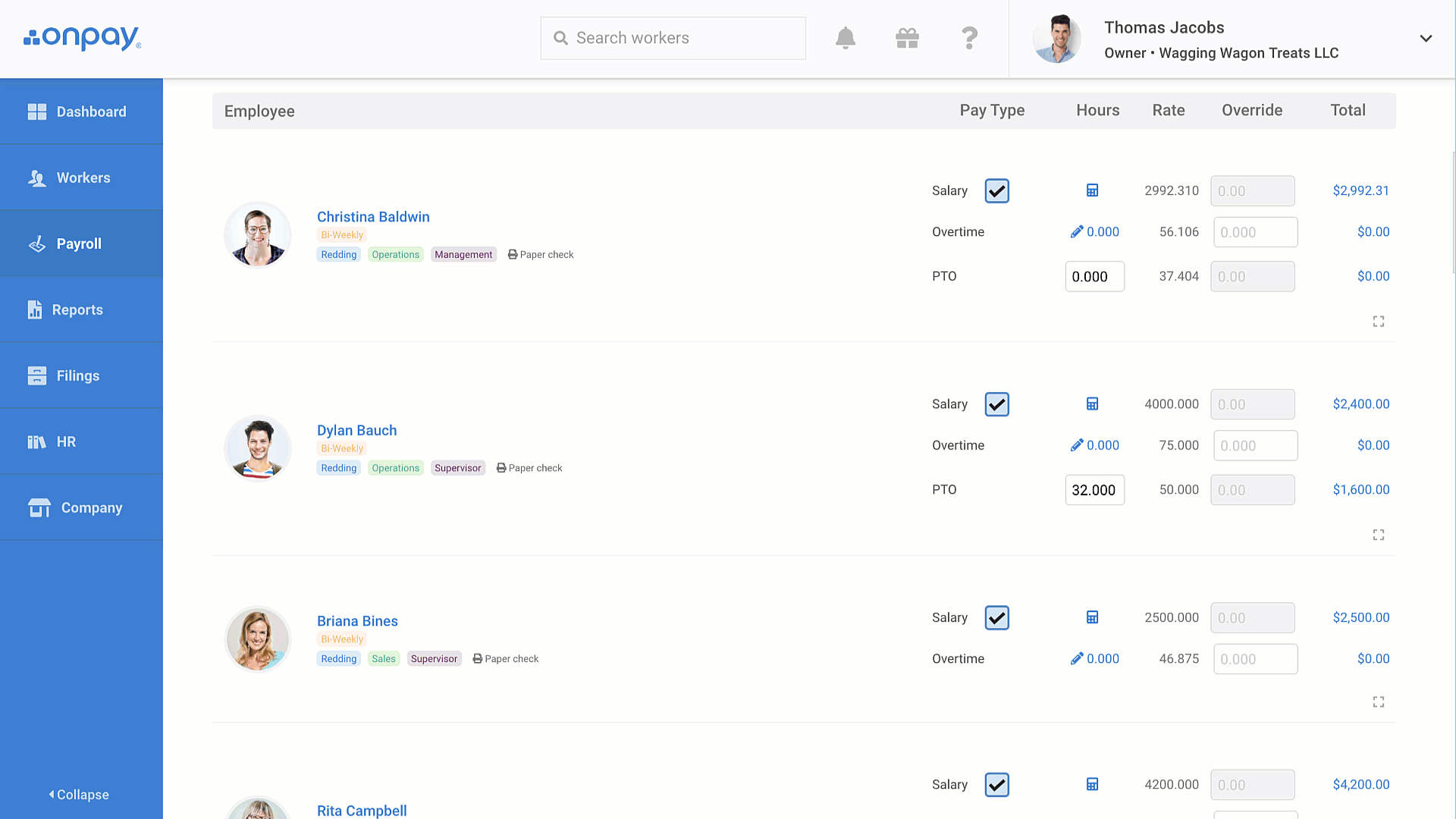 Note: You can add new pay items to make them available for your employees.
When you're finished entering hours, click Review Payroll.

Reviewing payroll

Review this run before approving. You can check wages, deductions, withholdings, and taxes with the totals at the bottom. Don't worry, we'll warn you if anything looks unusual.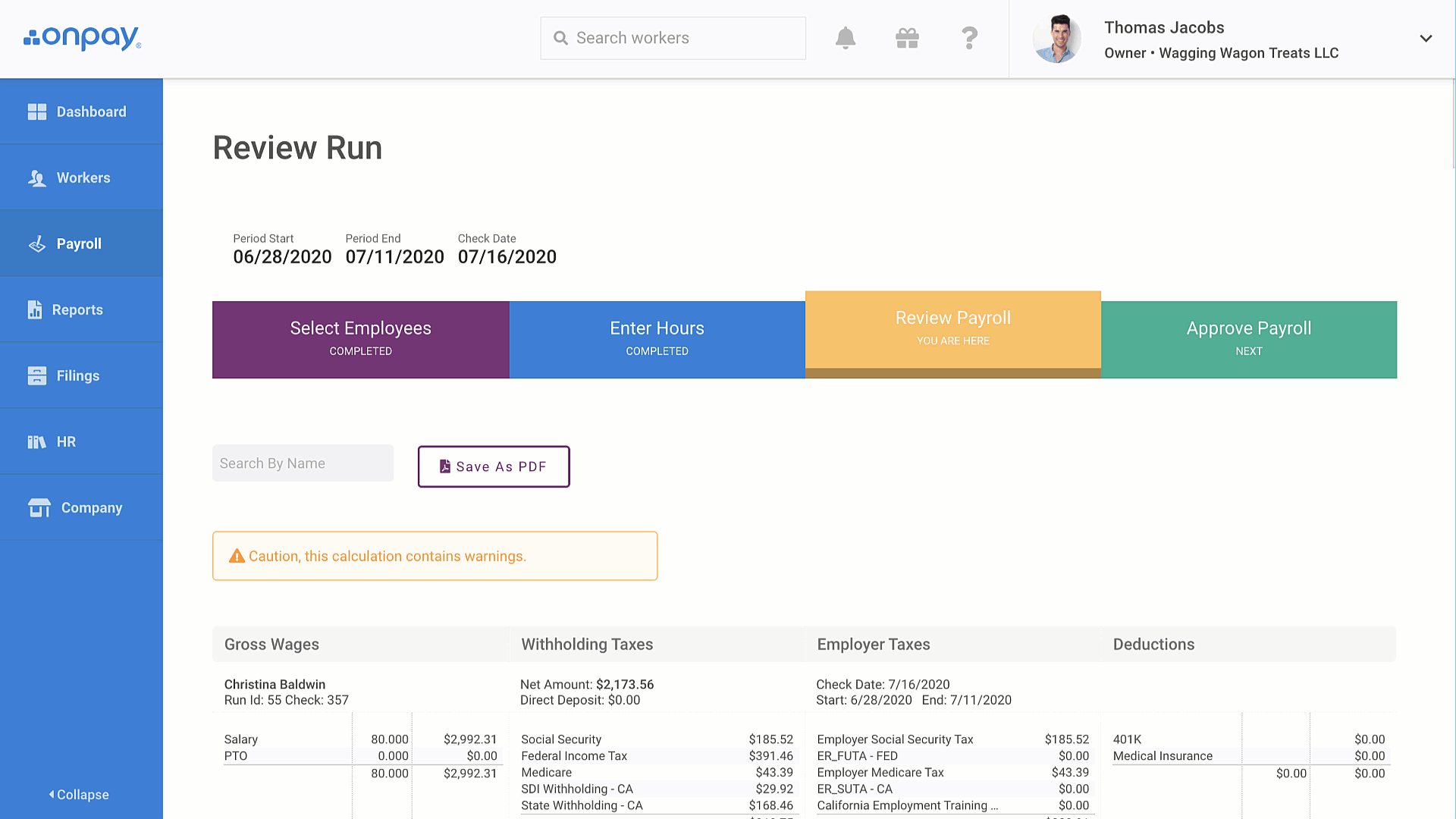 You can also export this pay run as a PDF for your records.

If everything looks correct, you can Approve Payroll.

Approving payroll

When you click Approve Payroll, you will see the date that taxes and ACH debits will be taken out of your account, as well as the pay run and employee deposit dates.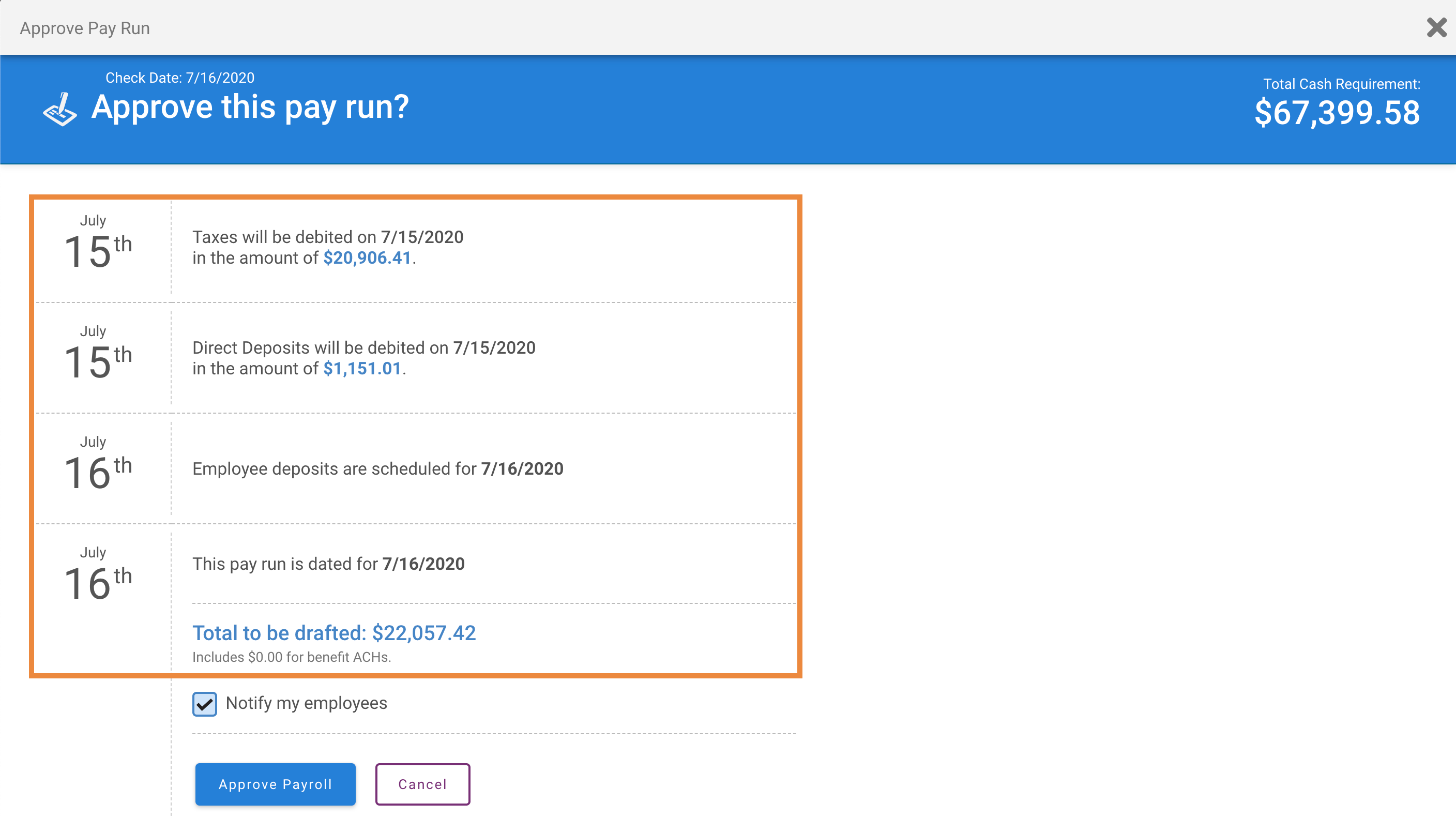 We can even notify your employees that they're getting paid.

Click Approve Payroll to complete the pay run. You can delete a pay run anytime before the funds are drafted.
If you need to print paychecks, you can download them here. Note: Paychecks for employees who've enrolled in direct deposit will not print, but you can always view and print all checks from your dashboard.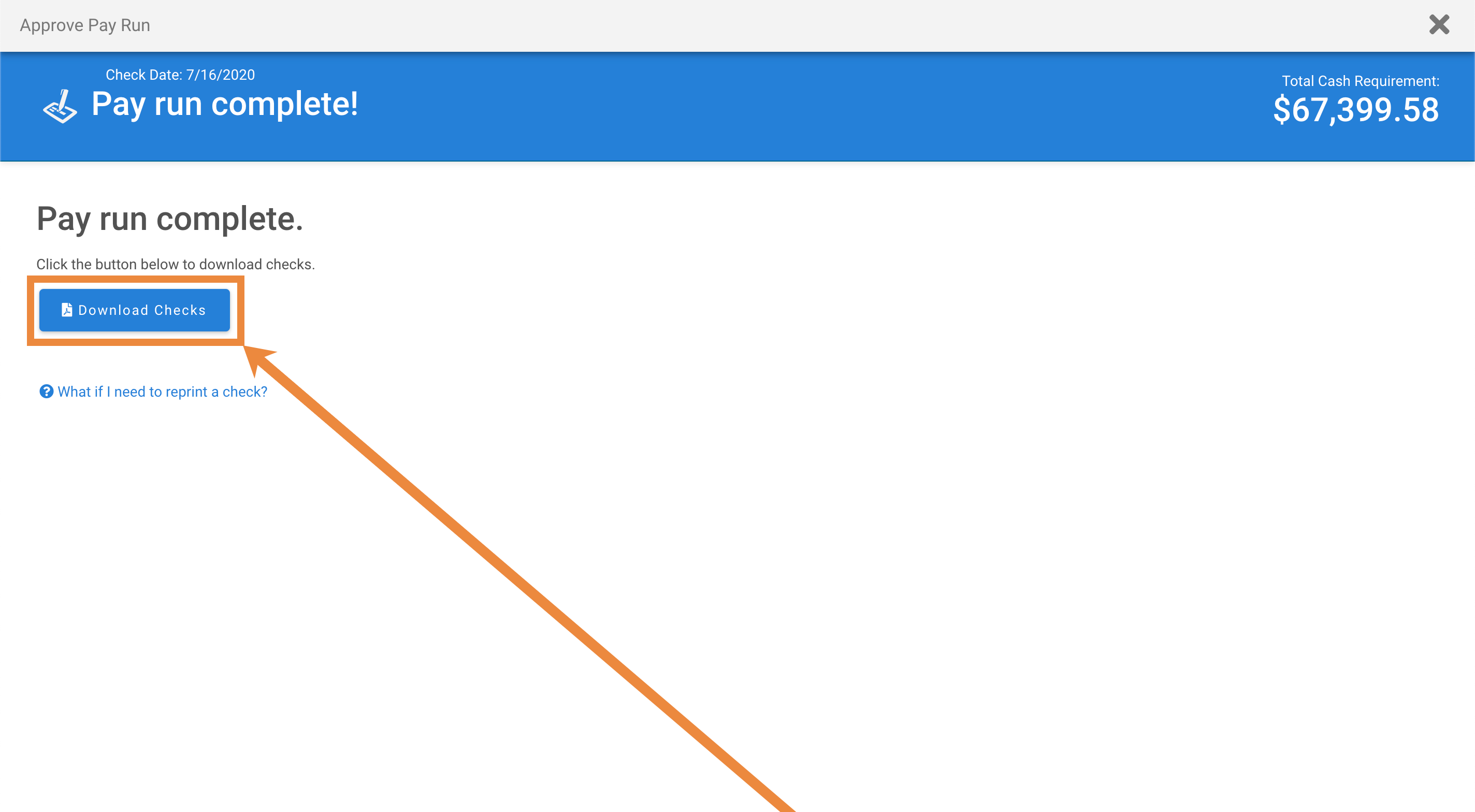 If you'd like more general information on how the payroll process works, check out our resource center.
v6.0 ps